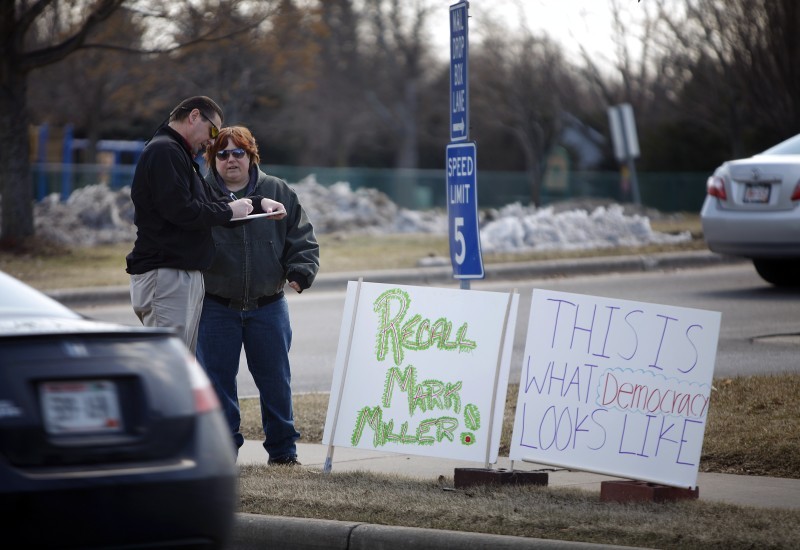 Organizers of a locally based recall effort against Sen. Mark Miller, D-Monona, announced Thursday they will not merge their signatures with a Utah-based recall effort and that, consequently, their effort is dead.
Jeff Horn of DeForest, the lead organizer of the local recall effort, said the local effort came up 268 signatures short of the 20,352 needed to trigger a recall election. The group's 60-day window to collect signatures ran out Tuesday.
The group could legally merge its signatures with a still-open effort to recall Miller by the American Recall Coalition, an offshoot of Americans Against Immigration Amnesty in Salt Lake City. That group has until Wednesday to meet the signature deadline.
But Horn said he's become increasingly suspicious of the motives of the Utah group's leader, Dan Baltes, and wants nothing to do with him or his organization.
The Greater Phoenix Tea Party recently accused Baltes of running a scam in which he promised to bring in conservative commentator Glenn Beck in exchange for $350 VIP tickets but never delivered. Last week, Deseret News, a Salt Lake City newspaper, reported Baltes spent 10 years in the Idaho prison system from the mid-1980s to the mid-1990s for grand theft, forgery and writing bad checks.
Horn said he's concerned that Baltes' interest in trying to recall Miller and other Democratic state senators was merely a scheme to get donations. "We really question his values and integrity," Horn said.
In a brief email statement to the State Journal Thursday, Baltes said, "If the best anyone can do is to try to smear me with something that happened over 20 years ago, they have too much time on their hands."
He said those who purchased tickets for the canceled Beck shows were sent refunds this week. As for donations to the Wisconsin recall efforts, he said he raised raised $775 and spent more than $800.
Horn, in his dealings with the Utah-based coalition, said he learned the group has "very few" local volunteers or signatures.
By merging with Baltes, Horn said the local effort likely would have had an easy time getting the necessary signatures with one additional week. But the end wouldn't justify the means, he said.
The senators are being targeted for leaving Wisconsin earlier this year in an attempt to thwart a vote on Republican Gov. Scott Walker's bill limiting public sector collective bargaining.
Horn said he hopes the work of the local volunteers in the recall effort will instead encourage Republican candidates to run against Miller when his term expires next year.
"There is strong support out there for somebody to run against him," Horn said.
Be the first to know
Get local news delivered to your inbox!