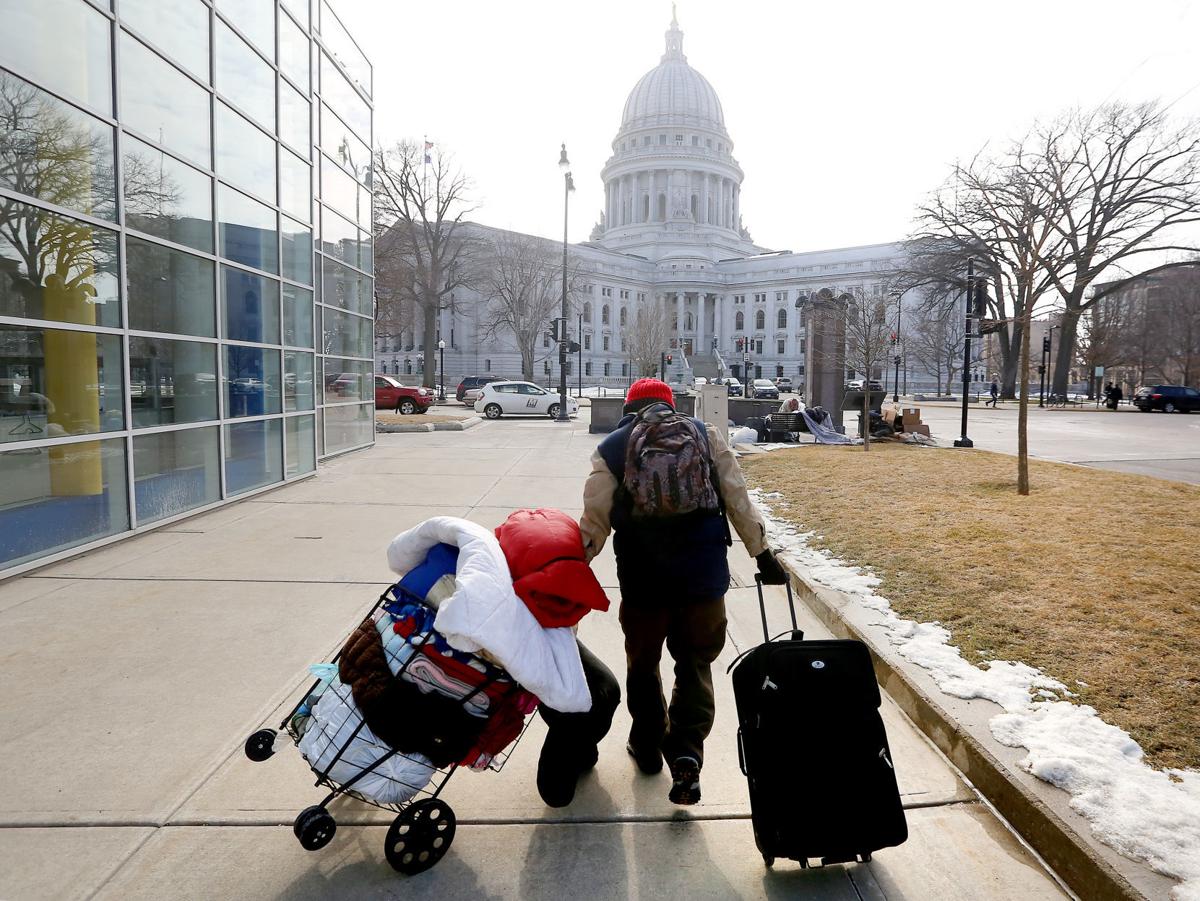 Democratic Gov. Tony Evers announced Thursday that he will lead the Wisconsin Interagency Council on Homelessness and Republican lawmakers introduced a series of bills to address the state's homeless population, injecting urgency and potential bipartisanship to a problem that has long plagued Wisconsin and received renewed attention in recent years.
The bills that call for $3.75 million in new annual spending mirror a 30-page action plan the council recommended in late November. The council, established with unanimous support of the state Legislature and signed into law by then-Gov. Scott Walker in November 2017, was led by then-Lt. Gov. Rebecca Kleefisch.
Hopes for increased attention to homelessness rose in recent years as Kleefisch made the issue a priority and the coalition offered specific policy and budget recommendations, which echoed problems raised by the Wisconsin State Journal in a nine-month project in 2016.
"It's important to us to keep raising the profile on this issue," said Assembly Majority Leader Jim Steineke, R-Kaukauna, who sponsored legislation to create the council. "It is something we cannot afford to let the momentum slide."
A few Milwaukee Democrats complained that they were left out of working with Republicans on the measures.
"Once again, Republicans have chosen to act unilaterally on a critical issue that should not be partisan rather than work with Democrats to truly solve the problems affecting the citizens of Wisconsin and Milwaukee," Rep. David Bowen said in a statement.
Nearly 22,000 people experiencing homelessness in 2017 received shelter and services from agencies in Wisconsin, according to the action plan. Nearly half of those received services in Dane and Milwaukee counties.
Those figures don't account for another federal measure — homeless children and youth who lack a fixed, regular and adequate nighttime residence. In the 2016-17 school year, there were 19,264 children attending Wisconsin public schools who met that definition, including 14,888 who "doubled up" in housing with relatives or friends.
Apparent 'priority'
Joseph Volk, executive director of the Wisconsin Coalition Against Homelessness, said he was encouraged by both parties showing support for the societal problem.
"I don't think there's an interagency council in the nation where the governor has decided to take the time and energy to chair it," he said. "It shows how much of a priority it is for the governor."
Volk said the bills are a step in the right direction considering "Wisconsin has had no plan for many years, which is unlike a majority of states." But more could still be done, he said, such as adding more money for homelessness prevention and including goals or metrics to monitor the agency overseeing it.
Evers will introduce his 2019-21 budget proposal Feb. 28, though it's unclear how much money Evers will ask for homelessness services.
"The governor believes we need to be connecting the dots on systemic issues like homelessness facing our state," an Evers spokesperson said in a statement. "Gov. Evers looks forward to working with Council members, legislators, and stakeholders to get to work on this pressing issue."
Whom the council will appoint as the council's executive director, and when, is also unknown, according to Torrie Kopp Mueller, continuum of care coordinator for the Dane County Homeless Services Consortium who serves on the interagency council.
'Housing First'
The plan borrows from a nationally acclaimed model known as "Housing First" that places chronically homeless people, regardless of whether they are addiction- or conviction-free, in permanent housing with support services.
The eight bills call for $3.75 million in new annual spending and include:
$500,000 more for the Homeless Prevention Program, which makes short-term grants or loans to those with low or moderate incomes to defray housing costs.
$300,000 to start a state diversion program that would provide resources and staff at shelter intake to help locate housing outside the homeless services system.
$500,000 more — a roughly 50 percent increase — for the state shelter grant subsidy program.
$500,000 more for the Homeless Case Management Services grant program.
$250,000 more for skills-enhancement grants to overcome barriers to education and other training.
$300,000 to create a state grant to hire housing navigators who help people who are homeless locate housing.
$500,000 to create a program to help landlords make repairs to low-cost housing.
$900,000 — a 300 percent increase — to expand the housing assistance program, which offers grants to operate housing and supportive services.
[This story has been updated to correct who appoints the director of the Wisconsin Interagency Council on Homelessness. The council's members appoint the director.]