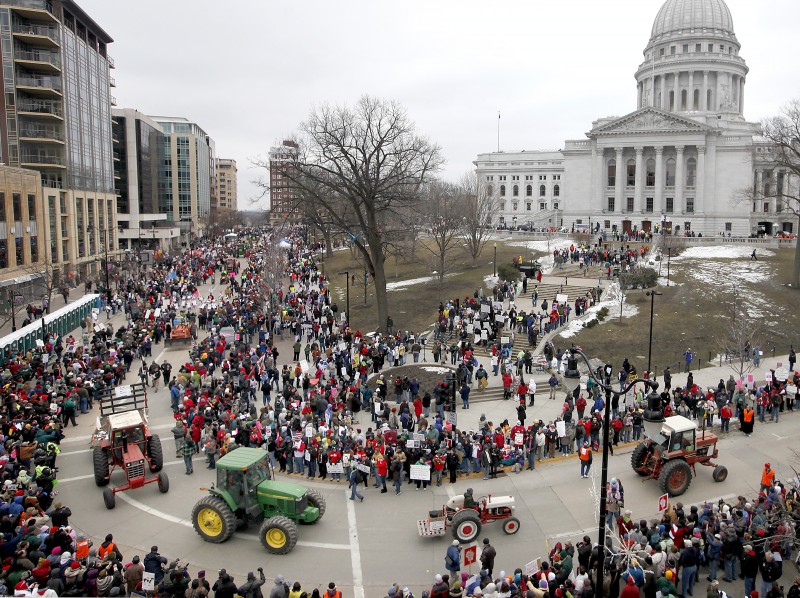 Demonstrators — 85,000 to 100,000 strong — turned out in force again Saturday for what Madison police say was the largest crowd since protests began against Gov. Scott Walker's efforts to strip most state employees of most collective bargaining rights and other proposals for balancing the state budget began more than three weeks ago.
Adding a twist to the now-familiar rallying cries of unions and others calling for Walker's ouster was a parade of tractors driven by Wisconsin farmers who circled the Capitol to support union workers and oppose other measures in Walker's proposed budget — including cuts they fear will have a negative effect on their health care coverage.
"We had 85,000 to 100,000 people, 50 tractors and a donkey, and it all went well from a police perspective," said Madison Police spokesman Joel DeSpain, who again thanked people for their peaceful exercise of democracy and their patience. "Just getting around Downtown was a bit problematic."
Capitol police estimated Saturday's crowd peaked at a little more than 68,000, said spokesman Tim Donovan. He explained the discrepancy saying Madison police might have been "counting people we weren't" who were spread out farther from the Capitol.
Both agencies said there were no arrests.
On Friday, Walker signed a bill stripping most collective bargaining rights from most state employees, but the law does not take effect until the day after it is published. Secretary of State Doug La Follette said he will delay publishing the bill until March 25 to allow for legal challenges.
"The fight now moves to the courthouse and the ballot box," said state Rep. Brett Hulsey, D-Madison. 
Amid cries for Walker to be recalled, some called for a general strike.
Tod Pulvermacher, 33, who lives on a farm in Spring Green, drove more than seven hours from Bear Valley with a manure spreader to participate in the tractor parade. "It really stinks, but it smells better than what's coming out of there," Pulvermacher said, pointing to the Capitol.
"His bill is anti-middle-class worker, bad for health care, bad for the environment, horrible for our schools," he said of Walker. "Bills are meant to be discussed. ... The people aren't being listened to." 
Pulvermacher said he and others opposing the measures hope "we can change what was rammed down Wisconsin's collective throat."
The crowd swelled as a 3 p.m. rally got started and protesters from neighboring states joined Wisconsin residents in the march around the Capitol.
Omaha, Neb., steamfitter Mark Ondracek said he got up at 4 a.m. Saturday to drive to Madison "to support our brothers and sisters."
"We want to stop what's going on here from going on anywhere else," Ondracek said. "We have a governor who is watching this very closely."
Actor Tony Shalhoub, who starred in the TV show "Monk" and grew up in Green Bay, said what has happened in Wisconsin shows "they want to unravel the very fabric of democracy in the state.
"They are just getting started," Shalhoub said. "We can't let that happen."
Actress Susan Sarandon spoke as well, telling demonstrators "Wisconsin is the wake-up call for all of America in the 21st century."
A nurse from Belleville hugged Capitol Police Chief Charles Tubbs as she left with her three young children. "He stood with the Wisconsin people and led us in a peaceful way," said Cynthia Schoettler. "They did their job with grace."
While much of the focus on the bill's effects has been on collective bargaining rights, protesters said they also came out to support the farmers who made the trip to the Capitol, as well as other middle-class workers.
"I think they're being hammered," said protester Caryn Vesperman, who has a 20-acre hobby farm in Brooklyn. "I think there's room for discussion and negotiation."