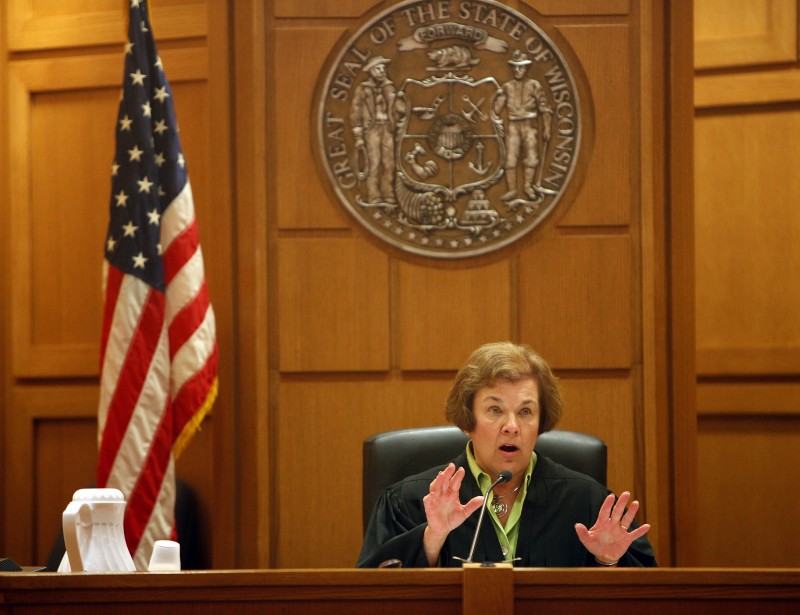 If it wasn't clear last time, Dane County Circuit Judge Maryann Sumi made it clear on Tuesday: Any further implementation of Gov. Scott Walker's law limiting public employee unions is barred, and anyone who violates her order risks sanctions.
Sumi made her ruling at the end of a day of testimony in the open meetings lawsuit brought by Dane County District Attorney Ismael Ozanne. The hearing is scheduled to conclude on Friday.
"Now that I've made my earlier order as clear as it possibly can be, I must state that those who act in open and willful defiance of the court order place not only themselves at peril of sanctions, they also jeopardize the financial and the governmental stability of the state of Wisconsin," Sumi said.
Her statement appeared to be a warning to state agencies, such as the state Department of Administration, that have begin implementing the union bill despite a temporary restraining order that Sumi issued on March 18 and the unsettled question about whether publication of the law by the Legislative Reference Bureau on Friday was enough to implement the law.
"Apparently that language was either misunderstood or ignored, but what I said was, 'the further implementation of 2011 Wisconsin Act 10 is enjoined,' " Sumi said. "That's what I now want to make crystal clear."
State Department of Justice Executive Assistant Steven Means said afterward that state agencies like DOA are not parties to the lawsuit and are not subject to Sumi's restraining order. But he stopped short of saying what advice DOJ will give DOA in light of the order.
Sumi declined to rule Tuesday on an order that would have declared that the law had not been legally published.
"The Department of Administration is still evaluating the judge's order," DOA Secretary Mike Huebsch said in a statement. "We will continue to confer with our legal counsel and have more information about how to move forward in the near future."
Walker's office did not issue a statement.
Senate Minority Leader Mark Miller, D-Monona, said the judge's order seemed quite clear.
"They seem incapable of hearing people who say they are wrong," Miller said.
You have free articles remaining.
Assembly Speaker Jeff Fitzgerald was disappointed by the ruling.
"It's disappointing that a Dane County judge wants to keep interjecting herself into the legislative process with no regard to the state constitution," He said. "Her action today again flies in the face of the separation of powers between the three branches of government."
The changes under the law were being implemented this week, but public employees won't see them until their April 21 paychecks, with increases in health insurance premiums and retirement contributions, as well as a stop to automatic collection of union dues, Huebsch said Monday.
Most public workers will be required to pay about 5.8 percent of their salary toward retirement and about 12.6 percent of the average cost of annual insurance premiums under the law. The changes amount to an average 8 percent pay cut.
Sumi again said that the Legislature could end the legal wrangling — sparked by a March 9 vote by a legislative conference committee on a trimmed-down version of Walker's budget repair bill — by holding new meetings and new votes following proper procedures.
"I am dismayed at this point that given the relatively easy fix for this that thousands and thousands of dollars are being spent, all being footed by the taxpayers of this state, to pursue this litigation," Sumi said. "Parties have every right to pursue litigation to vindicate their rights, but I think when taxpayers are paying the bill, that needs to be part of the calculation of the cost of continuing with litigation."
Means agreed that the Legislature could do that, but said other legal principles are at stake "that are worth fighting for from the state's perspective, apart from a particular bill."
He said an appeal of Sumi's order is unlikely.
Secretary of State Doug La Follette convinced Sumi on Tuesday that his interests are different from those of DOJ, which had been legally bound to represent him. Sumi allowed La Follette to hire his own lawyer at his own cost.
During Tuesday's testimony, Legislative Reference Bureau chief Stephen Miller testified that he does not believe that his agency's publication of the law on the state Legislature's website makes it effective as a law.
"The way I looked at the statutes, the secretary of state publishing the act in the (state's official) newspaper would make it become law," Miller said.
La Follette, following Sumi's March 18 order, rescinded a publication date for the law that he had sent to the Legislative Reference Bureau and has not published notice of it in the Wisconsin State Journal, the state's official newspaper.