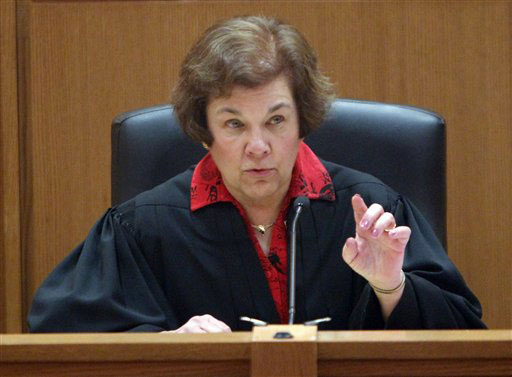 A Dane County judge Friday ordered a temporary halt to Gov. Scott Walker's controversial measure to curb collective bargaining for public employees, saying a legislative committee likely violated the state Open Meetings Law when it rushed passage of the bill earlier this month.
"This was something that would and did catch the public unaware," Dane County Circuit Judge Maryann Sumi, saying the joint Assembly-Senate conference committee's action March 9 amounted to a "closed session of a body ... propelling legislation forward."
Sumi's ruling bars Secretary of State Doug La Follette from publishing the law, the last step before it can take effect. La Follette had planned to publish the law on March 25, which would cause it to take effect the following day.
Walker, who signed the bill last week, had asked La Follette to publish it sooner. But La Follette said he saw no urgency to move the law ahead and wanted to give legal challenges a chance to run their course.
Sumi made her decision after hearing arguments from Dane County District Attorney Ismael Ozanne and Assistant Attorney General Maria Lazar.
Assistant Attorney General Steven Means said afterward that the state plans a quick appeal.
"The reason they have appellate courts is because circuit court judges make errors, and we think that happened in this case," Means said.
In a statement, Attorney General J.B. Van Hollen said circuit court judges cannot interfere with the enactment of laws, which are the constitutional duty of the Legislature and the governor. Past Supreme Court decisions make clear that courts cannot stop laws from taking effect based solely on a claim that the Legislature didn't follow proper procedures, "even one as important as the Open Meetings law," Van Hollen wrote.
Senate Majority Leader Scott Fitzgerald, R-Juneau, and his brother, Assembly Speaker Jeff Fitzgerald, R-Beaver Dam, lambasted the ruling in a joint statement.
"Dane County always seems to play by its own rules, but this morning we saw a Dane County judge try to re-write the constitutional separation of powers," they wrote. "We fully expect an appeals court will find that the Legislature followed the law perfectly and likely find that today's ruling was a significant overreach."
The law prohibits most state and local employees from bargaining over anything other than wages and imposes higher costs on public workers for their health insurance and pensions. Walker says the measure is necessary to reduce state spending and give local governments the "flexibility" they need to adjust to deep cuts in state aid.
Sumi set a hearing on a longer-term order blocking the bill for March 28. That is expected to take much longer, with a number of witnesses expected to testify. But in response to a question from Lazar, Sumi said she can't stop the Legislature from re-convening a properly-noticed meeting and passing the bill again.
La Follette, a Democrat, said he was pleased with the ruling, adding he received a lot of pressure from supporters of the law urging him to publish it. "It seemed prudent and conservative to wait and see what the courts said, and it turns out I was right."
Walker spokesman Cullen Werwie said the governor is still confident the legislation would become law soon.
State Rep. Peter Barca, D-Kenosha, who was the only Democratic member present at the conference committee meeting, said the ruling "affirms that people have a right to be notified of meetings, to be present, in order to be able to participate in our democracy."
Barca was given just minutes to read a 138-page amended version of the bill before the Republican-controlled committee passed it over his objections.
Dane County Executive Kathleen Falk, who is also suing the state to block the bill from becoming law, congratulated Ozanne for his suit, which she said protects "the need for open, honest government from a governor and Republican legislators who have trampled those values."
In her decision, Sumi said she was making no judgment on the merits of the bill and was deciding only the open meetings issue.
Under state law, Sumi said, the conference committee was required to give the public 24 hours' notice of its meeting unless it had good cause to meet on shorter notice. Even that would have required two hours' notice, she said. Lazar admitted during her argument that she could not prove the meeting was posted on a legislative bulletin board two hours before it began.
Lazar also argued that a violation of the Open Meetings Law merited forfeitures but not an injunction blocking La Follette from publishing the bill.
Sumi said, however, that the violation calls for a more serious consequence.
"I think the question might be asked, how can something so apparently minor, the failure to provide timely notice prior to a meeting ... stop a bill in its tracks," Sumi said. "My answer to that is: It's not minor. It's not a minor detail."
State Journal reporter Mary Spicuzza contributed to this report.