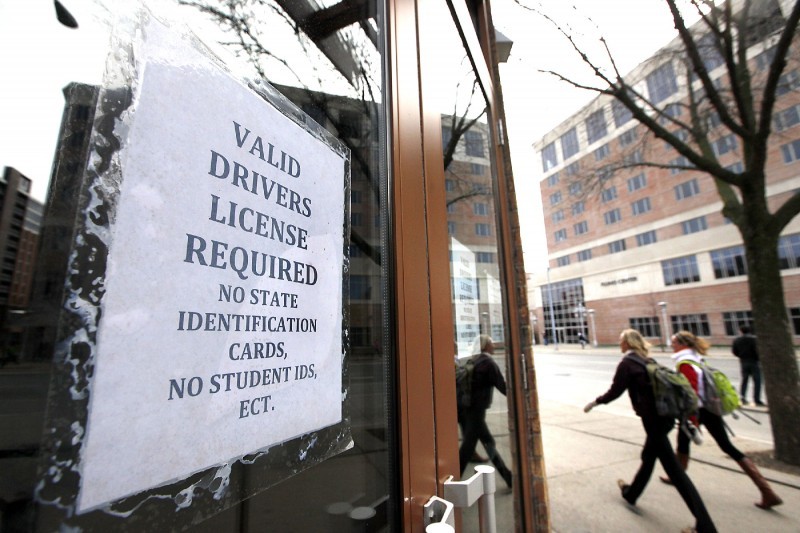 Madison officials say bar policies that deny entry to anyone without a valid driver's license or passport could be discriminatory, and the city is working on educating bar owners about what is and isn't acceptable. 
"It's been clearly documented who does and doesn't have driver's licenses in the state of Wisconsin," said Mark Woulf, alcohol policy coordinator for Madison, citing a vast divide between blacks and whites. "That alone raises eyebrows and could easily be determined to be discriminatory."
A handful of Downtown bars have had the restrictive ID policy in place since the summer in response to a spike in violence that they say was mostly curbed once they started the policy. Patrons displaying only student or state IDs can't enter.
Woulf said the city understands bar owners' concerns but hopes a letter from the city, still being drafted, will clarify the issue.
"We want to give bar owners tools to keep their establishments safe without discriminating against patrons," he said. 
Woulf said no formal complaints have been filed against a bar with the city's civil rights department, a first step that could lead to sanctions, including a bar's liquor license being pulled, if it's found to violate the city's equal opportunities ordinance.
You have free articles remaining.
But there have been concerns raised by numerous groups since the State Journal reported on the bars' policies Oct. 7, including disabled people who don't qualify for a driver's license and bicycle commuters who choose not to get one. A citizen's group headed by former city council member Brenda Konkel, Civil Rights Now, has raised objections to the racial implications of the policy and the city's response to it. Konkel could not be reached for comment Thursday.
The city's alcohol license review committee discussed the policy at its October meeting and Mayor Paul Soglin called a private meeting last Monday to discuss it. Attending were representatives from the civil rights department, assistant city attorney Roger Allen, Soglin, Woulf and Ald. Shiva Bidar-Sielaff, 5th District. 
The group decided to work together on drafting the letter, Woulf said, which when finished will be sent to bar owners. Soglin plans to meet with owners and police to discuss it, as well, Woulf said. The city's equal opportunities committee held a meeting on the policy earlier this week and will take it up again at its meeting next week. 
Jimmy Hahn, who's worked crowd control for several Downtown bars for decades, said that he knew of five bars that adopted the policy. On Thursday, two of them — Wando's and Johnny O's, both in the 600 block of University Avenue — had signs announcing the policy near the entrances. Another, Logan's Madtown on West Johnson, didn't have signs up but follows the policy on nights when Hahn works the door, said bouncer Glenn Galetka.
Galetka has mixed feelings about the policy. He called requiring a driver's license "bogus," as he doesn't have a license himself after accumulating too many speeding tickets. But he said he appreciated the policy's safety effect after a summer in which he was in the middle of frequent violence including two brawls.
"It was a way to get a certain crowd out," he said, describing that crowd as primarily young African-American men who mostly had state identification cards instead of driver's licenses. "It makes my job easier."
Terrance Henderson, who is black and who works for the UW-Madison athletic department, said he's found Madison's Downtown bars to be much more welcoming and inviting than those in Milwaukee, his hometown. Henderson has a driver's license and hasn't been affected by the new policy, he said.
"It's night and day," he said. "In Milwaukee I've been turned away at the door in a three-piece suit. I've never been turned away here in Madison."