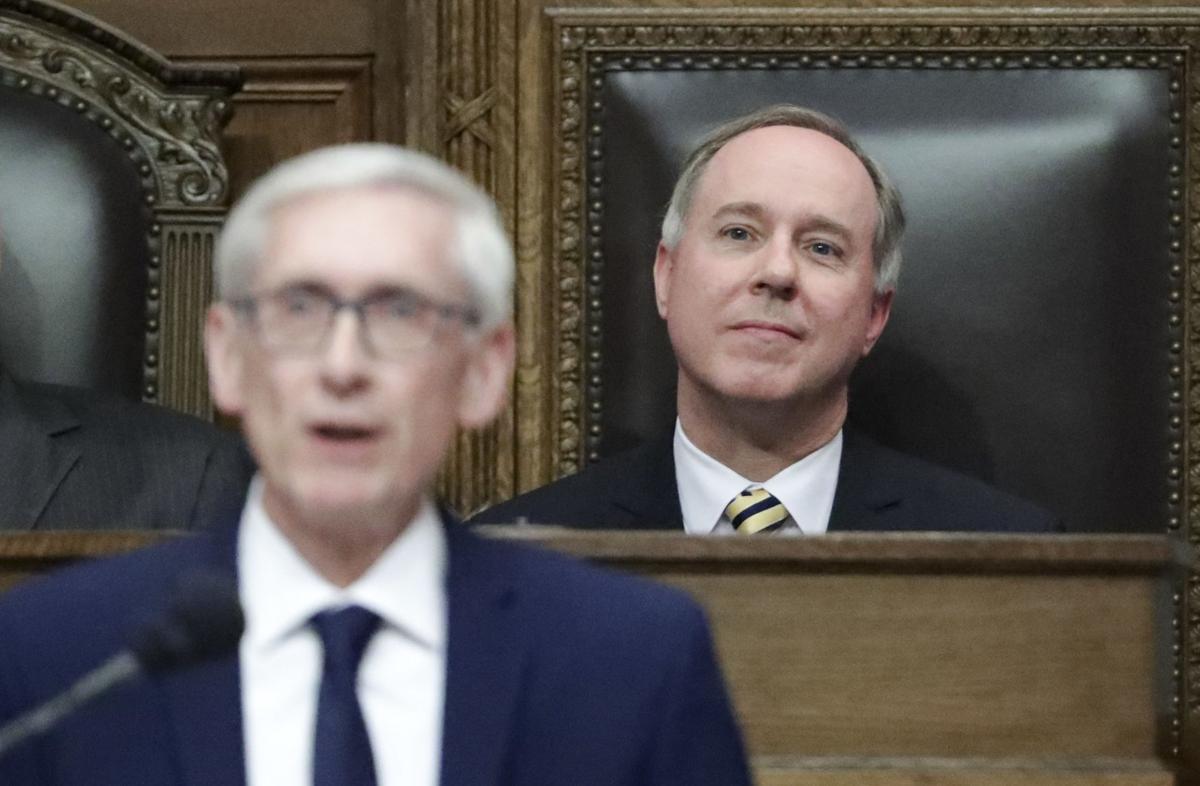 Gov. Tony Evers' biennial budget proposal fulfills many Democratic priorities with big spending increases, but Republicans have raised concern that the $91 billion proposal would almost entirely drain the state's coffers — by close to $2 billion — and leave Wisconsin in a more precarious financial position down the road.
The state is projected to have a nearly $2 billion surplus in its general fund by the end of the year, but Evers' projected budget, which includes $1.6 billion in new tax revenue from marijuana, big manufacturers and the wealthy, still reduces that to around $143 million by mid-2023.
"It's not necessarily inappropriate to draw down a big chunk of your reserves when you're facing a once-in-100-years pandemic," Wisconsin Policy Forum research director Jason Stein said. "You don't have the reserves just to put them on a wall and admire them, but at the same time ... you have to think about what's going to be sustainable for the state budget because some of these challenges are not just going to evaporate either."
Sen. Howard Marklein, R-Spring Green, an accountant and co-chair of the state's powerful budget committee, said he's concerned that Evers' budget would erase a general fund balance projected at more than $921 million in the black at the beginning of the biennium and close out the two-year span with more than $938 million in the red — a $1.86 billion swing — according to a standard method of accounting called generally accepted accounting principles, or GAAP.
"We will lose a third of the progress that we've made in the last decade as far as improving our state's financial position," Marklein said in an interview.
History of GAAP deficits
Wisconsin has long faced GAAP deficits, but they shrank during former Gov. Scott Walker's years in office from about $3 billion in 2011 at the height of the Great Recession to $774 million when Walker left office, according to a Policy Forum analysis. That was the lowest level adjusting for inflation since at least 1990.
Using GAAP, spending is counted in the year in which the commitment is made. By drawing down the state's general fund reserves, the end result can be a "balanced" budget under cash accounting, but the same practice can show a GAAP deficit.
Using the example of a household budget, the GAAP accounting method would consider a credit card purchase in December as a charge made in that month, even though you don't plan to pay the bill until it's due in January, when you have the money to do so.
Under cash modified accrual accounting, the method used by the state for balancing the budget, a credit card purchase in December wouldn't be logged as an expense until January, when the bill is due to be paid.
Wisconsin's budget must be balanced by law, but the state uses the cash accounting method. Past governors and Legislatures have done things like pushing payments to municipalities past the June 30 end of the state's fiscal year to balance the current biennial budget.
Stein said it's not uncommon for the state to commit to funding in one budget but not pay it until the next budget.
"That's something we sort of grew into as a state to ensure that we had enough cash on hand to actually pay our commitments," Stein added. "But what has changed is that we built up these substantial balances in the general fund and the rainy day fund."
Despite progress, Wisconsin has been among the worst in the nation when it comes to its ending cash balance. Wisconsin, Kentucky and Illinois were the only states that ended 2018 with a negative general fund balance under GAAP accounting. 
Late last year, the state announced it had ended the most recent fiscal year with a positive balance in the general fund, under GAAP, for the first time in at least 30 years. The state's separate rainy day fund, which is to be tapped in times of recession or fiscal emergency, reached $761.8 million — the fund's largest balance in state history.
"We went from a $3 billion hole 10 years ago to a positive," Marklein said. "If we adopt the governor's budget as is, we will go from this positive back to a $938 million hole in just one budget."
Budget politics
The GAAP deficit has long been a political tool for Wisconsin politicians. When Walker ran for governor in 2010, he pledged to require the use of GAAP accounting principles to balance every budget. But after eight years in office, he never fulfilled that campaign promise, though the state ended up in much better financial shape than it was when he took office.
When Evers took office, he made no promise to move toward GAAP accounting.
"That's something we need to work towards," Evers said two years ago, adding that he couldn't guarantee it in his first budget.
Evers' office did not respond to a request for comment.
Either way, conservative and liberal political strategists said deficits aren't typically at the top of voters' priority lists and are unlikely to become a major campaign issue.
If Wisconsin draws down its general fund, it could run into problems with paying for the spending obligations made in one budget cycle that are pushed into the next cycle, especially in the event of an economic downturn. 
During the financial troubles of the 2000s when Wisconsin had little left over in its general fund, the state resorted to short-term borrowing, drawing money from the transportation fund, something Republicans decried as a "raid." Republican lawmakers also used the deficit to justify austerity measures such as 2011 Act 10, which extracted larger pension and health insurance premium payments from public employees while crippling their unions.
"In terms of cash balances, for the most part we're doing OK," said Dale Knapp, director of research and analytics for the Wisconsin Counties Association. "The problem is we're going from a really good fiscal position of $1.9 billion in cash balance and spending all of that. So the trajectory is going in the wrong direction."
Still, the GAAP deficit is only one measure of fiscal health, and in other regards, the state is doing quite well, such as Wisconsin's well-funded pension system.
Jon Peacock, executive director of the liberal Wisconsin Budget Project, said talk of the GAAP deficit is similar to political spin involving the national debt at the federal level. While fiscal conservatives use deficits as a way to argue against public spending, those same politicians can be quick to use budget surpluses to cut taxes, which can contribute to deficits just as much as increased spending.
"I'm very happy that Wisconsin was able to eliminate (the GAAP deficit), but I'm far less worried about whether Wisconsin has a GAAP deficit than I am about the fact that we spend less than almost every other state on public health systems and are poorly prepared to deal with emergencies like the pandemic," Peacock said.
What's next?
Moments after Evers unveiled his 2021-23 biennial budget on Tuesday, Republicans in the Legislature lambasted the Democratic governor's proposal and signaled they'd likely strip the document down to its bare bones and draft their own version, something the GOP did two years ago.
Many questions remain as to what the budget will look like when it eventually returns to Evers' desk. As written, it would raise total spending nearly 10% over current levels, similar to the increase he proposed in his first budget.
"As proposed, yes, it's a very significant increase in spending and it also would really draw down the state's balances and would eventually set up a sustainability challenge down the road, at least under the current projections that we have, that are not worth a ton just given how volatile everything is," Stein said.
Stein said the latest budget doesn't appear to account for the roughly $450 million in projected tax cuts — for businesses that received loans through the federal Paycheck Protection Program — included in a bipartisan bill signed by Evers Thursday.
The budget also factors in roughly $634 million in savings from Medicaid expansion, but such a proposal has been largely opposed by Republicans and appears unlikely to make it into the final budget.
At the same time, Evers holds partial veto power, something he used in 2019 to make more than 70 partial vetoes, including one to boost K-12 spending by $87 million. A finalized budget is due by July 1.