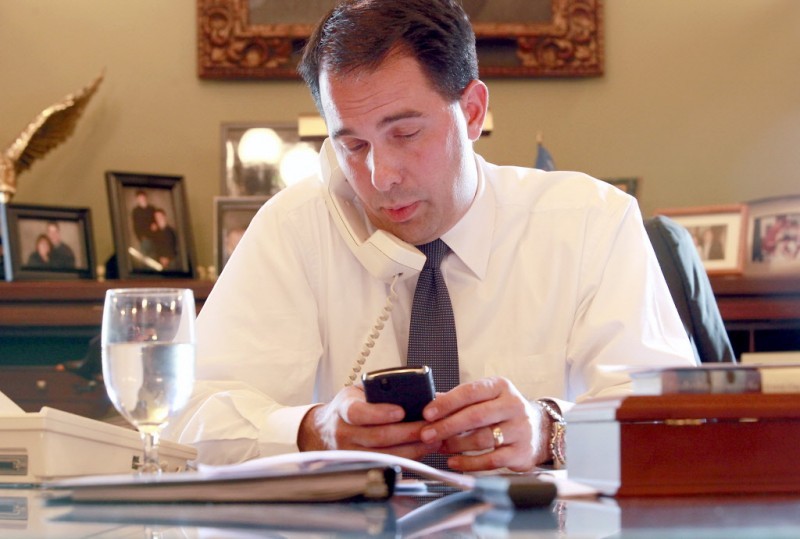 A majority of Wisconsin residents don't like the way Gov. Scott Walker is doing his job, but the state is split on whether to recall him, according to a new poll.
Some 56 percent of those polled disapprove of Walker's performance. But only 47 percent want to recall him, compared to 49 percent who don't - a statistical tie. The poll's margin of error is plus or minus 4 percentage points.
Only 19 percent said they believe the state's economy will get worse in the next year, down from 36 percent six months ago, according to the poll of 605 residents conducted Oct. 23-26 for the Wisconsin Policy Research Institute.
"There is a rising sense of optimism, and tempers that were flaring in March are subsiding a bit," Will Howell, the University of Chicago professor who directed the poll, said in a news release. "Interestingly, this has not redounded to the benefit of the governor."
Volunteers plan to start gathering signatures for a recall Nov. 15. They will need to collect more than 540,000 valid signatures by Jan. 17 to force a recall election that likely would be in the spring or summer.
Howell said the poll suggests that Walker would do better if the recall was a referendum on whether the state is turning things around or on the wisdom of recall elections in general, rather than a referendum on him.
Other highlights from the poll, which included cell phone users:
• 61 percent of those surveyed said their community schools have stayed the same in the past six months; 14 percent said they have gotten worse, and 10 percent said they have gotten better. Cuts to school aid and collective bargaining for teachers and other public employees have been major controversies in the state this year.
• 34 percent have a favorable opinion of the Occupy Wall Street movement; 33 percent have a favorable opinion of the Tea Party.
• 50 percent have a favorable opinion of public employee unions, down from 59 percent in March but generally higher than elsewhere in the country.
• 54 percent approve of President Barack Obama's performance and 42 percent disapprove. That's more support for Obama than in much of the rest of the country.
• In head-to-head contests with three Republican challengers - Mitt Romney, Ricky Perry and Herman Cain - Obama is 11 percentage points ahead of Romney, his closest rival in Wisconsin. If the matchup were between those two candidates, Obama would get 46 percent of votes to Romney's 35 percent, the poll said.