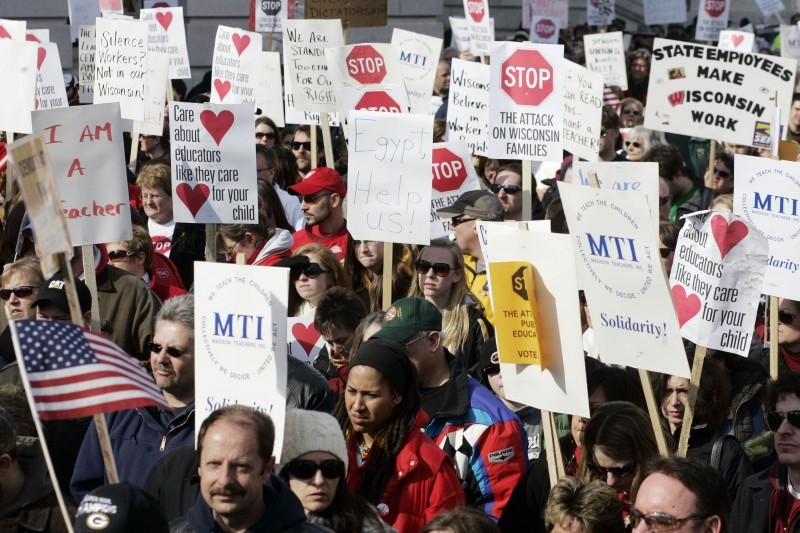 Two-thirds of Madison teachers participated in at least one day of a coordinated four-day absence in February to protest Gov. Scott Walker's proposal to curb collective bargaining, according to information released by the school district Friday.
According to the district, 1,769 out of 2,655 teachers took time off during the four days without a legitimate excuse. The records also show 84 teachers submitted fraudulent sick notes; 38 received suspensions for failing to rescind the notes by April 15, a deadline set by the district.
The exact number of teachers who caused school to shut down on Feb. 16-18 and 21 was unknown until now. The numbers "validate our decision to close our schools," Superintendent Dan Nerad said in a statement.
"We realize the challenges that our students' families experienced as a result of these school closings," Nerad said. "So we appreciate that we have been able to return since then to normal school schedules and that students have returned to advancing their learning through the work of our excellent staff members."
Madison Teachers Inc. Executive Director John Matthews acknowledged Feb. 15 that the union was encouraging members to call in sick to attend protests at the Capitol. It was the union's first coordinated work stoppage since 1,900 out of 2,300 teachers called in sick to protest contract negotiations in September 1997.
On Friday, Matthews emphasized that teachers accepted the consequences of their actions by agreeing to docked pay for the days missed. He called the suspension letters "a badge of honor for standing up for workplace justice."
The district had not determined Friday whether it would release the names of teachers who were suspended or absent without excuse, spokesman Ken Syke said.
The district previously said teachers who were absent without excuse would be docked pay for those days off and would receive a non-disciplinary "letter of expectation." Teachers who were suspended will not miss additional days but will have the most serious disciplinary letter besides termination in their file.
The district has said it received more than 1,000 sick notes, the majority of which were not investigated and deemed valid because they came from doctor's offices. Sick notes that appeared to be from doctors who were handing them out at the Capitol were deemed fraudulent, Human Resources Director Bob Nadler said.
The unauthorized absentee rate was 43 percent on the first day, 44 percent on the second day, 37 percent on the third day and 29 percent on the fourth day.
The fourth day, a Monday, came after the union narrowly voted to stay out one more day to join thousands of other protesters Downtown.
In total, there were 3,902 unpaid teacher days, which the district estimates could save about $1.3 million this year.
To make up for the four days off, the district extended the school day by up to 20 minutes in some schools but did not add more days to the calendar. The cost of the extra time for hourly employees remains unknown, Syke said.
The district released the numbers Friday because officials were waiting until after the April 15 deadline for teachers to rescind sick notes, Syke said. Last week the district was on spring break and officials met this week to review the final numbers.
As school closed down for four days in February, Superintendent Dan Nerad and the School Board received dozens of emails from parents and others expressing both anger at and support for teachers who missed school to attend protests Downtown.
A review of the more than 120 emails released by the district showed opponents outnumbered supporters 2 to 1, though half of opponents either lived outside the district or did not say where they lived.
"In my opinion, and that of many parents I talk to, this behavior has only alienated many previous teacher supporters," wrote Marc Gray, a parent of two Madison students, after school was canceled for a third day in a row. On Friday, in response to how the district handled the matter, he said "the whole thing was disappointing."
Emerson Elementary School parent Amy Maurer, who took her son to the protests for a "civics lesson," said she still stands by what she wrote in February.
"In our eyes, the fault for schools having to be closed should be laid at the governor's doorstep," Maurer wrote.
Be the first to know
Get local news delivered to your inbox!