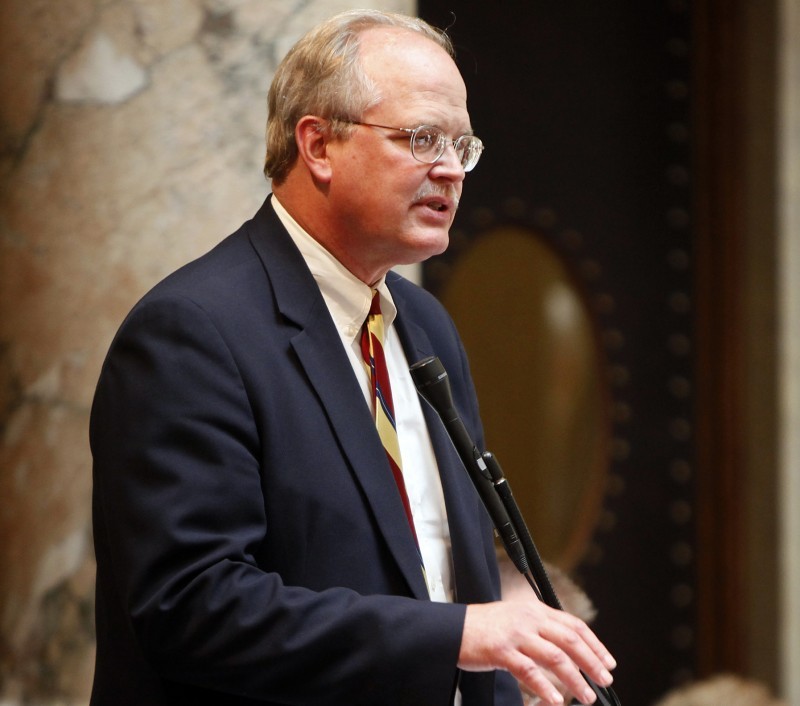 The GOP still controls the state Senate, but that doesn't mean a power shift isn't taking place at the Capitol.
Democrats on Tuesday fell one win short of taking the three seats needed to seize control of the Senate. But any relief felt by Gov. Scott Walker and Republican leadership was tempered Wednesday as the mathematics of passing new legislation settled in.
If Democrats win their two recall elections next week, Republicans will have a narrow 17-to-16 Senate majority. That means the assembly line of legislation that has marked Walker's short tenure as governor is probably over.
That's because moderate Republicans — essentially pushed aside the past six months — could now be the most powerful and important people in the Legislature. Or as Sen. Robert Wirch, D-Pleasant Prairie, said Wednesday: "(Sen. Dale Schultz) was an outcast in his caucus, and I think with this election he becomes a king maker."
Next week Wirch and Sen. Jim Holperin, D-Conover, face their own recalls. Republicans would need to win both to return to the level of power they held before the recalls began.
Going into Tuesday, the GOP controlled the Senate 19-14. That, along with their healthy majority in the state Assembly, meant Republicans could pass legislation practically untouched by the opposition.
For example, Assembly Democrats this session have offered 376 amendments to Republican bills; only one has passed. In the Senate, out of 164 Democratic amendments, only one has passed.
"For a long time the Republicans did not have to pay much attention to the minority party, but that is about to change," said Joe Heim, UW-La Crosse political scientist. "When you have to worry about someone jumping ship, you tend to start making more deals."
Senate Majority Leader Scott Fitzgerald, R-Juneau, said he has always tried to work with senators and never attempted to pass legislation that was intentionally "right wing."
Still, most agree the new math could bestow newfound clout on Republican Sens. Mike Ellis of Neenah, Luther Olsen of Ripon, Dale Schultz of Richland Center, Sheila Harsdorf of River Falls, and Robert Cowles of Green Bay. Any one of them could stand in the way of legislation — or at the very least, alter it.
"No doubt about it; it puts more power in their hands," said state Sen. Tim Cullen, D-Janesville. "If they insist on moderating future legislation — and I hope they do — they'll accomplish about all (Democrats) could have if we had retaken the majority."
Olsen said the new majority, if it holds, means any one Republican — whether moderate or extreme — could stop legislation.
"But the goal is usually to fix it, not kill it," Olsen said. "I think this could ultimately lead to better legislation."
No one senator held such power earlier this year when Walker pushed through his aggressive agenda, which included his controversial measure limiting collective bargaining for public sector unions.
Schultz was the lone Republican to vote against the bill. For the past few months the longtime Republican and former majority leader has lobbied for more bipartisan cooperation at the Capitol. He and Cullen toured each other's districts recently in a bipartisan barnstorming tour.
On Wednesday, he said suggestions of his increased prominence are exaggerated. But he also said that the new dynamics of the Senate likely put more pressure on Fitzgerald.
"I don't know if it means we moderates become more prominent, but it does mean the leader will have to work harder to bring people together," he said. "If we don't start doing that, we run the danger of becoming just like Washington, D.C."
In a statement Tuesday night, Walker called for unity and said he looked forward to working with both parties — a sentiment he reiterated on Wednesday.
"We want to see solid votes, not just 17-to-16 votes," he said of future legislation.
But the governor also said he doesn't think bipartisanship will be a problem moving forward, mainly because the most controversial legislation has already passed.
That remains to be seen. According to Cullen, there are still several high-profile votes ahead, including plans to expand mining, provide tax breaks for companies that invest in Wisconsin and establish new standards for schools.
"And now, there is a chance any such legislation will have to be more moderate to make it through," Cullen said.
State Journal reporter Mary Spicuzza contributed to this report.
State Senate District 2
All wards reporting
x-Robert Cowles, GOP (i) 27,543 (60%)
Nancy Nusbaum, Dem 18,039 (40%)
---
State Senate District 8
All wards reporting
x-Alberta Darling, GOP (i) 39,471 (54%)
Sandra Pasch, Dem 34,096 (46%)
---
State Senate District 10
All wards reporting
x-Sheila Harsdorf, GOP (i) 37,099 (58%)
Shelly Moore, Dem 27,250 (42%)
---
State Senate District 14
All wards reporting
x-Luther Olsen, GOP (i) 26,554 (52%)
Fred Clark, Dem 24,365 (48%)
---
State Senate District 18
All wards reporting
x-Jessica King, Dem 28,188 (51%)
Randy Hopper, GOP (i) 26,937 (49%)
---
State Senate District 32
All wards reporting
x-Jennifer Shilling, Dem 33,192 (55%)
Dan Kapanke, GOP (i) 26,724 (45%)
x = indicates unofficial winner