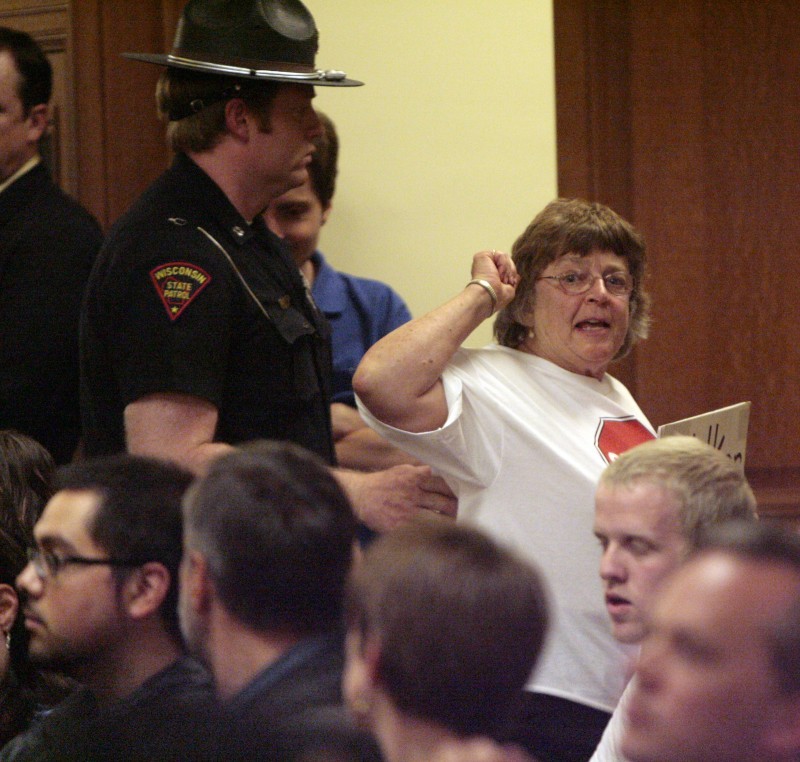 Chaos erupted at Thursday night's budget committee meeting as lawmakers tried to start debate on funding cuts to cities and counties, money for "choice schools" and recycling programs.
As the meeting began at about 7 p.m., some six hours later than expected, protesters tried to speak over lawmakers and began chanting "Whose house? Our house!" Some argued with both Republican and Democratic lawmakers. Others tried to give speeches about the budget and were carried out by police to the chants of "police state" and "shame!"
"You could be doing more harm than good," Sen. Bob Jauch, D-Poplar, warned them as the pandemonium continued.
He and other Democrats urged the protesters to let the meeting continue. Often one person would stand and begin speaking before being carried or escorted out by police and state troopers, then another would rise and start speaking.
As of about 9 p.m., 25 to 30 protesters had been removed from the meeting, and there were two arrests, Capitol Police Chief Charles Tubbs said.
The first item on the agenda was cuts to state funding to municipalities. Republican leaders said they were reducing the proposed cuts by about $20 million, for a net reduction of about $76 million rather than $96 million.
Rep. Robin Vos, R-Rochester, said the move helps municipalities by restoring money that would have been cut under Gov. Scott Walker's original plan.
But Democrats said poor communities would face the biggest cuts while the wealthy would see increases in aid. "This is a pattern of giving to the rich and taking from the poor," said Sen. Lena Taylor, D-Milwaukee.
The motion on aid to municipalities passed on an 11-4 party line vote, with Republican Rep. Joel Kleefisch absent.
The meeting continued and things calmed down by the time the debate on choice schools began, but people occasionally rose to speak and were removed one by one. At points in the meeting, people were allowed inside only when others left. Dozens of protesters packed the hallway and sang songs such as "We Shall Not Be Moved," and chanted.
Republicans, who control both houses of the Legislature, moved to expand choice schools throughout Milwaukee and into Racine but deleted Walker's plan to remove income limits.
The committee instead voted to loosen the income requirement to participate in the voucher program. Currently, a family must earn less than 175 percent of the federal poverty level to qualify, or $39,630 for a family of four.
For the next school year, only 250 students would be allowed to use vouchers in Racine, but the income threshold would be 185 percent of the federal poverty level, or $41,348 for a family of four. In the second year, 500 students would be allowed in and the income threshold could increase to 300 percent of the poverty level, or $67,050 for a family of four.
After that, there would be no enrollment cap in Racine.
The income level to participate in the program in Milwaukee would be 300 percent of the federal poverty level.
Married couples could earn an additional $7,000 above the limits.
Also, the committee went along with Walker's plan to eliminate the program's statewide 22,500-student enrollment cap. Currently, about 21,000 students are in the program. The committee also did away with a 5,250-student  cap for virtual charter schools.
Committee co-chairwoman Sen. Alberta Darling, R-River Hills, said before the meeting began they wanted to hear more from communities such as Green Bay about what they want before expanding choice schools in their communities.
"It's not about the poor little black kids in Milwaukee," said Rep. Tamara Grigsby, D-Milwaukee. "It's about privatization. And it's about making money off of the backs of poor kids. And now it's not even poor children anymore because we're expanding it."
Taylor called GOP plans in the wake of cuts to public school funding "morally wrong."
But Vos defended the expansion of the choice school program, saying it is popular and allows families to decide what is best for their children.
That measure also passed 11-4 on a party-line vote.
— The Associated Press contributed to this report.