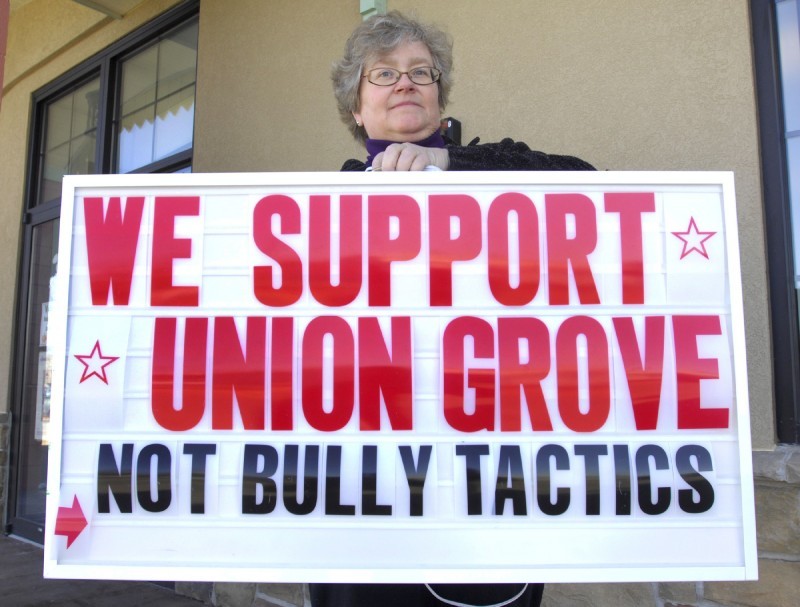 UNION GROVE — There will be no boycott of businesses in this village that do not display signs in support of worker rights.
Marty Beil, executive director of American Federation of State, County and Municipal Employees Council 24, said there is no boycott in an email Friday.
"There was some unfortunate overzealousness in the field," the email read. "We have made clear all along that we see small business as a partner and ally in getting Wisconsin back to work."
The statement comes in the wake of a letter sent Tuesday to many Union Grove businesses from AFSCME Council 24 Field Rep. Jim Parrett threatening to boycott those that declined to display signs supporting "workers rights."
Parrett confirmed in an email Friday afternoon saying only that there is no boycott and referring further questions to Beil. It was not clear Friday whether Parrett was acting of his own accord or how the boycott threat came about.
Parrett has not otherwise responded to requests for interviews and Beil and other Council 24 leaders did not return requests for comment Friday.
Dawn Bobo, owner of Village Dollar store, was upset by the boycott threat.
"I'm a new business, and I need to concentrate on issues that won't offend half of my customers," she said Wednesday.
Several weeks ago, Bobo said, five union members showed her the poster and asked her to display it in her front window.
"I said I can't put up any type of signage for either side," she recalled. "They said, 'No problem,' they were all smiles."
You have free articles remaining.
But Tuesday shop owners got the letter from Parrett.
Failure to comply with the union's request, Parrett wrote, "will leave us no choice but do a public boycott of your business. And sorry, neutral means 'no' to those who work for the largest employer in the area and are union members."
Parrett told the Milwaukee Journal Sentinel that similar letter campaigns were under way in other parts of the state. 
"It is unfortunate that you have chosen not to support public workers rights in Wisconsin," it began. "These signs simply said, 'This business supports workers rights,' a simple, subtle and we feel noncontroversial statement given the facts at this time," Parrett wrote.
In Madison, Mary Carbine, executive director of the Central Business Improvement District said she had not heard of any businesses who have been asked to display signs by any organization, although there are signs in some business windows.
"Businesses are free to choose what they want to display and who they want to express support for," Carbine said. "And some Downtown businesses are expressing their support."
Parrett's letter has garnered national attention, eliciting a Wall Street Journal editorial that called it "union thuggery."
Indeed the boycott threat did not appear to have the intended effect — only a couple Main Street businesses were spotted sporting the AFSCME sign on Wednesday — but rather sparked the opposite, drawing support from the community and even those around the country.
A couple from Paradise, Texas, called Roseanne's Floral on Friday to ask: Do you have a union sign out? 
The couple wanted to send flowers to a local business to show their support in lieu of the boycott threats, said Roseanne Fohr, owner of the shop at 1818 S. Colony Ave. 
"Our stance is we choose not to choose," Fohr said the caller was told. "We're a business and my political views are personal."