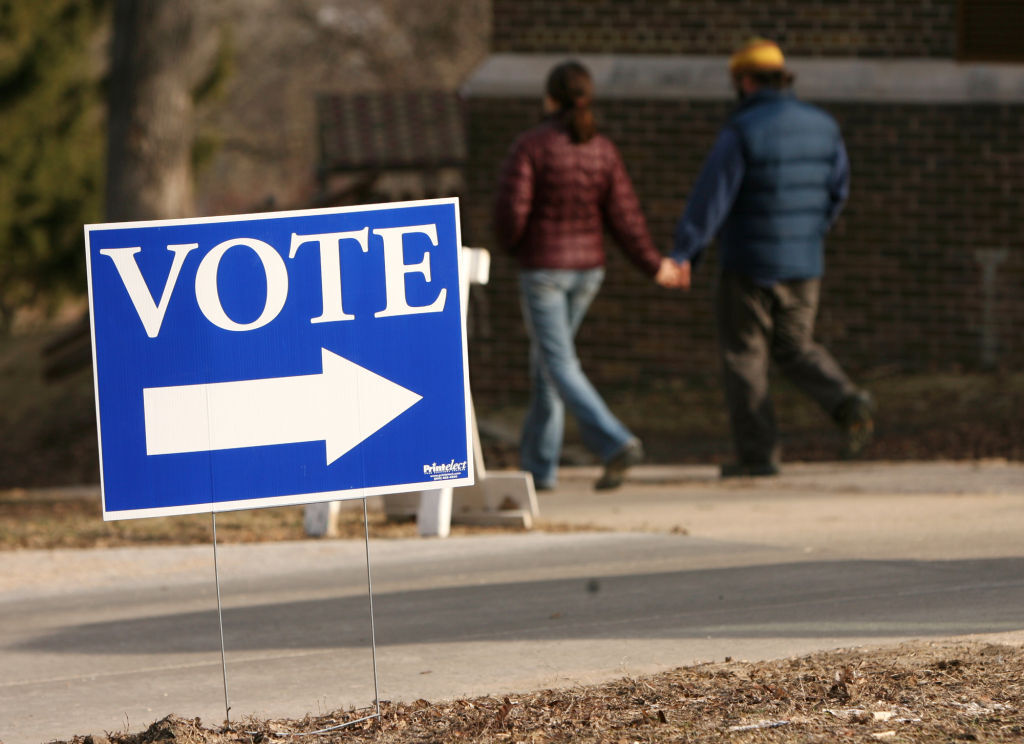 Disability rights advocates on Wednesday pushed back against a number of Republican bills proposing changes to Wisconsin's absentee voting process that they say would make it more difficult for people with disabilities to cast ballots.
Disability Rights Wisconsin and voters with disabilities in particular took issue with two bills the Republican-controlled state Senate passed Tuesday. One would make changes, including some new restrictions, on how absentee ballots can be returned, and another would prohibit local election officials from filling out incomplete information on a voter's absentee ballot certificate, such as missing witness address information.
"Voters with disabilities have a higher utilization of absentee voting because so many experience barriers to voting in person," said Barbara Beckert, director of external advocacy for Disability Rights Wisconsin, during a Zoom call Wednesday. "These are among a number of bills introduced in February that would put in place new barriers and restrictions that would make it harder to vote for many of the voters that we assist."
Still, Republicans have made some recent changes to the bills that could make the voting changes more palatable to disability rights advocates.
Election bill author Sen. Duey Stroebel, R-Saukville, defended the bills and said some information being circulated by advocates is inaccurate.
"During each public hearing on the election integrity bills I have appreciated the feedback I received from the public," Stroebel said in a statement. "Some of that feedback has resulted in amendments to the original proposals. This is how the legislative process works and I am confident that the bills we have passed, and will pass next month, are measured reforms that increase transparency, accountability and fairness in the elections process. It is unfortunate that inaccurate information has been circulated regarding the substance of these bills and I would encourage anyone to read the bills and the amendments for themselves."
The election bills Republicans have spearheaded in the wake of former President Donald Trump's false and unproven claims of fraud in the 2020 election are nearly guaranteed to be vetoed by Democratic Gov. Tony Evers. On Wednesday, Evers said he would look at the election bills once they reach his desk, but that he's "hopeful that any bill that's being passed will enhance people's ability to vote rather than detract from that."
The package of legislation has also caused a rift among Wisconsin Republicans, some of whom believe the bills would cause unintended negative consequences, including for people with disabilities.
Limited options
Disability rights advocates said Senate Bill 203, which the Senate approved Tuesday, would limit options to obtain and return absentee ballots. The bill would only allow ballot collection events, such as Madison's Democracy in the Park, to take place during the window of in-person absentee voting two weeks before Election Day and would allow voters to return ballots via third-party delivery services, such as UPS or FedEx.
But more concerning to disability rights advocates is the provision in the bill that would restrict who may return an absentee ballot for another voter. The bill designates a person's immediate family member (spouse, parent, child, sibling, grandparent or grandchild) to return his or her ballot. The original version of the bill would only have allowed a non-family member to do so for another person if the voter designates that person in writing and if he or she doesn't have immediate family living in the state.
The amended version of the bill that passed the Senate would allow for voters to choose between family or non-family.
Under the latest version of the bill, a person who isn't a family member is restricted to only returning two non-family member ballots per election.
The bill prohibits compensation for returning a ballot, and also makes it a Class I felony for a violation of the process.
"People are going to be scared to help others," Beckert said.
Beckert said she is concerned about the bill because many people with disabilities don't drive and rely on friends, neighbors, extended families or others to deliver their absentee ballot to the clerk or a secure drop box instead of by mail, given concerns about mail reliability.
People with disabilities who rely on caregivers to return their ballots would likely see that option become illegal under the bill, because people can't be compensated for returning a ballot.
"Senate Bill 203 … really makes a lot of assumptions about people with disabilities, and its assumes there are family members just sort of waiting around to help people with disabilities," said 33-year-old Stephanie Birmingham, of Sturgeon Bay, who uses a wheelchair. "That really isn't always the case."
She also questioned the bill's assumption that family members can be trusted, citing the high rate of elder abuse cases in which perpetrators are family.
Other bills
Advocates also took issue with the other election bill the Senate passed Tuesday, SB 212, that would prohibit local election officials from filling out incomplete information on a voter's absentee ballot certificate (not the ballot itself). The bill would require clerks to mail the ballot back to the voter to be corrected and post a notification of the defect on the voter's information page on MyVote Wisconsin. An amended version of the bill that passed the Senate Tuesday would also allow clerks to notify voters by other means, as well.
Republicans say the bill would align the law with their intent for the law.
Beckert said the bill might lead to many ballots not being counted, and may leave behind voters who don't have access to the internet or MyVote Wisconsin.
Advocates also took issue with other bills that haven't yet passed either chamber, such as a bill that would place restrictions on voting as indefinitely confined. Currently people who are ill or have disabilities can claim the status to automatically receive ballots and to waive the state's photo ID requirement. The original version of the bill would eliminate the photo ID exemption for such voters in most cases. It would also eliminate the option to have absentee ballots sent automatically, instead only allowing absentee ballot applications to be sent automatically.
Disability rights advocates said the bill undermines the purpose of the indefinitely confined statute by requiring people to apply each time for an absentee ballot, and that waiving the photo ID exemption for indefinitely confined voters would impose a barrier on disabled voters, many of whom don't have driver's licenses.
Under an amended version of the bill, indefinitely confined voters who possess a current voter ID document would be required to include a copy of that with their returned absentee ballot. If an indefinitely confined voter did not have a voter ID document, the use of a witness affidavit confirming their identity could be used.
SOS readers seek help with flights canceled due to COVID-19
With the advent of the COVID-19 pandemic, SOS saw complaints about flight refunds and vouchers soar.