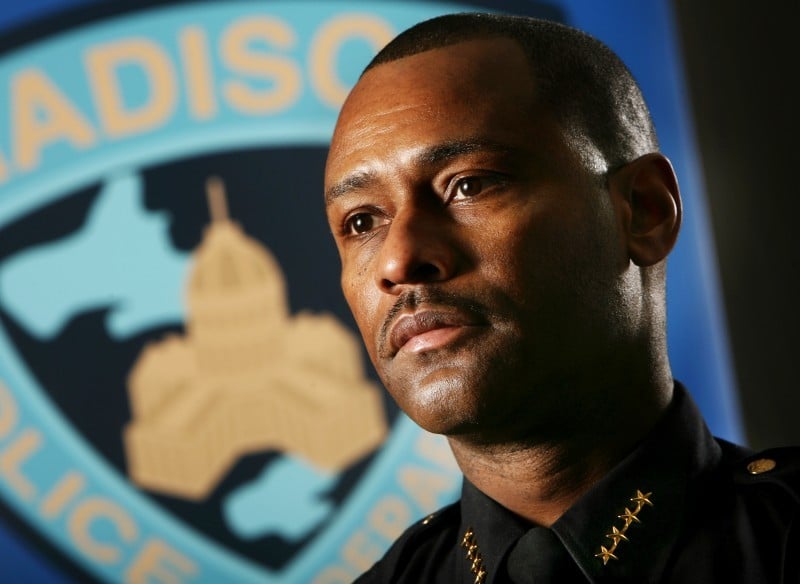 Madison's mayor and police chief Thursday called on Gov. Scott Walker to explain statements he made in a secretly recorded phone conversation that he "thought about" planting troublemakers among the thousands of demonstrators at the Capitol.
"Someone in his inner circle raised seriously the possibility of hiring people to come in and apparently create violence in my city," Mayor Dave Cieslewicz said. "I find it appalling, and I want to know who that was."
Walker spokesman Cullen Werwie said the governor had already answered questions about the phone call during a press conference Wednesday in which he acknowledged entertaining — but rejecting — the idea.
"People have brought up all sorts of different options," Walker said at the press conference. "As you saw if you've listened to the tape, we shot that down."
Tens of thousands of people have demonstrated at the Capitol over the past 11 days, during which Madison police made no arrests. Most of the demonstrators oppose a bill backed by Walker to limit collective bargaining rights for public employees.
Madison Police Chief Noble Wray also said he wanted an explanation from the governor, saying he found it "very unsettling and troubling that anyone would consider creating safety risks for our citizens and law enforcement officers"
In an appearance on Fox News on Wednesday night, Walker said the idea had come from legislators and others, although he didn't name anyone.
In a prank phone call in which he thought he was talking to billionaire campaign contributor David Koch, Walker answered a question about whether he wanted Koch to plant "troublemakers" in the crowd by saying, "The only problem with that ... we thought about that.
"... My only fear would be is if there was a ruckus caused that that would scare the public into thinking maybe the governor has got to settle to avoid all these problems."
The phone call actually was placed by Ian Murphy, a Buffalo, N.Y., blogger who writes the Buffalo Beast.
Be the first to know
Get local news delivered to your inbox!