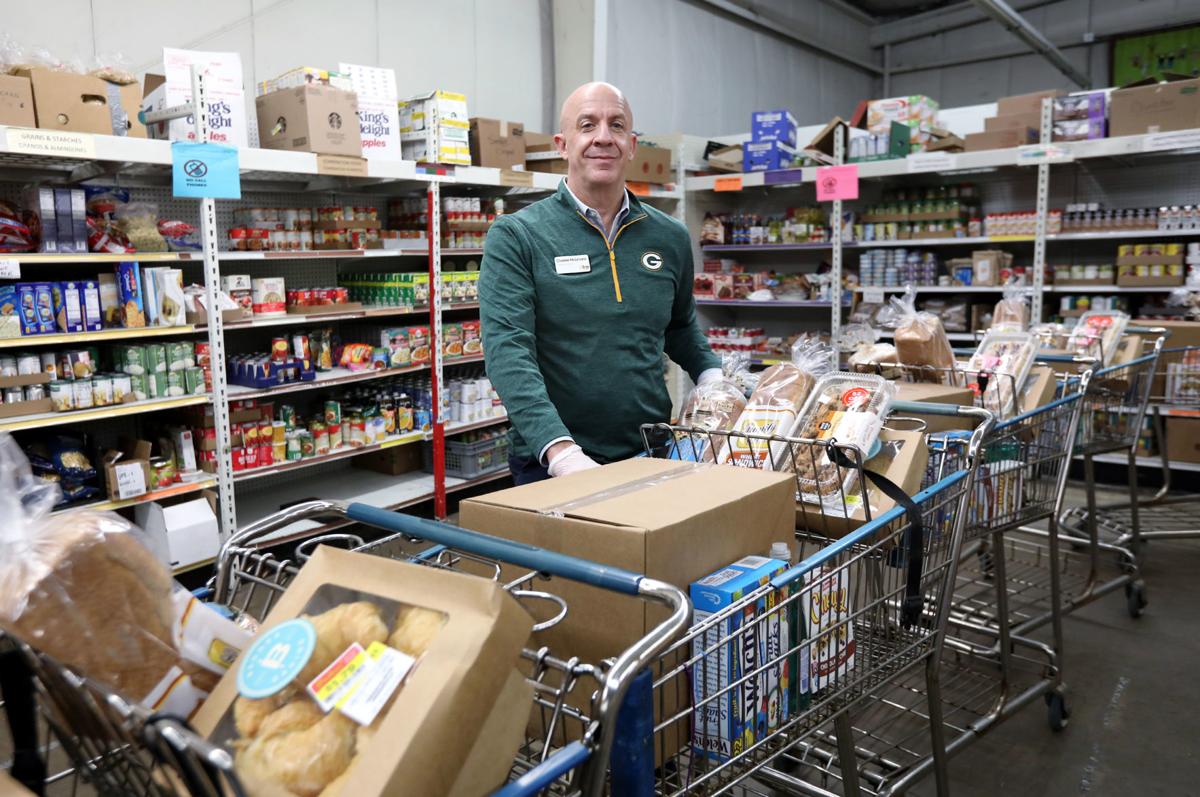 Madison's River Food Pantry president and CEO Charles McLimans had taken the helm of a Naperville, Illinois-based pantry before the onset of the Great Recession — an experience that the Fennimore native is leaning on during unprecedented unemployment and rising demand for hunger assistance programs brought on by the COVID-19 coronavirus outbreak.
McLimans, 55, has been a nonprofit executive for 25 years, including time with Loaves and Fishes Community Services in Naperville and Feeding America Eastern Wisconsin, the state's largest food bank. He became president of The River Food Pantry, 2201 Darwin Road, three years ago.
In his current role, McLimans provides leadership for staff and volunteers, community engagement and public relations, fundraising and advancing the organization's mission.
McLimans said the outbreak — resulting in more than 200,000 initial unemployment claims statewide in the last two weeks — has put a considerable strain on area residents, which in turn has boosted demand for the nonprofit's services.
In the last full week of March, the organization provided 72,000 pounds of groceries to 802 Dane County families and distributed close to 1,200 meals through its mobile lunch program. McLimans said he anticipates that demand to increase.
How has the COVID-19 outbreak impacted operations?
Our team has been stepping up in a big way to respond to this crisis. We've already implemented multiple levels of contingency plans and were able to change our operations quickly and as safely as possible to ensure continuing operations. When UW and other schools started closing down we began our changes. We first closed down our on-site hot meals program — normally serving around 1,000 hot meals per week — and clothing and household items program and donations. We established a COVID-19 Emergency Food Fund to accept donations to allow us to continue our critical operations.
How have volunteers and staff responded?
We've asked volunteers over 60 to please take a break for now. They are among our most ardent supporters and we want them to be safe and to be able to return once we reopen under a new normal. Our staff is doing tremendous, selfless service on a daily basis on the front lines of this pandemic, while taking every safety precaution possible. We still have a need for healthy volunteers who are not in a higher risk group. People can sign up directly via our website. Our team is certainly concerned and anxious about the current situation; however, their compassion and passion for our mission motivate them to continue this essential work on behalf of the community. Like hospitals and grocery stores throughout our community, closing down is not an option for us. Too many people rely on us for their food, now more so than ever.
What has been the response from the public during this outbreak?
Our supporters and the community have been stepping up ... we know this is a marathon and not a sprint, so we will continue to need healthy, lower-risk volunteers to continue to come forth throughout the duration of this crisis. The River is 100% community supported, meaning we do not rely on government funding for our programs. We are able to provide abundantly and generously to others because the community provides abundance and generosity to empower our mission.
Do you have a favorite memory from your time with The River Food Pantry?
One of my favorite memories was the summer before last when Donald Driver was doing a tour through Wisconsin on his bus and reached out to us. Donald went out on our MUNCH route with us and distributed sandwiches to the kids. Being a lifelong Green Bay Packers fan and having had the chance to meet Donald a couple of times before, I know what a kindhearted, generous guy he is. The kids and families that we serve do not have a lot of resources and privilege, so to have one of the all-time great Packers players serving lunch and signing autographs, posing for photos with anyone who wanted one, was a great experience that tied two of my passions together — football and feeding people.