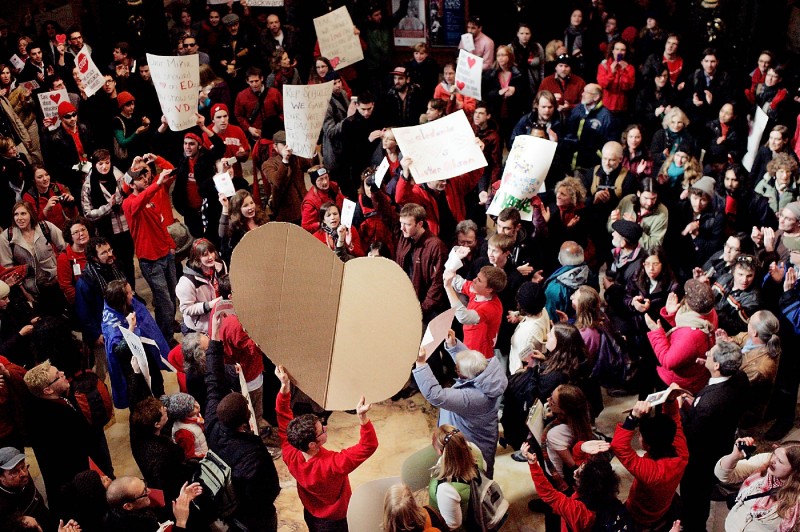 Republican lawmakers were unusually silent Monday about whether they supported Gov. Scott Walker's plan to effectively end collective bargaining for nearly all public employees, even as hundreds of students filled the state Capitol with chants of "Kill this bill" in protest of the plan.
Legislators are expected Tuesday to hold a public hearing on Walker's controversial proposal, the first step in what will likely be the governor's toughest legislative battle since taking office six weeks ago.
There was an increased police presence at the Capitol Monday, and security is expected to be tight in the upcoming days as officials brace for more protests.
The governor's proposal, unveiled Friday as part of a bill aimed at overcoming a $137 million deficit in the current budget, will likely reach the floor of the Legislature Thursday. But its passage, unlike other bills Walker has put forth, is not guaranteed.
Some wonder if the new governor has overreached with a plan that will put his fellow Republicans in a vulnerable position, especially those facing tough re-election fights in two years.
John Jagler, a spokesman for Assembly Speaker Jeff Fitzgerald, R-Horicon, said members of the Assembly are still reviewing the bill but "things are looking good for support" in that house, controlled by the GOP 57-38-1. But Andrew Welhouse, a spokesman for Senate Majority Leader Scott Fitzgerald, R-Juneau, the speaker's brother, declined to comment when asked if Walker's plan has enough votes to pass the Senate, which the GOP controls 19-14. 
Walker said he talked to all of the Republican senators and some members of the Assembly, and they have told him "they would rather make these modest changes than lay thousands of people off."
"This is not easy. This is not something people relish," Walker said. "But again this is not a yes or no proposition. This is a yes, we make these reasonable modest changes, or the alternative is layoffs."
Numerous Republican state senators didn't return telephone calls from the Wisconsin State Journal on Monday. Many were flooded by constituent calls, leaving their voicemail boxes full.
Rep. Peter Barca, D-Kenosha, said his Republican colleagues have been noticeably quiet in recent days.
You have free articles remaining.
"On everything else, Republican lawmakers were boom, Johnny-on-the-spot: 'I'm completely for this. This is needed. We can't do business as usual.' All that happy type of talk." Barca said. "They are being remarkably quiet and noncommittal about where they're going here."
The only Republican senator who spoke to the State Journal was conservative Sen. Glenn Grothman, R-West Bend, who said he didn't think Walker's proposal goes far enough. 
The governor wants to remove collective bargaining rights for most of the 175,000 state and local employees, allowing workers to negotiate only over salary. But he exempted most law enforcement, firefighters and Wisconsin State Patrol troopers from the change.
Balancing the budget, or attacking unions?
To union leaders, the proposal is tantamount to a declaration of war. More than a dozen union leaders gathered in Madison on Monday and vowed to fight the governor over the plan. They pointed not only to Walker's proposal to take away bargaining rights for benefits and pensions, but also to parts of the legislation that would force public employee unions to recertify every year and no longer allow employers to collect union dues in paychecks.
"He is not trying to balance a budget, he is trying to destroy unions in this state," said Bryan Kennedy, president of AFT-Wisconsin. "He is trying to turn Wisconsin into a right-to-work state. Or a right-to-work-for-less state."
Right-to-work laws guarantee that no person can be compelled, as a condition of employment, to join a union or pay union dues. Twenty-two states have passed right-to-work laws, and union membership nationally is the lowest it's been in 70 years, about 11.9 percent according to the Bureau of Labor Statistics.
Walker's proposal represents a marked change in the direction for a state that has long been a leader in workers' rights, said Mordecai Lee, UW-Milwaukee political science professor.
AFSCME, the American Federation of State, County and Municipal Employees, started in Madison in 1932. And in 1959, the Legislature passed the Public Employee Collective Bargaining Act, which made Wisconsin the first state to give local government workers and teachers collective bargaining rights. State employees did not win similar rights until the 1970s. 
Charles Franklin, a political science professor at UW-Madison, compared Walker's first weeks in office to the first year of President Barack Obama's term, when he pushed through a number of controversial laws. That drive cost him politically in the mid-term election.
"The question is, will he achieve what he sets out to achieve?" Franklin said. "There will probably be some political fallout, but if he gets this through, he might feel it's worth it."
Be the first to know
Get local news delivered to your inbox!