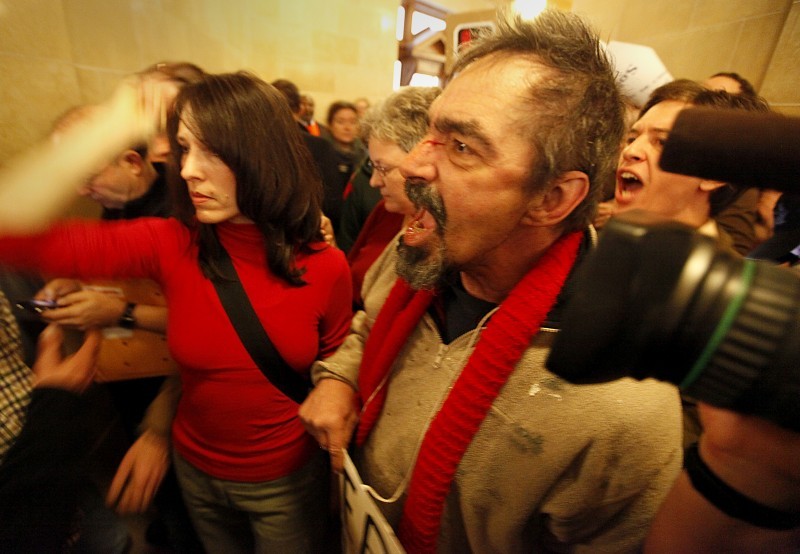 Tensions at the state Capitol rose even higher Thursday morning as police forcibly removed protesters inside and state legislators had trouble getting inside, one even climbing in the window of a colleague. 
About 200 protesters slept in the Capitol last night, and dozens gathered at the entry to the Assembly in the hours leading up to the 11 a.m. floor session, where lawmakers are set to vote on the controversial bill that effectively strips collective bargaining rights from nearly all public workers in Wisconsin.
Shortly after 10 a.m., police began forcibly removing protesters who refused to leave. Some were carried or dragged, but others walked out on their own. Many law enforcement officers involved in removing protesters were Wisconsin State Patrol troopers.
Cathleen Blair, a protester from Madison, was pushed away from the Assembly area in her wheelchair by police. 
"This is illegal," she said, crying.
Many protesters who were locked out knocked on the Capitol doors and chanted Thursday morning, and reporters and even lawmakers were having trouble getting into the building. 
Rep. David Cullen, D-Milwaukee, said he couldn't get into the building to get to session — until he crawled through the window of fellow Democrat, Sen. Chris Larson.
Rep. Joe Parisi, D-Madison, said he and the Rev. Jesse Jackson were denied entrance to the Capitol at both the King Street and Martin Luther King Jr. Boulevard entrances. 
"We were told the building is closed to everyone right now," Parisi told large crowd outside the King Street entrance around 10 a.m. "I'd like to be let in so I can at least vote on this bill."
You have free articles remaining.
Police opened two Capitol entrances about an hour later with weapons screening.
Richard Retzlaff, 34, of Cambridge, said police told him the threat of weapons was why he and about 20 people other people had to leave the Capitol. None of the thousands of people who streamed into the Capitol Wednesday night after the Senate passed an amended version of the bill was screened.
"I just didn't resist. They picked me up," he said, adding he then walked out of the area. "I didn't want to get arrested. That's not going to help."
"The police have been really nice," Retzlaff added.
State Trooper Jeffrey Hoffman said law enforcement had placed "flex cuffs" on the inside doorknobs of one door on the Hamilton Street entrance, where a wooden panel of the door was kicked in earlier in the day. 
The cuffs, which were in use at other entrances as well, prevent people from entering the Capitol. Officers can cut them to open the doors if needed at a moment's notice, Hoffman said.
"As long as we're attending (the doors) we're comfortable with leaving them on," said Jim Veith, an inspector with the State Patrol.
But Ed Ruckriegel of the Madison Fire Department said putting the cuffs on doors that may need to open in an emergency is a violation of state fire code.
But city inspectors does not have authority to enforce state fire code on state property, and Ruckriegel said he would call Capitol Police to express his concerns and urge removal of the cuffs.
"If it were a building other than a state building, they would issue a verbal order and expect immediate compliance."
Be the first to know
Get local news delivered to your inbox!