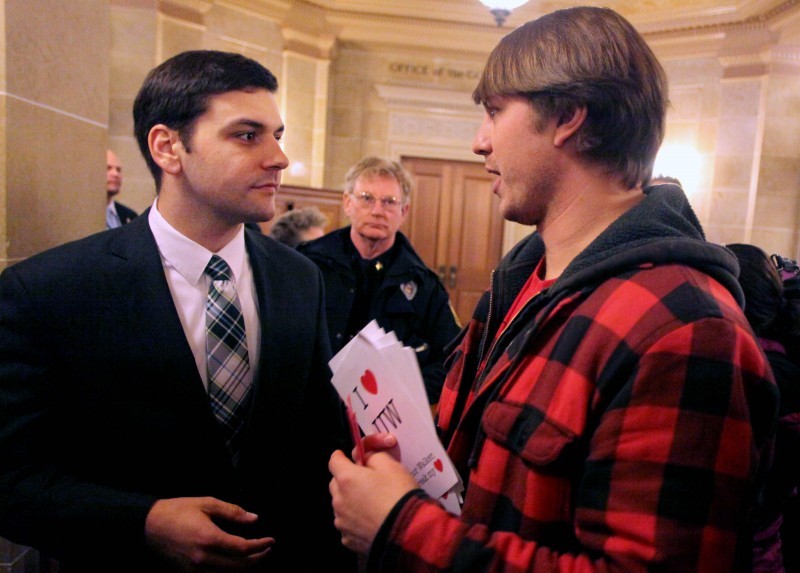 The dawn raid targeted the quaint East Side home of a longtime aide to Gov. Scott Walker, suddenly thrusting a secret investigation into the spotlight. 
A dozen law enforcement officers, including FBI agents, descended on the home of Cynthia "Cindy" Archer on Sept. 14. They collected evidence, took pictures and left neighbors confused.
Until that morning, the secret John Doe investigation had seemed much smaller, with news reports focusing on one wayward donor to Walker and a low-level Milwaukee County staffer who was posting pro-Walker political comments to websites while at work — an offense that doesn't typically spark an FBI raid. But it quickly appeared to be deeper, and hinted that the investigation could become a major problem for Walker.
The following week, the judge overseeing the John Doe investigation released documents showing that nearly a dozen people, including Walker spokesman Cullen Werwie and campaign fundraiser Rose Ann Dieck, had received immunity from prosecution in exchange for their testimony. 
John Doe investigations are secret proceedings in which witnesses can be compelled to testify about possible criminal matters. Immunity grants, which must be given in open court, can be for witnesses in jeopardy of being criminally charged themselves.
Because those involved are typically barred from discussing such investigations, much about the case remains a mystery. But recent developments suggest the probe into Milwaukee County staffers, launched about 17 months ago, may be creeping closer to Walker himself.
In July, Tom Nardelli, former chief of staff for Walker while he was Milwaukee County executive who had overseen the employee posting political messages, was appointed administrator for the state Division of Environmental and Regulatory Services. But three days later, Nardelli quit, saying he did not plan to be in the position for very long. Nardelli had followed Walker from Milwaukee County into state government, taking a high-ranking position in the Commerce Department in January.
In August, Archer, who had been the top staffer in Milwaukee County under Walker, resigned from her $124,000-a-year job as the deputy secretary for the state Department of Administration. She took a job and a $25,000 pay cut with another state agency and immediately went on medical leave. She insists she has done nothing wrong, and is scheduled to return to work on Oct. 13.
Walker said last week that he has not been contacted personally by investigators and has no details about the probe, although his campaign has provided emails requested by investigators.
"The bottom line is, I know how I have conducted myself in public service," Walker said. "It is the traditions I have from my parents; it's part of how I obtained the rank of Eagle Scout. We operate at high integrity."
Retired Dane County Circuit Judge Daniel Moeser, who has overseen John Doe investigations, cautions against speculating about the target of the investigation or reading too much into who gets immunity from prosecution. So far, 11 people have been granted immunity, including Werwie and Dieck, a retired teacher who has been a fundraiser for Republicans including Walker since at least 2005.
"I've done John Does when you granted immunity, you asked two questions, they answered them, and then you say, 'Thank you,' and you get nothing out of them," Moeser said. 
And the target of the secret investigation may move, he said.
"You simply don't know who the target was originally, where it's leading and who the target is now and whether anyone will ever be charged," Moeser said. "Some (John Does) are opened and closed without charges being filed."
This probe already has netted one conviction. William Gardner, president of Wisconsin & Southern Railroad, was sentenced in July to two years of probation after acknowledging funneling at least $72,800 in illegal and excessive campaign contributions to Walker and other candidates since 2003. The investigation into Gardner was conducted as part of the ongoing John Doe, according to court documents.
Nine Wisconsin & Southern employees testified under grants of immunity that they had donated money to candidates, including Walker, and received reimbursements from Gardner or the company, court documents show. Corporate donations are illegal in Wisconsin, and donors are limited to no more than $10,000 in donations to statewide candidates for office in any election cycle.
The railroad executive also paid a record $166,900 fine to the Government Accountability Board in April. In an email to the State Journal, he said he objected to being "lumped in" with the John Doe investigation since he cooperated with the probe from the start.
Milwaukee County Assistant District Attorney Bruce Landgraf confirmed that the investigation into Gardner's activities has ended. However, he declined to characterize the testimony offered by Werwie and Dieck, saying that portion of the investigation continues. 
Werwie, who joined the Friends of Scott Walker campaign after the September 2010 primary election, remains the governor's spokesman. Both Dieck and Werwie have declined comment.
Gardner's illegal campaign donations came to light in April 2010, after his former girlfriend, Stacey Long, contacted the GAB about Gardner's request in late 2009 that she donate $10,000 of his money to Walker under her name.
By May, when a formal investigation into Gardner was launched, records indicate the John Doe already was under way in Milwaukee County directed by Landgraf under the supervision of retired appeals court judge Neal Nettesheim.
Just days after Long came forward, Darlene Wink, Walker's constituent services coordinator in Milwaukee County, quit after admitting to the Milwaukee Journal Sentinel that she posted political pro-Walker comments — and comments slamming his opponents — on the Web while at work. 
In August 2010, authorities seized computers used by Wink and Tim Russell, then-Milwaukee County housing administrator. Both worked for Walker at the county, and both were active in the county Republican Party and Walker's campaign for governor.
It's unclear what exactly sparked the investigation, but it appears the Gardner donations were an offshoot of an investigation that may have initially focused on allegations that Milwaukee County staffers were campaigning for Walker while at work for the county.
In late January, three months before Gardner was charged, the head of a nonpartisan group that tracks political contributions was interviewed by an FBI agent who was interested in not only the Gardner contributions but also how legislative staffers hid illegal campaign activities in the caucus scandal 10 years ago. 
In that case, staffers of four partisan legislative caucuses were found to have been campaigning illegally on state time for both Republicans and Democrats. A John Doe probe, sparked by a Wisconsin State Journal investigation, resulted in criminal charges and fines against five lawmakers and four legislative aides, including the Legislature's top leaders, Senate Majority Leader Chuck Chvala, D-Madison, and Assembly Speaker Scott Jensen, R-Brookfield. 
When he was interviewed by the FBI, Mike McCabe, executive director of the Wisconsin Democracy Campaign, said he was unaware that the discussion was part of an ongoing investigation. 
In addition to discussing he Gardner donations, "The agent also wanted to talk about the caucus scandal: how it worked, how they covered stuff up, that sort of thing," McCabe said. "He never mentioned Milwaukee County."
UW-Madison political science professor Charles Franklin said the secrecy surrounding the probe makes it hard for Walker to defend himself against suspicions that he may have done something wrong. The news of Werwie's testifimony under immunity comes as Walker opponents are preparing a likely recall campaign against the governor.
"It may be nothing at all," Franklin said, "but it's awfully close to the executive office."