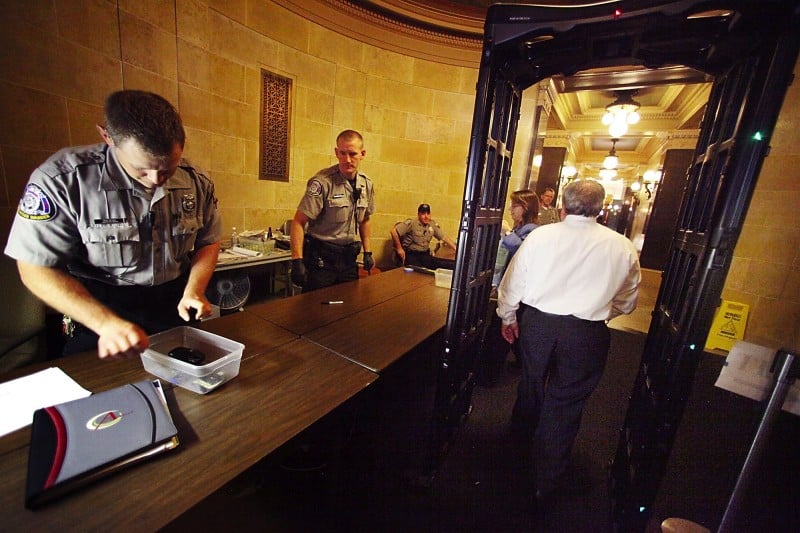 Members of the public will be able to carry guns in the state Assembly gallery — but not in the Senate gallery during session — under different concealed carry rules being developed in the two houses. And lawmakers in both houses will be allowed to carry concealed weapons during floor debates.
"We feel that in the spirit of the law that we passed that we want law-abiding citizens to be able to protect themselves," Assembly Speaker Jeff Fitzgerald, R-Horicon, said Thursday. 
Republican leaders in the Senate, however, are taking a different approach for their chamber, where members of the public will not be able to carry guns in the gallery on days the Senate is in session.
Both houses will allow guns in their committee hearings. And Assembly members and senators will be able to decide whether to ban weapons in their own offices, according to Jeff Fitzgerald and his brother, Senate Majority Leader Scott Fitzgerald, R-Juneau.
Jeff Fitzgerald said he had not heard from any Assembly members concerned about plans to allow concealed weapons on the floor, in overhead galleries or in meeting rooms. 
But some senators, Republicans and Democrats alike, were clearly concerned on Thursday. 
Senate President Mike Ellis, R-Neenah, said he believes guns do not belong in the Senate chamber.
"We have enough problems as it is without having Tom Mix and Hopalong Cassidy with their six-shooters out here," Ellis said.
You have free articles remaining.
Ellis said he opposed having guns in the state Capitol at all.
"They shouldn't be in the Capitol period, but we lost that one," Ellis said. "So we should at least keep them out of the balcony and off of the floor of the Senate."
Gov. Scott Walker's Department of Administration is scheduled to discuss its policy about concealed carry in state facilities on Friday. 
Walker, a Republican, hinted that restrictions would be minimal during a brief question-and-answer period with reporters Thursday.
"There are many states that have those (concealed weapons) in public buildings," Walker said. "The bottom line is whether it's the Capitol or anywhere else, people who have gone through extensive training and have gotten a permit are not people I'm concerned about." 
The Assembly on Thursday canceled an organization committee meeting about its concealed carry policy hours before it was scheduled to begin. John Jagler, a spokesman for Jeff Fitzgerald, said the Assembly was waiting for the DOA to announce its policy before voting on the matter. 
Ellis declined to comment on the Assembly's plan to allow guns in its gallery, but Sen. Tim Cullen, D-Janesville, called it "ludicrous" to have different rules for the two houses.
"It's going to be very disruptive," he said.
Asked if the governor would choose to carry a weapon, his spokesman Cullen Werwie said he does not currently plan to do so but would consider it in the future. Walker hunts with a rifle and a bow but does not own a handgun, Werwie said.