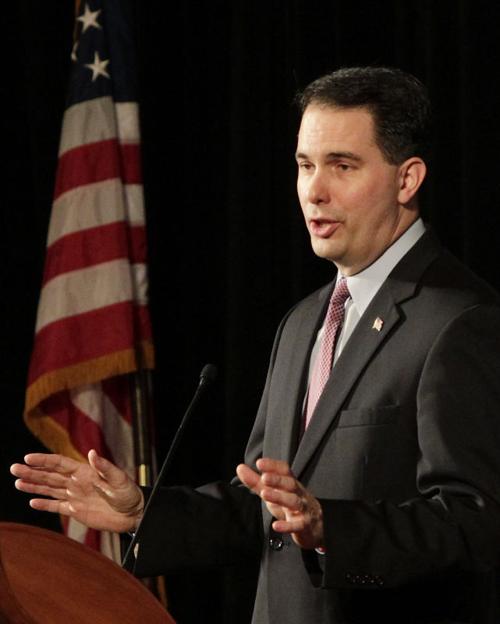 Gov. Scott Walker's plan to reject federally funded Medicaid expansion and instead tighten income eligibility for the program to move more people near the poverty line into private insurance drew criticism from Democrats and even one Republican on the Legislature's budget committee Wednesday.
Walker's Medicaid plan is the centerpiece of his health care proposals, which were discussed by the Legislature's Republican-controlled Joint Finance Committee during the second of four days of budget briefings. The committee will eventually vote on changes to the budget before sending it to the full Legislature for consideration in late June.
Democratic state Rep. Jon Richards, one of the most vocal critics of Walker's decision to reject the Medicaid expansion and $4.4 billion in federal money, said that move can still be overturned.
"It's not too late to do the right thing, and this committee can do the right thing," Richards said.
Republicans control both the Senate and Assembly, and leaders haven't signaled any desire to stray from Walker's approach to Medicaid. But Sen. Luther Olsen, a Republican member of the budget committee, asked Walker's head of the Department of Health Services why the state would turn down the federal money.
"In my life, I never leave any money on the table," Olsen said. "But here it seems like we're leaving some money on the table."
Had Walker accepted the federally funded expansion, people earning up to 138 percent of the federal poverty level, or about $15,000 for a single person, would have been covered under the state's BadgerCare Medicaid program. Walker would only cover adults up to 100 percent of poverty, or $11,490 a year.
Currently, BadgerCare covers people earning up to 200 percent of the poverty level, or $22,980, but there is a cap on enrollment for single adults. Walker would lift that cap for those at or below poverty level.
Those just above the poverty line could purchase federally subsidized health insurance coverage through a private marketplace known as an exchange. Walker said his plan would drop the number of uninsured people in the state by 224,600.
Democratic critics say the insurance offered through the exchange was never meant for people earning just above the poverty limit. People buying insurance that way will have to pay deductibles as well as premiums, raising their costs even more.
Olsen said he's heard concerns that people kicked out of Medicaid won't purchase the private insurance and will turn to hospitals and other health care providers for free care. The Wisconsin Hospital Association, among many others, has called for covering people with Medicaid if they earn up to 138 percent of poverty.
Walker turned down the expansion, which would have covered an estimated 175,000 adults, saying he was concerned the federal government wouldn't follow through on its commitment to pay all of the costs for three years and 90 percent after that.
"The governor believes that having more people depend on government-run Medicaid should not be our goal," incoming DHS Secretary Kitty Rhoades told the committee. "Rather, we want to help individuals and families living above poverty to remain in the private sector for getting their health insurance coverage."
Walker, speaking to reporters after a speech to the Wisconsin Realtors Association, said he wasn't worried that other Republicans shared Olsen's concerns. Walker said he believed Olsen would ultimately vote for a budget that rejects the Medicaid expansion.
While Olsen was critical, other Republicans on the committee praised Walker's approach. Committee co-chair Rep. John Nygren, R-Marinette, who has been critical of other parts of Walker's budget, said he appreciated the direction the governor was taking on Medicaid.
"For the first time in state history, we have a plan that provides access to Medicaid for everyone under the poverty line," Nygren said.
Also on Wednesday, a group of county leaders called on Walker and state lawmakers to either accept the federal money for expansion statewide or allow counties to take it directly. Robert Kraig, director of the Milwaukee-based advocacy group Citizen Action, said officials in more than 20 counties have expressed interest in such a move.
But that's unlikely to happen. Federal law requires that Medicaid eligibility standards to be statewide and would have to be changed, or the state would have to get a waiver, state DHS spokeswoman Stephanie Smiley said.
Associated Press writer Todd Richmond contributed to this report.