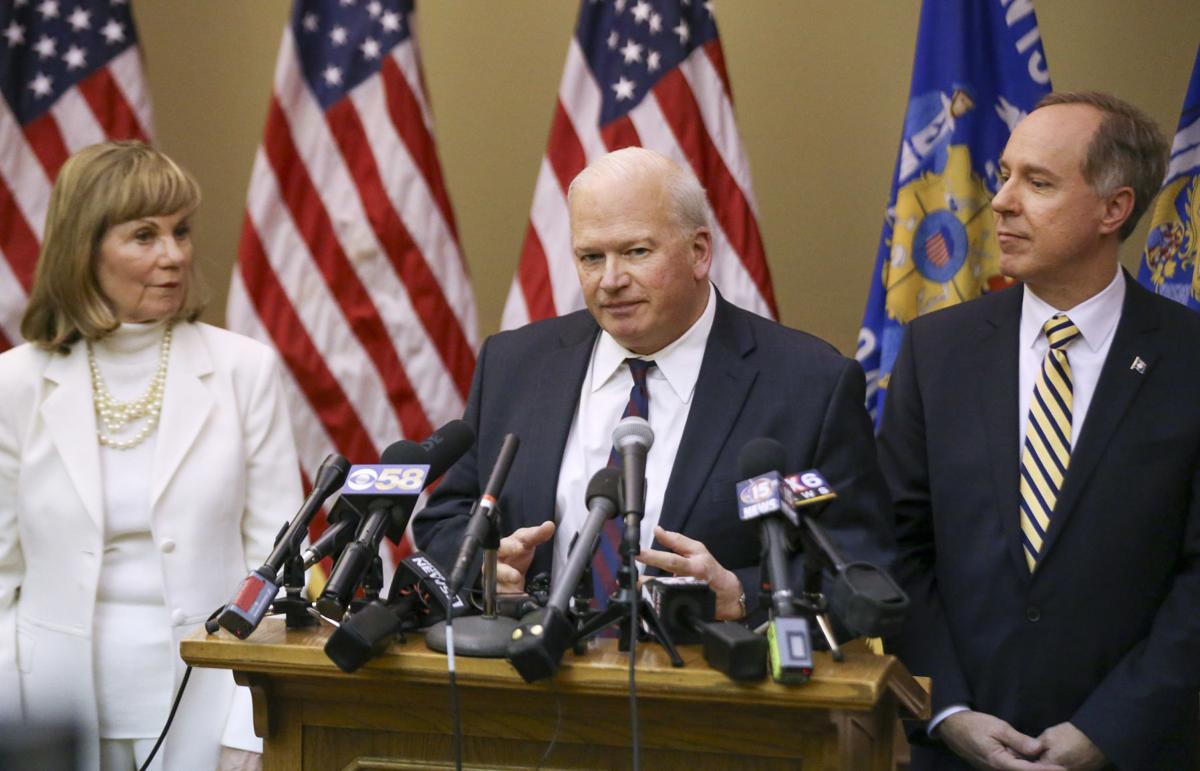 A Wisconsin appeals court sided with Democratic Gov. Tony Evers, ruling Tuesday that the governor was in his authority to rescind 15 board appointments made by his Republican predecessor, about two weeks after a Dane County Circuit judge ruled they were confirmed illegally.
The unanimous ruling from a three-judge panel, coming at the end of a chaotic day featuring discord between Evers and GOP leaders, was a minor setback for Republicans in a broader legal battle over legislation adopted during a lame-duck session in December that is likely bound for the Wisconsin Supreme Court.
At stake is not only the fate of 15 appointees, but whether controversial Republican laws curbing Evers' and Democratic Attorney General Josh Kaul's powers will stand.
In response to the ruling, Evers spokeswoman Melissa Baldauff said 82 board appointments made by former Gov. Scott Walker and confirmed by the Senate in December represented "an unconstitutional attempt to override the will of the people," adding that Evers acted properly by removing the appointments.
Tuesday's ruling was issued by District 3 Appeals Court judges Lisa Stark, Thomas Hruz and Mark Seidl. It stems from an order by Dane County Circuit Judge Richard Niess that blocked the laws curtailing powers of Evers and Kaul. Republicans are seeking to appeal the case brought by the League of Women Voters and other groups.
As part of the order, which invalidated the December extraordinary session in which the laws were passed, Niess also vacated 82 Walker appointments to state boards, councils and commissions that the state Senate confirmed during that session.
The appeals court granted GOP lawmakers' request to temporarily suspend the order, but not before Evers' rescinded the appointments. Evers later re-appointed 67 of the 82 Walker appointees.
"In short, if the Governor had the authority to withdraw the nominations pursuant to the temporary injunction while that injunction was in place, then the withdrawals were valid and are not affected by our subsequent stay of the injunction," the ruling stated.
In limbo
Senate Majority Leader Scott Fitzgerald, R-Juneau, earlier Tuesday said the Senate would hold up confirmation of Evers' Cabinet secretaries as it waits for the courts to resolve the issue.
"I think some of those Cabinet members could be in trouble," Fitzgerald said when asked what he would do if the governor doesn't restore the 15 appointments.
The Juneau Republican said "there's some truth" to the contention by Senate Minority Leader Jennifer Shilling, D-La Crosse, that he was slowing down the confirmation process as retribution for lawsuits brought by liberal groups challenging the lame-duck laws.
"There's nobody on the calendar today because we're waiting to see kind of what happens with court," Fitzgerald said. He declined to specify which secretaries would be in jeopardy, noting that Republican senators don't agree on who should be jettisoned if it becomes necessary.
Fitzgerald in a statement issued shortly after the ruling emphasized the appointments were confirmed during a constitutional session and said the Senate would immediately appeal the decision to the Wisconsin Supreme Court.
Evers, speaking to reporters after attending the annual State of the Tribes address, said he doesn't view Fitzgerald's remarks as retribution, dismissing them as "huffing and puffing." He added the latest development in the ongoing legal saga won't sway him in making appointments to the positions.
"It doesn't change my vantage point at all, frankly," Evers said. "I made appointments that were based on the fact that a judge's ruling has not been overturned. It's sad that they were not appointed appropriately."
You have free articles remaining.
'A lot of strain'
Remarks by Fitzgerald, Assembly Speaker Robin Vos and other Republicans pointed to the growing divide with Evers as lawmakers enter the budget season in earnest.
"It's causing a lot of strain, I think, in this relationship," Fitzgerald said of the lame-duck legal fight.
Vos criticized Evers for not agreeing to regularly meet with him, as he said he did with Walker.
"That's what you do when you're in constitutional positions," Vos said. "You don't necessarily have the freedom to say 'I'm not going to meet.' So I think we should be meeting every week."
Vos and Evers have a meeting scheduled for Wednesday, and Vos said he hopes to forge an agreement with the governor that they meet.
Fitzgerald's plans to delay confirmation of secretaries came after Shilling chastised Republicans for choosing not to confirm the secretaries, although many of them have received hearings.
State protocol
In Wisconsin, Cabinet secretaries remain in place unless the Senate rejects them. So far, only two Cabinet secretaries have received push back from Republicans: Transportation Secretary Craig Thompson and Department of Safety and Professional Services Secretary Dawn Crim. The Wisconsin State Journal first reported Crim was charged in 2005 with felony child abuse for jabbing her 5-year-old son's hand with a pen.
The case resulted in a deferred prosecution agreement and the record being removed from the state's online circuit court record system.
The more high-profile members Evers removed include Scott Beightol, Walker's pick for the UW System Board of Regents, and Ellen Nowak, who served on the Public Service Commission.
Fitzgerald said Nowak's absence has "completely destabilized" the three-member commission, which oversees utilities in the state, and has held up two multi-million-dollar renewable energy projects before the body.
Nowak, who had served under Walker as the secretary of the powerful Department of Administration, attempted to return to work after an appeals court ruling was issued staying the order that vacated her appointment, but a security guard stopped her.
'Bum's rush'
Fitzgerald called the move "a bum's rush," adding it was personal.
"That is not the way you treat a former secretary of DOA and the chairwoman of the Public Service Commission," he said.
Fitzgerald said he had asked Maggie Gau, Evers' chief of staff, to drop the administration's plans not to reappoint the 15 Walker board members, warning that such a move wouldn't sit well with Republican senators.
"It was going to cause a lot of hurt feelings, and it has," Fitzgerald said, adding that Nowak is strongly supported by many in the Republican caucus.