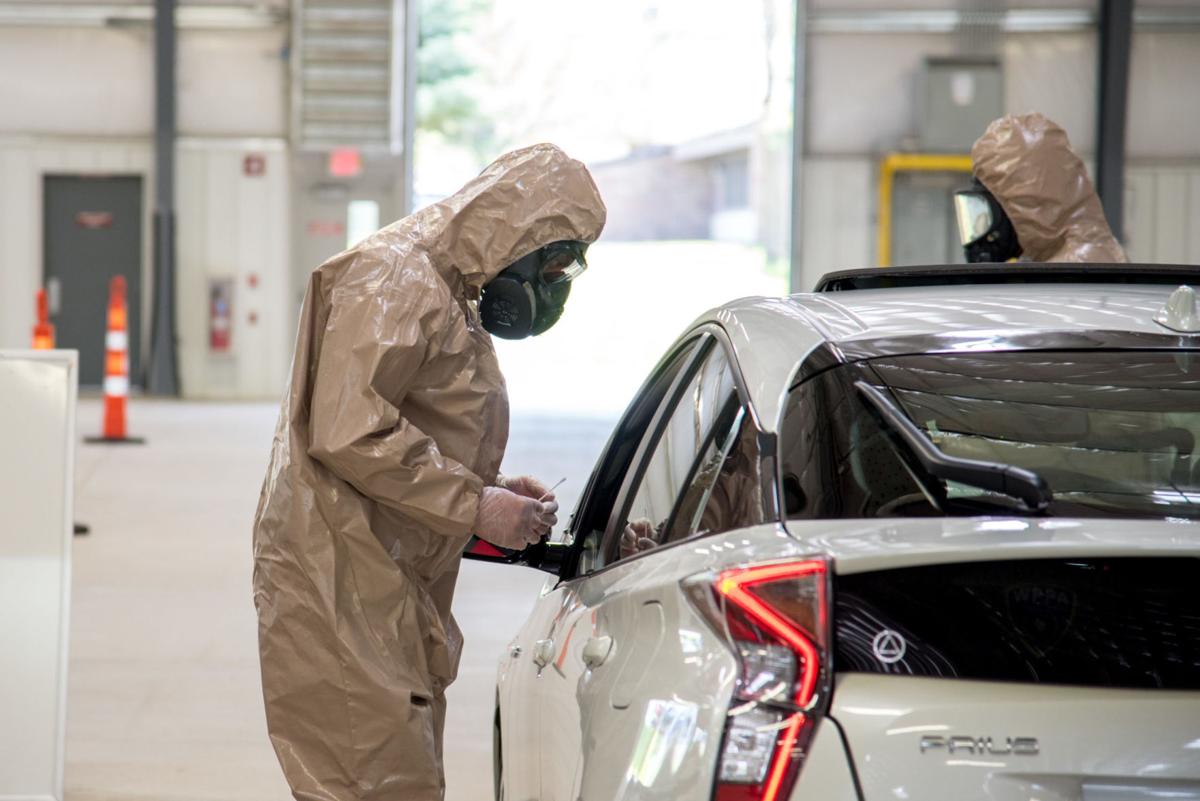 Dane County public health officials are urging employers to let employees work from home as the state and county continue to set records for confirmed COVID-19 coronavirus cases, deaths and hospitalizations.
Public Health Madison and Dane County said Thursday that of 3,879 confirmed cases from Oct. 20 to Nov. 2, 513 have been associated with distinct places, events or facilities such as businesses, including ones open to the public. Officials caution that there are likely more but said contact tracers are not able to interview everyone affected and not everyone is willing to speak with them.
Public Health declined to name any of the businesses affected, but its latest data snapshot showed there were 73 cases associated with public-facing businesses such as bars or salons and 69 more associated with nonpublic facing facilities, such as offices. The assisted-living category had the most cases, at 103.
While saying his organization agrees cases are rising and "100% believes in science and public health," the president of the Greater Madison Chamber of Commerce, Zach Brandon, asserted that "this narrative that businesses are unsafe doesn't bear out in their own data."
He noted that the majority of cases do not involve businesses. Of the 513 cases identified from clusters or facilities, 349 are associated with health care, assisted living, sports teams, churches, child care and schools.
Most county employers are already subject to an order issued Sept. 1 that limits capacity indoors to 50%, requires employees to wear masks, bars employees with symptoms from coming into the office and mandates other safeguards.
But even with new cases averaging more than 300 a day and 134 people in the hospital as of Wednesday, including 31 in intensive care, Public Health spokesperson Sarah Mattes said the agency is not looking at tightening the order "at this time."
"But people should avoid close contact with others as much as possible," she said. "The theme we're hearing from contact tracers is that people are trying to return to their normal lives, but at this point, no good is coming from that. We can't return to normal with this much disease spread in our community."
One of Dane County's largest private employers, American Family Insurance, has had 95% of its 4,100 Dane County employees working from home since the pandemic started in mid-March, according to spokesperson Ken Muth, and he knew of no COVID-19 cases associated with the company's offices.
Any employee entering a company office has to complete a self-administered health assessment first, he said, and there is no date by which the company is expecting all employees to return to the office.
"We've had no issues with how the county and the state have responded (to COVID-19) so far," he said.
Health records giant Epic Systems, the county's largest private employer, in August told employees they had to come back to their Verona office complex in September, then backed off the mandate amid an outcry from employees.
Brandon said the "vast majority" of businesses are operating safely and questioned what elected officials are trying to accomplish when public agencies put out statements like the one Public Health issued Thursday urging workplace safety. He said Madison-area businesses are already facing headwinds including the inability of Congress to approve further economic stimulus.
Businesses cited
The county has cited 13 Madison businesses a total of 16 times for violating the current version of the public health order since it was issued, including large national chains such as McDonald's and The Home Depot, and small local businesses such as Tobacco Deals on East Washington Avenue and Chet's Car Care on Aberg Avenue. The standard ticket amount is $376.
Chet's owner Eric Hermansen said his business was issued a ticket Oct. 22 after public health officials doing a spot check saw him and a contractor standing across a desk from each other in his office with their masks down around their chins. The ticket followed a warning letter from Public Health after someone told the agency Chet's employees weren't wearing masks.
"We believe in the virus. We believe in wearing masks," Hermansen said. "I believe in following the rules that are created."
But he said no one's perfect and based on compliance levels he's witnessed at other businesses, "you could write that ticket 400 times a day." He didn't know if the tighter approach Dane County has taken to controlling the virus will end up being better than looser ones elsewhere in the country.
Rookies Food & Spirits in Mazomanie posted on its Facebook page Wednesday that it was closing to indoor service, "for the foreseeable future."
"This is due to the pandemic but not due to infections here," the bar and restaurant wrote. "In the last couple weeks we have had customers in who won't follow the rules regarding masks and social distancing and even flouting the self-isolation rules for close contact with infected persons."
'Critical' moment
Public Health said in a statement that it's "critical" for employers to let employees work from home when possible and take other precautions, because the agency is too overwhelmed with the increase in cases to inform employers of employees who have tested positive. Employees are now responsible for letting their employers know of positive tests and working with them to determine if they've spread the virus further, the agency said.
While not subject to the county's order because it's considered state property, UW-Madison is also letting "many" employees work from home, according to spokesperson Meredith McGlone.
She was not immediately able to provide a percentage but said the university has "also modified some office layouts to promote physical distancing for those employees who have to work on campus."
[Editor's note: This story has been updated to correct the spelling of "contact tracers."]
---
Watch Now: Scenes from the polls on Election Day in Wisconsin
Watch Now: Scenes from the polls on Election Day in Wisconsin
Wisconsin has lived up to expectations it would have outsized influence in the presidential election. See scenes from Election Day across the state. 
Concerned about COVID-19?
Sign up now to get the most recent coronavirus headlines and other important local and national news sent to your email inbox daily.