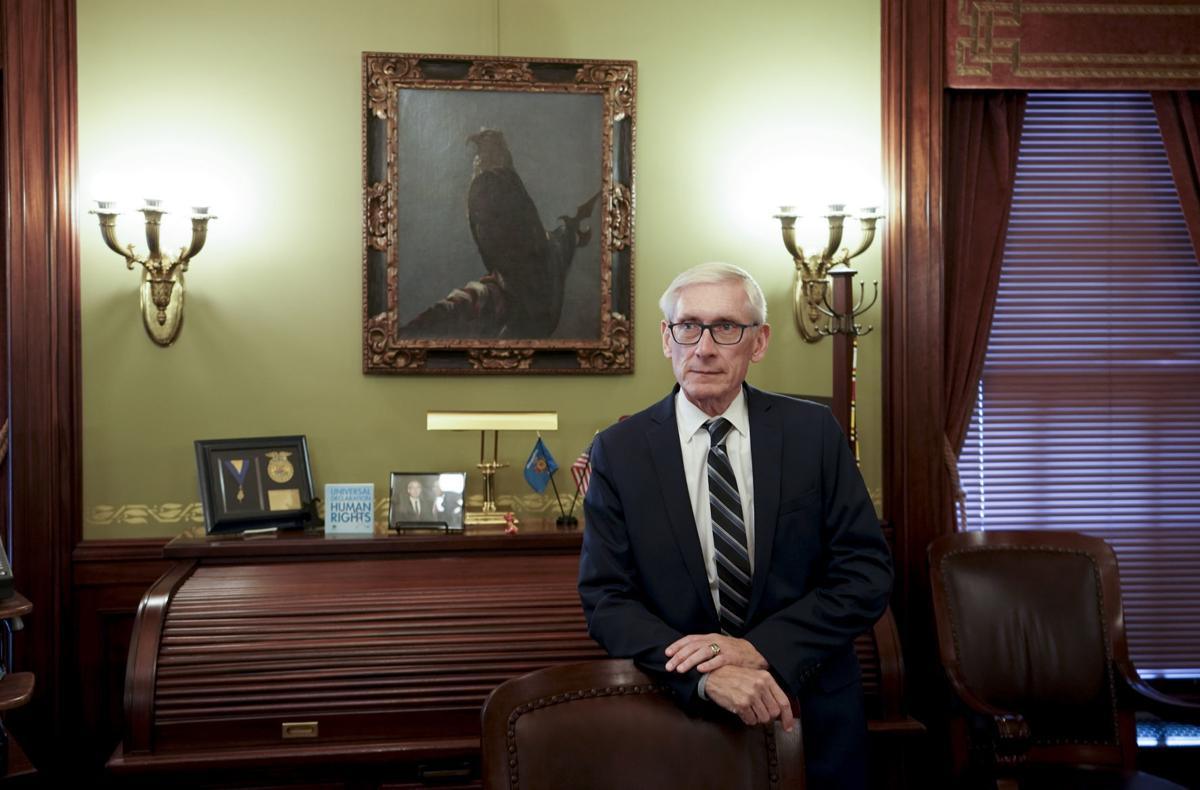 As he enters his second year in office, Democratic Gov. Tony Evers said he hopes to find more common ground with the GOP majority in the Legislature — something hard to come by in 2019.
The former educator's first year in office came with its share of partisan battles, including disagreements over his appointed cabinet heads and efforts by Republicans to limit his power. Divided government stalled attempts to appease constituents on both sides of the aisle: Republicans refused to take up gun control measures and marijuana legalization; Evers vetoed GOP-driven anti-abortion bills and tax cuts.
Evers said he has "partially delivered" on his campaign promises so far. He pointed to the budget, which included an increase in spending on K-12 education and a Republican-supported 10% income tax cut for the middle class, as a positive step.
While some expected a divided government to delay the budget process as Evers and GOP leadership came to a consensus, the 2019-20 budget was signed July 3, with Evers issuing 78 line-item vetoes, including a move to boost school spending by about $65 million.
"I feel good about that," Evers said in an interview with the Wisconsin State Journal. "I think our budget was a great down payment. The issues that I ran on — schools, roads and health care — I think the first two we had great success with. We set a high bar."
The budget also included more funds for public transit and increases to vehicle title and registration fees to boost spending on roads, although Evers had preferred a gas tax increase. Republicans ditched his plan to accept federal Medicaid expansion dollars, which Evers had pledged in his campaign.
Evers' first day in office was Jan. 7, after his victory in November 2018 over incumbent Republican Gov. Scott Walker, who was seeking his third term.
"I think the governor has had a challenging year because he's entered an environment that, first of all, is divided government the first time Wisconsin has experienced that in eight years, and it's divided government where parties are pretty hostile towards one another," said Barry Burden, political science professor at University of Wisconsin-Madison. "I think the possibility of him as a Democrat and Republicans in the Legislature working cooperatively was pretty low from the outset."
Outside the budget, Burden said there were few examples of bipartisanship in 2019.
"There hasn't been much else in terms of cooperative action between the branches that actually produced legislation," Burden said.
Many initiatives pushed by Evers in 2019 were met with resistance from the GOP majority, with lawmakers on both sides of the aisle accusing the other of refusing to meet halfway.
"I just feel like (Evers) is intentionally picking these arguments as opposed to saying where can we come together and find common middle ground," Assembly Speaker Robin Vos, R-Rochester, told the State Journal. "In the budget, he basically chose to do a repeal of Scott Walker's entire tenure."
Evers said he does not view his role as an "anti-Walker" position.
"I don't view this as a veto on Walker. Do I believe that Scott Walker wasn't adequately providing leadership around the issues of schools and roads and health care? Absolutely," Evers said. "Certainly we're different people and have different priorities."
Liberal proposals fall flat
A bill to increase funding for homelessness services passed the Assembly, but it failed to reach fruition before the close of 2019. The topic came to a head with Evers again clashing with Republicans over how to fund the measure.
Democratic lawmakers have argued Republicans have taken strides to minimize the governor's successes — starting with sweeping lame-duck legislation aimed at limiting Evers' power. The legislation, which was signed by Walker in late 2018 before Evers took office, has yet to see a final resolution in the courts, while the taxpayer cost has surpassed $2.1 million. 
They're obsessed with power," Assembly Minority Leader Gordon Hintz, D-Oshkosh, said of GOP leadership. "They're obsessed with petty politics and control, even when they lose the governor's office."
All told, Evers signed 69 bills into law and vetoed 11 in their entirety in the 2019-20 session. An average of about 360 bills were signed into law annually between 2003 and 2018, a period that featured split government and both Republican and Democratic control. More than 240 acts were signed in the 2007-08 session, the last time Wisconsin had split government.
In addition, a WisPolitics.com analysis found Evers' 61 executive orders in 2019 was more than any Wisconsin governor in more than 50 years.
'Playing goalie'
Senate Majority Leader Scott Fitzgerald, R-Juneau, who had described his role as "playing goalie" on Evers' initiatives, described the year as "a rocky road."
"I think this last year was probably framed up, first and foremost, by trying to develop a relationship with the new governor," Fitzgerald said in December, adding he had only met with Evers three times but planned to meet again in early 2020. The governor met with Vos about six times last year, according to Vos' spokeswoman Kit Beyer.
Fitzgerald said it's possible some of Evers' appointed cabinet heads may not get approval from the Senate before it adjourns this year. The Senate already took the unprecedented step in November to fire Department of Agriculture, Trade and Consumer Protection secretary Brad Pfaff. A governor's appointee has not been denied by the Senate since at least 1987, as far back as records go on the subject, according to the Legislative Reference Bureau.
Soon after Pfaff's firing, Evers referred to the Senate's vote as "absolute (expletive)," but he later walked back his comments.
"Sometimes I guess I probably voice myself in a way that maybe I shouldn't or using the wrong words occasionally, but at the end of the day I will remain to be someone that is calm and try to keep civil," Evers said in December.
Senate Minority Leader Jennifer Shilling, D-La Crosse, said there have been "flickers of bipartisanship," in the Senate's meager nine meetings in 2019. She noted a bipartisan bill to expand Medicaid reimbursement for telehealth services as one example.
"Trying to find out those areas of common ground has been difficult, unfortunately," Shilling said, citing "the pettiness that has been exhibited by the majority party."
Evers said he has hopes for more bipartisanship in 2020, but acknowledged it will take an effort from both parties to achieve.
"We've got an agenda we're trying to accomplish, and hopefully we can strike some deals with the Republicans to make that happen," Evers said. "We really need to find a way to be better than Washington, D.C. It's going to take both sides to accomplish that."
State Journal reporter Riley Vetterkind contributed to this report.
State Journal reporter Riley Vetterkind contributed to this report.
"We really need to find a way to be better than Washington, D.C. It's going to take both sides to accomplish that."

Gov. Tony Evers
Get Government & Politics updates in your inbox!
Stay up-to-date on the latest in local and national government and political topics with our newsletter.