As Wisconsin faces an alarming surge in cases of COVID-19, Republican lawmakers, including the chairman of the Assembly's health committee, attended an indoor mass gathering hosted by an anti-abortion organization Thursday night where many attendees were not wearing masks.
Rep. Joe Sanfelippo, R-New Berlin, chairman of the Assembly committee on health, is shown photographed alongside Reps. Ken Skowronski, R-Franklin, Cody Horlacher, R-Mukwonago, and Chuck Wichgers, R-Muskego, at a Pro Life Wisconsin "Love for Life" gala with other attendees, none of whom were wearing masks in the photo.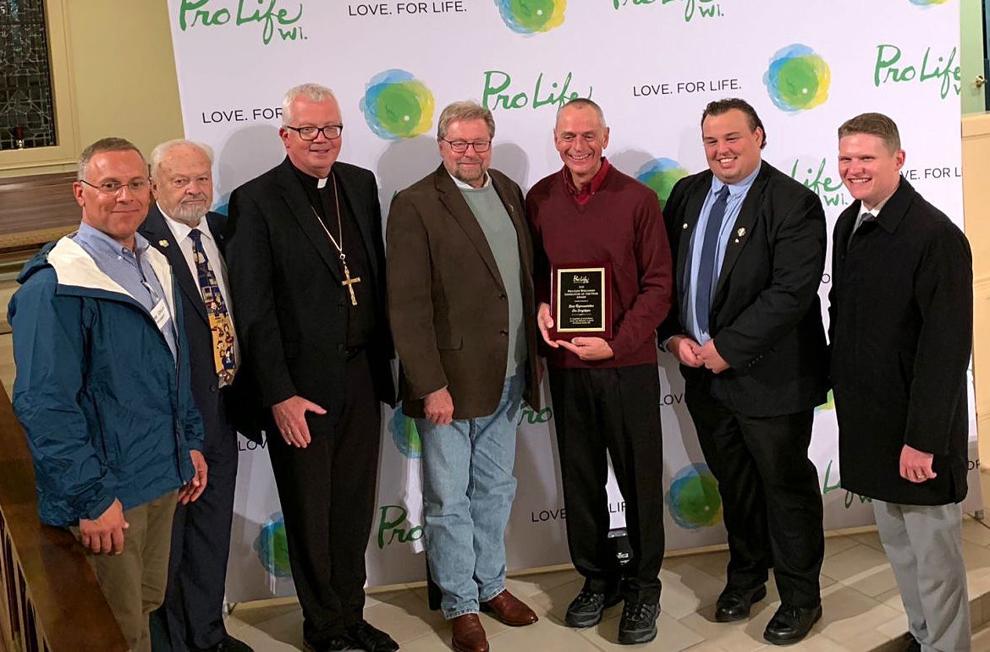 A Vos spokeswoman said Vos has not been exposed.
Republican lawmakers have recently said there is nothing more they can do to address the COVID-19 pandemic in Wisconsin, a national hotspot.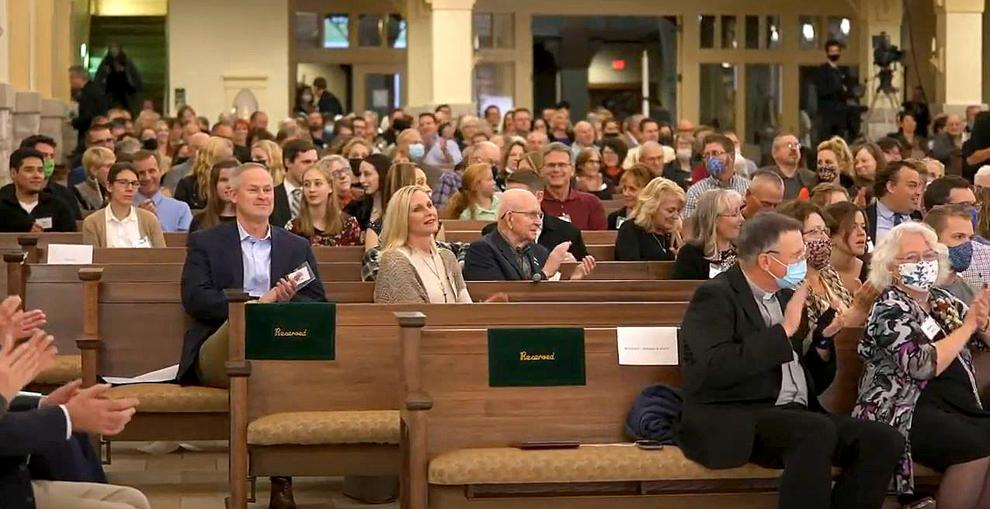 Pro-Life Wisconsin honored Sanfelippo as legislator of the year at the gala scheduled to take place at the Brookfield Conference Center, although the event appears to have been held at St. Jerome's Catholic Church in Oconomowoc.
Pro-Life Wisconsin and Miki Jo's Mix Up bar and restaurant in Amery asked a state appeals court to overturn a judge's decision to reinstate Gov. Tony Evers' limits on public gatherings and capacity in bars and restaurants. Pro-Life Wisconsin sued because the order limits how many people the organization may invite to fundraisers.
A Wisconsin appeals court on Friday temporarily blocked the restrictions.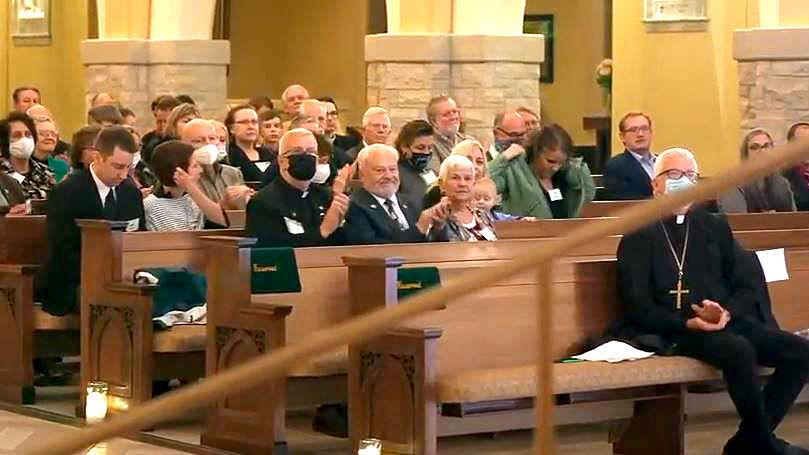 A YouTube feed of the "Love for Life" event shows a large crowd gathered in the church with many, if not a majority of attendees, not wearing masks. Apart from the photo with other lawmakers, the feed also shows Skowronski seated in the pews of the event without a mask on.
When reached for comment, Sanfelippo said most people were wearing masks, except when speaking and for photos. The YouTube feed, however, doesn't appear to support that.
"You guys are unreal," Sanfelippo said in response to a reporter's questions about the event. None of the other lawmakers could be reached for comment.
Sanfelippo on Tuesday said there is nothing more Wisconsin lawmakers can do to address the COVID-19 pandemic several months after they passed legislation to help hospitals and the unemployed.
"There is nothing that government can do," Sanfelippo told the WisconsinEye public affairs network. "You know, we can't wave a magic wand and make it go away."
When asked whether holding the indoor gathering amid the COVID-19 surge was irresponsible, Pro-Life Wisconsin state director Dan Miller hung up the phone.
Democratic Party of Wisconsin spokeswoman Courtney Beyer said GOP lawmakers know better.
"Republican legislators like Joe Sanfelippo and Ken Skowronski are actively undermining our public health and prolonging this pandemic with their reckless, selfish behavior," Beyer said in a statement. "These are also the same people who think there's nothing more the legislature can do to support Wisconsinites right now, as they actively make this crisis worse themselves."
According to the Centers for Disease Control and Prevention, COVID-19 is mainly spread from person to person between people who are in close contact with one another through respiratory droplets produced when an infected person coughs, sneezes or talks. Recent studies have also suggested COVID-19 may be spread by people who are not showing symptoms.
The more people a person interacts with at a gathering and the longer that interaction lasts, the higher the potential risk of becoming infected with COVID-19. The CDC rates as highest risk "large in-person gatherings where it is difficult for individuals to remain spaced at least 6 feet apart and attendees travel from outside the local area."
The CDC has also urged the wearing of face masks to prevent the spread of the virus, with CDC director Dr. Robert Redfield declaring cloth face coverings "one of the most powerful weapons we have to slow and stop the spread of the virus."
The Wisconsin Department of Health Services encourages people to avoid mass gatherings. The Pro Life Wisconsin gala comes as Wisconsin continues to record a distressing rise in coronavirus cases. On Friday, the state recorded 4,378 new COVID-19 cases and 42 deaths.
9 Wisconsin races to watch on Election Night