At long last, the city is ready to open doors to the spacious, high-tech, sun-drenched, $10.5 million Pinney Library on the East Side.
The glassy, 20,000-square-foot library will nearly double its former size with an emphasis on new technology, a larger community room, study and reading rooms, and dedicated space for children as part of a larger, $21.1 million phase of the Royster Commons project at Cottage Grove and Dempsey roads.
The branch library will have many firsts for the system, including a play space for children 5 and younger and adjacent outdoor space; wireless printing; individual, gender-neutral bathrooms; a drive-thru book drop; geo-thermal heating and cooling; and wood ceilings and other finishes made from reclaimed ash salvaged from trees cut down in Milwaukee and Madison to stop the spread of the emerald ash borer.
The space, designed by OPN Architects, also features splashes of art from colorful murals to hand-carved wooden seating, fun nooks for children to cozy up with a book or be with playmates or parents, tables with electric outlets to accommodate those who bring plug-in devices, and comfy seating for lounging.
"It's an exciting project for the East Side, library director Greg Mickells said. "It's an evolution of our delivery of library services to Madison. We just keep moving forward and want to create better experiences for the community with each project."
The spark for the new Pinney branch came when Carl Ruedebusch approached library officials in 2013 about a joint development — modeled after the system's successful Sequoya Library branch in a mixed-use project on the West Side.
"I think having the library is kind of an anchor," Ruedebusch said of the overall redevelopment, which will eventually bring more than $59 million in private investment to a 33-acre site that was once home to the sprawling, long demolished Royster-Clark fertilizer plant.
The library opening will be marked by a series of events, including a Madison Public Library Foundation fundraiser gala on Saturday, a public ribbon-cutting and formal opening on March 12, and a grand opening weekend featuring tours, chances to learn about new offerings, and music on March 14 and 15.
Seven years
After a sometimes rocky process, the city had just opened the renovated Central Library — a $29.5 million project — in 2013 and hadn't been focusing on Pinney until Ruedebusch approached officials, Mickells said.
The inquiry triggered an effort to determine if the former 12,000-square-foot branch at 204 Cottage Grove Road should be replaced on site, renovated or relocated.
"The East Side libraries must expand to meet citizens' needs," Madison Public Library Foundation executive director Jenni Jeffress said. "We have invested in Downtown, West Side and South Side libraries, and the East needs capital funds to improve service."
The city eventually chose to go with Ruedebusch, but there were setbacks. The developer's multi-phase redevelopment of the site was delayed after the site that once hosted the sprawling Royster-Clark fertilizer plant, built in the 1940s, was recontaminated with dirty fill in 2013.
In 2015, Ruedebusch got permission from the state Department of Natural Resources to move some fill from part of the site elsewhere on the property to allow construction of a three-story, 71-unit apartment building by Stone House Development/Movin' Out, which opened in 2016. The developer fully resolved problems with the DNR in 2017. That summer, the City Council approved $820,000 in tax incremental financing support for the next phase of Royster Corners and $3.1 million to buy space there for the new Pinney Library.
The city closed the former Pinney Library in November 2018, opened an interim facility at 211 Cottage Grove Road in January 2019, and closed the temporary space earlier this month.
"It took us seven years to get this," Mickells said.
You have free articles remaining.
Much to take in
The current phase of development includes two, four-story wings connected by an atrium, with the 20,000-square-foot library on the first floor of the west wing. The project also includes 86 apartments, 16,000 square feet of commercial space, 96 underground and 141 surface parking spaces.
The library will cost $10.53 million, with $9.51 million coming from city borrowing and the rest from private contributions and donations.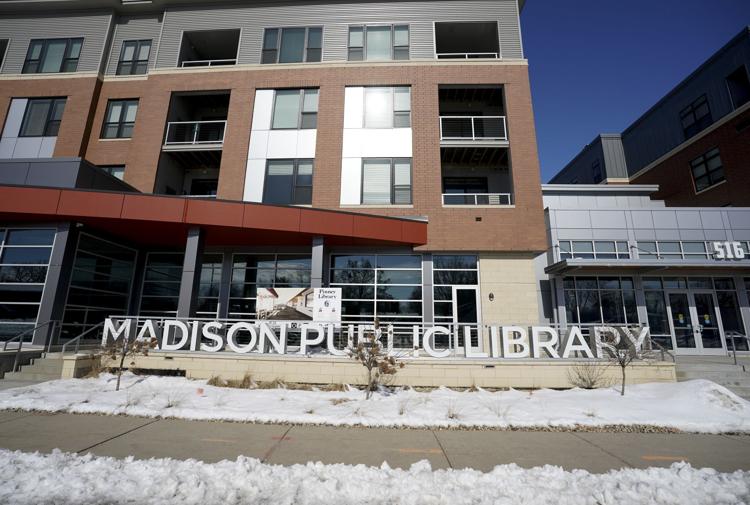 The library's main entrance, accessed through the sky-lit atrium, opens to an airy main interior defined by large windows, white ceilings and walls, carpeting of multiple shades of gray, and natural materials, much of it recycled ash trees.
Highlights of the main space include:
A glass-enclosed studio with sink, green screen for video production, and rubber floor to allow activities inspired by the Central Library's Bubbler artistic space.
Two computers to search the library's database and 15 public internet computers, rows of bookshelves, a circulation desk, business center with printing and copying functions, and a variety of small meeting rooms.
A quiet reading room.
A community room with capacity for 100 people.
Five single, gender-neutral bathrooms.
For wee ones
The main area is separated from the children's space, which covers about one-third of the library, by a glass wall featuring a mural by Emily Balsley called "Cattywampus."
The children's area features:
The library system's first PlayLab, an area with nooks, open space, yoga flooring and objects to promote learning.
Two public internet computers.
A multi-purpose children's room with portable seating and tables, yoga flooring, and additional play space.
Two age-sensitive bathrooms and a room for breastfeeding.
Spaces and books appropriate for older youth.
A 2,000-square-foot outdoor courtyard.
The children's space is "life-changing," youth services librarian Holly Storck-Post said. "It's a place where children can come together, play and make connections."
Ald. Grant Foster, 15th District, who represents the area, said, "I think the larger space with meeting rooms, expanded children's area, new public art, and expanded programming are all things people are really looking forward to. The other real positive is the opportunity for the library to serve as an anchor to the Royster area that is still under development."
More development
As the library took shape, Ruedebusch completed the private part of the current phase of development and said the housing is now fully occupied. He hopes to land a coffee shop for the atrium and is looking to fill the 16,000 square feet of commercial space.
"It's exciting to get the apartments rented," Ruedebusch said. "Once the library space opens, we're hoping that will increase the likelihood of attracting (commercial) tenants."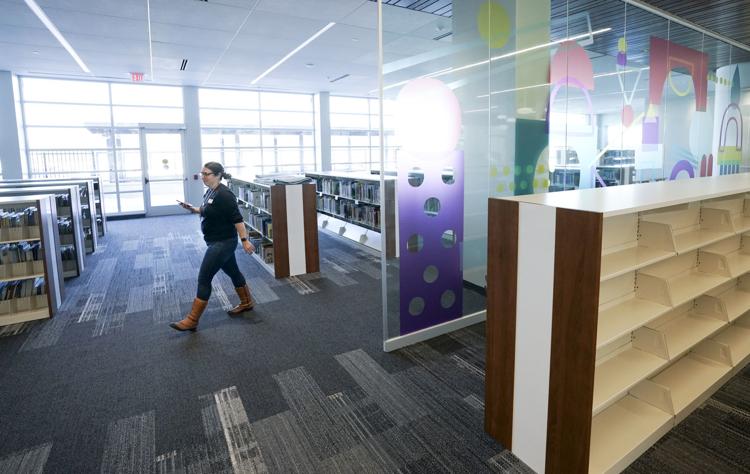 The mixed-use/library phase would be followed by:
A $16 million phase with 88 apartments, beginning later this year or early next year.
A $12 million phase including two buildings with 33 apartments in each.
A $3.5 million phase with 6,000 square feet of commercial space, possibly for a medical use.
A roughly $6 million phase with up to 40,000 square feet of commercial space.
Forty-one single-family home lots being marketed for sale at the northwestern corner of the property. More than a dozen lots have already sold, with construction underway.
---
Photos: Look inside Madison's new $10.5 million Pinney Library
Get Government & Politics updates in your inbox!
Stay up-to-date on the latest in local and national government and political topics with our newsletter.