Soon after his first bid for state schools chief failed, the then-Beloit School District superintendent threw his support behind another public-school advocate, the soon-to-be state superintendent.
"It was an honor to compete with someone I've admired for many years in the recent primary, who has the experience and priorities that we need in our next state Superintendent," Lowell Holtz said in a February 2009 statement, backing Tony Evers, who would go on to win that year's general election and another one four years later.
Now, Holtz is challenging Evers — this time in the general contest as the conservative choice who opposes Evers on key policies amid a remarkably different educational landscape. Republicans and conservatives now control every level of government, the state's spending on taxpayer-funded school vouchers for private schools has increased and the state's teachers union no longer plays an influential role in funding and supporting Democrats.
Holtz's path began in an elementary school classroom in rural Minnesota, included a stint on a police force in Whitewater and traveled to five elementary principal and school district superintendent positions across Wisconsin. He was fired from his first administrative job — as a principal in Cambridge — and in his last one clashed with School Board members in suburban Whitnall, where Holtz was criticized for not immediately notifying parents about a district worker accused of soliciting sex from a minor.
He also received a state and national award for his work as an elementary school principal in Peshtigo, and as superintendent he quickly cured a stalemate between a district and its teachers union in contract negotiations.
Still a supporter of creating a fair system of measuring both private voucher schools and public schools, Holtz has now made school voucher expansion a centerpiece of his campaign and touted the absence of his signature on a 2012 petition to recall Gov. Scott Walker. And he has reversed his previous support for the Common Core State Standards, a change he ties to the governor's reversal.
"Common Core was basically sold as a Corvette and it didn't take long to realize it was a manure spreader," Holtz said in an interview with the Wisconsin State Journal.
Now retired, Holtz says his experiences teaching and working in a number of school districts of various sizes and demographics make him a superior choice to Evers at a time when Wisconsin has been labeled as having the largest gap in academic achievement between black and white students in the nation.
Holtz said the Department of Public Instruction, which the state superintendent oversees, should be providing support teams in schools and their neighborhoods to help teachers and encourage parents to be involved in their schools and reduce the amount of time teachers and administrators must spend recording data.
Evers, in a statement, said more equitable funding for schools and engaging school communities are key to shrinking achievement gaps. He said he will "continue to work with the legislature to ensure education is a priority" in the new state budget.
If the primary results are any indication, Holtz has an uphill climb. Evers took 69 percent of the vote in a three-way race. Holtz — mired in a controversy over allegations he proposed getting out of the race in exchange for a guaranteed, taxpayer-funded, $150,000 state job — received 23 percent.
Holtz's dismissal divides Cambridge
Holtz's first job as a school administrator began in 1989 as an elementary school principal in Cambridge and ended with the school district's board members unanimously voting not to renew his contract six years later — a matter the State Journal characterized at the time as dividing the community.
School Board president Mark Sewell said at the time that Holtz was dismissed for poor job performance, but Holtz maintains it was because he took seven weeks of paternity leave during the school year to be with his newborn son.
Before they voted to fire Holtz after a nearly 10-hour School Board meeting, Cambridge School Board members said while he had an "aptitude for dealing with kids" and had "substantial parental support," Holtz also had problems with communication and "human relations problems," according to minutes of a Feb. 27, 1995, closed board meeting.
"The board, after hearing all of the testimony, much of it very damning, deliberated for three and a half hours before voting 6-0 to (fire) Holtz," Sewell wrote in a March 23, 1995, letter to the State Journal. "Do you really think that a superintendent or school board would spend countless hours, divide the community, and incur blazing media attention because a principal asks for six weeks off to be with his newborn child? Testimony at the hearing clearly indicated that Holtz was a poor administrator and had been so for many years."
But the School Board paid Holtz a $50,000 settlement after Holtz won an initial finding of probable discrimination from the state Equal Rights Division.
"It was painful but it was a struggle that had to be gone through so men could (have equal rights to paid leave)," Holtz said in the interview. "By no means is that a reflection of that school district."
Lois Swain, who was on the School Board at the time, said she could legally not talk about the circumstances that led to Holtz's departure — including why she voted to fire him — but said she supports him against Evers. Other board members could not be reached for comment, were deceased or did not respond to requests for interviews.
"I liked Lowell a lot," Swain said. "I thought he was a good elementary school principal."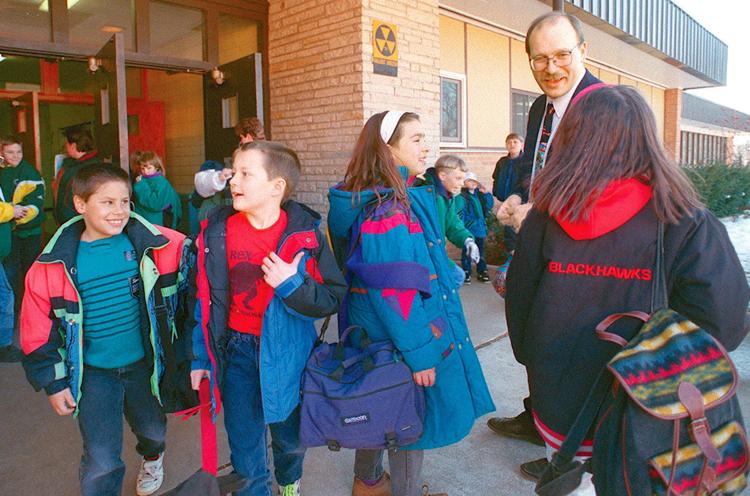 Peshtigo to Whitnall
By the time Holtz settled with the Cambridge School Board, he was principal of an elementary school in Peshtigo — a job that earned him a state Principal of the Year award in 1999 from the Association of Wisconsin School Administrators and a national distinguished principal award from the U.S. Department of Education.
In 2002, he was hired as the Palmyra-Eagle School District superintendent by board members.
"At that time we were negotiating an annual contract with the teachers and we had not been successful in getting a contract with the teachers, and after he came we got a contract," former Palmyra-Eagle School Board member Bob Oleson said. "We opened school without a contract with the teachers and he was able to get us a contract in the first semester."
Oleson said Holtz came to the district at a time when it was "evolving" in handling the diverse backgrounds of students there and was able to "bring the district back together."
But the board's happiness with Holtz eventually diminished, he said, and after four years Holtz left to become the superintendent in Beloit, where he worked for three years.
First run for state superintendent
Holtz resigned from Beloit to make his first run for state superintendent. After not making it through the primary, and applying for other positions, Holtz was hired in 2010 as superintendent of the Whitnall School District, a five-school district in suburban Milwaukee.
He has said he retired to mount a campaign for state superintendent, but an email released amid two weeks of controversy surrounding the race indicates Holtz may have been losing support among board members.
"My board went from 5-2 in my favor to 4-3 against with the last election. A very tough group to work with. Anyway, the bottom line is that I officially retired from the district last night," Holtz wrote in a Jan. 12, 2016, email.
Holtz said last week the board was a liberal-leaning board and was difficult to work with.
"I can tell you I am endorsing Tony Evers for state superintendent," former Whitnall School Board president LuAnn Bird said. "I worked with Lowell for a number of years while he was here at Whitnall. But I just feel that Tony has a better grasp of managing an organization and how to be fiscally responsible with taxpayer dollars."
Quin Brunette, School Board vice president, said his opinion of Holtz diminished after Holtz's handling of a 2013 incident in which the district's food services director was arrested (and later convicted) for using a computer to facilitate a child sex crime and Holtz did not release information to the public for at least two weeks.
Holtz said he waited to tell the public until the police wanted to release information. He said he held a community meeting about the matter after a journalist reported the arrest.
Proposal to leave race
In the days preceding the Feb. 21 primary, Holtz became embroiled in controversy after opponent John Humphries released a document to reporters showing Holtz had sought a $150,000-per-year job on a three-year contract with the Department of Public Instruction if Holtz dropped out of the race and Humphries won in April, and he offered the same to Humphries if he dropped out of the race.
Bird said she wasn't surprised.
"I was the board president so I worked very closely with him for a couple years, so it didn't surprise me that he would try that," Bird said.
She also said Holtz gave no indication as superintendent that the district should not be matching curriculum to the Common Core academic standards.
"It's interesting Dr. Holtz now is running against Common Core, when we spent a lot of money and time researching and implementing and never once in open session or in a workshop did he say anything bad about it," Brunette said.
Holtz said he encouraged implementation in order to be measured accurately against other school districts because the state test is aligned to Common Core.
But Bird also said the school district improved its academic offerings while Holtz was superintendent.
"We are doing some amazing things in our classrooms — the most innovative practices out there based on research," she said. "Under his leadership that all got started."