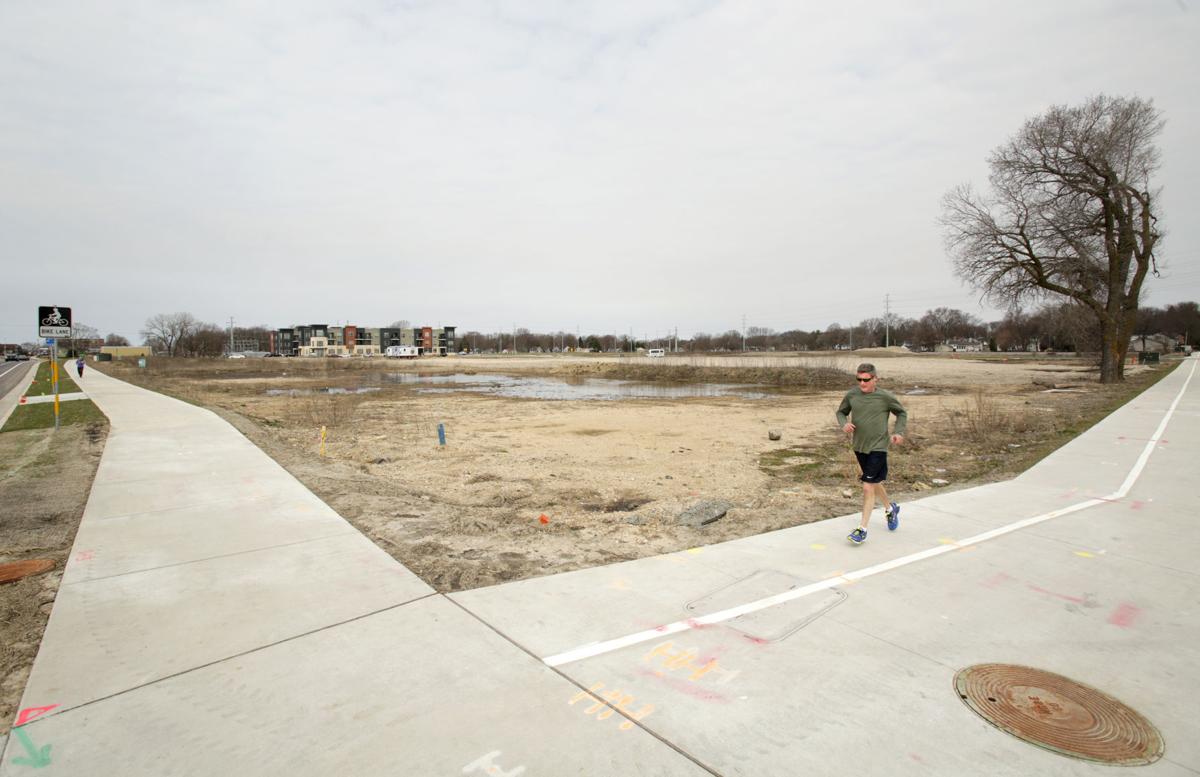 After a long delay, exacerbated by an incident in which a cleaned brownfield was recontaminated with dirty fill, the Royster Corners redevelopment on the East Side is poised to move forward.
The state Department of Natural Resources has signed off on a re-cleaning and overall remediation of the site on Cottage Grove Road, and Ruedebusch Development and Construction is negotiating with the city to include a library branch and for public financial support for the next phase of the project.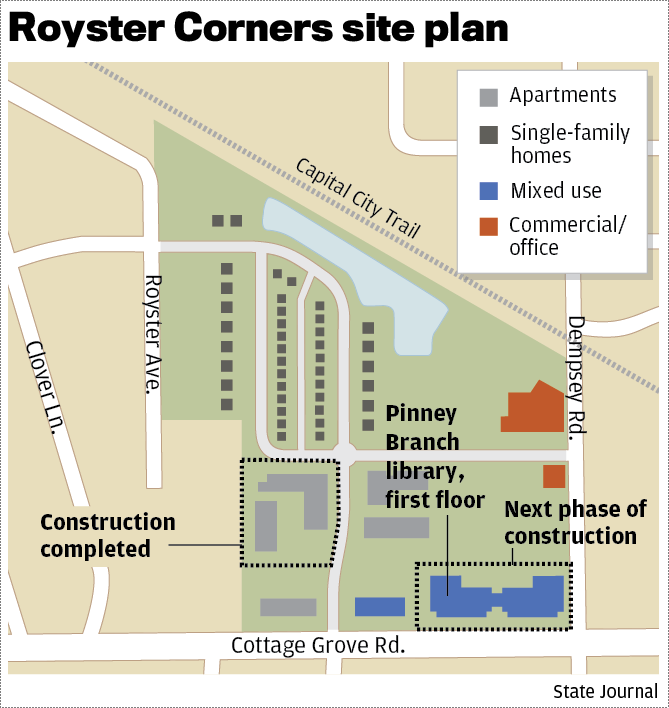 Now, Movin' Out/Stone House Development's three-story, 71-unit apartment building, opened in 2016, stands alone on the otherwise vacant, 33-acre site, once home to the sprawling Royster-Clark fertilizer plant.
Ruedebusch's delayed, $20 million next phase would include a 20,000-square-foot new home for the Pinney Library, 86 apartments for seniors, and 16,000 square feet of commercial space on the southeast corner of the property. Further phases would bring more housing, commercial and employment space.
If negotiations with the city are concluded, construction on the next phase could begin in early September, Carl Ruedebusch said.
"We always felt this was a good project," he said. "The neighborhood embraced the project from day one. We wanted to be involved in it. We're excited now. We're close to being able to start."
To move forward, the city and Ruedebusch must complete an agreement for an unfinished 20,000-square-foot space in the next phase for the new Pinney Library, city economic development director Matt Mikolajewski said.
"It seems like things are falling into place," Mikolajewski said. "It's exciting to see the project seems to be coming to fruition."
The $10 million library, nearly double the size of the existing facility, requires $9 million in borrowing and $1 million in private contributions. Negotiations currently have the city buying the library space for $3.1 million, with the rest of the cost for design, build-out, furnishings and technology.
"I'm very optimistic this will happen," city library director Greg Mickells said. "This is a tremendous need in the community. I applaud the community for its patience to get this project underway."
The sides are negotiating on city tax incremental financing (TIF) support to close a financing gap in the next phase. Ruedebusch has made multiple TIF applications starting in 2015, the most recent for $2.9 million in January 2017. The city's contribution will be less than that amount, Mikolajewski said, declining to share details.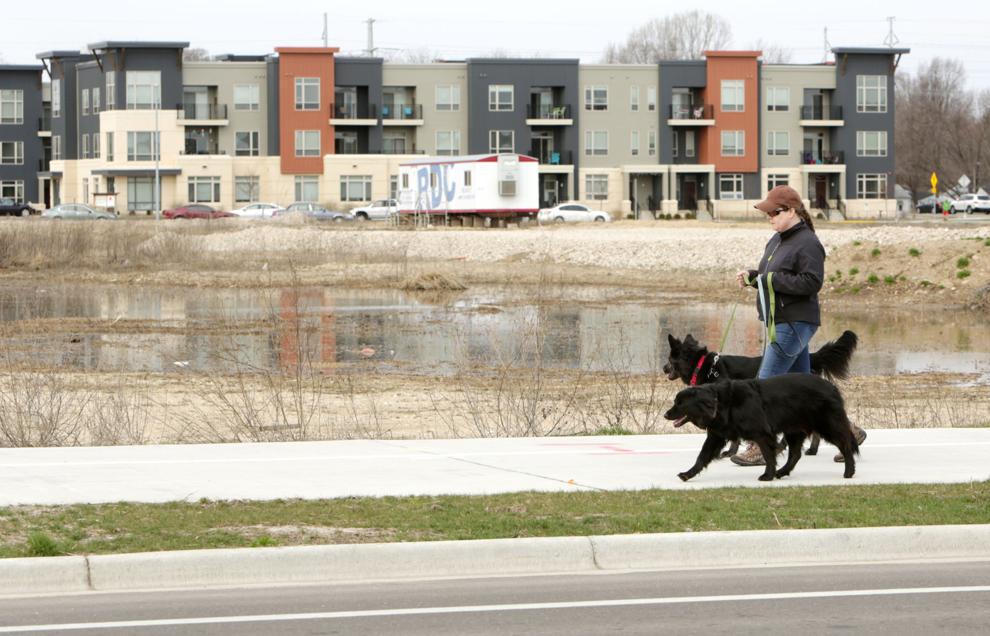 A nasty surprise
Since the late 2000s, millions of dollars have been spent demolishing the eight-story Royster-Clark fertilizer plant and cleaning up the ground underneath and around it.
The fill was contaminated with polycyclic aromatic hydrocarbons (PAHs), which can cause a health risk if people come in direct contact with it.
"We certainly never felt something like this could happen," Ruedebusch said. "We got surprised when the dirt got delivered to the site."
Since 2013, Ruedebusch and the DNR have worked on plans to remove or cap the problematic soil. In 2015, Ruedebusch got DNR permission to move some fill from part of the site to another area of the property to allow construction of the first building by Stone House Development/Movin' Out.
On Feb. 3, 2017, the DNR issued a final closure letter approving the cleanup related to the imported soil, meaning no further investigation or cleanup is needed. On March 8, the DNR issued a Certificate of Completion to Reudebusch and the former owner. The certificate is issued when all hazardous substances on the property have been adequately investigated and remediated and provides them and future property owners with an exemption from liability.
"We are disappointed at losing some time here, losing some money," Ruedebusch said. "In terms of construction, inflation has hit us."
More work on deck
Ald. David Ahrens, 15th District, who represents the area, in a recent letter to constituents, was cautious but hopeful about a library becoming part of the project. Ahrens, who included language in the 2017 capital budget that allows the library to be located at any available site on Cottage Grove Road between Monona Drive and Highway 51, prefers Royster Corners.
"The library is a key part of making that overall project attractive to potential buyers and renters," he wrote.
The library/mixed-use phase would be followed by:
A $10 million to $12 million phase with 102 apartments and 10,000 square feet of commercial space.
A $3.5 million, market-driven phase with 6,000 square feet of commercial space, possibly for a medical use.
A $5 million to $6 million phase with up to 40,000 square feet of commercial space.
41 single-family home lots now being marketed for sale at the northwestern corner of the property.
A $4.5 million phase with 33 units of apartments.
Built in the 1940s, Royster-Clark produced and mixed granulated fertilizer. In 2006, Agrium U.S. Inc. acquired the holdings and closed the plant. Ruedebusch acquired the site from Agrium in August 2011. The plant was demolished and the site initially remediated in late 2011 and early 2012. City approvals to begin building were secured by late 2013.