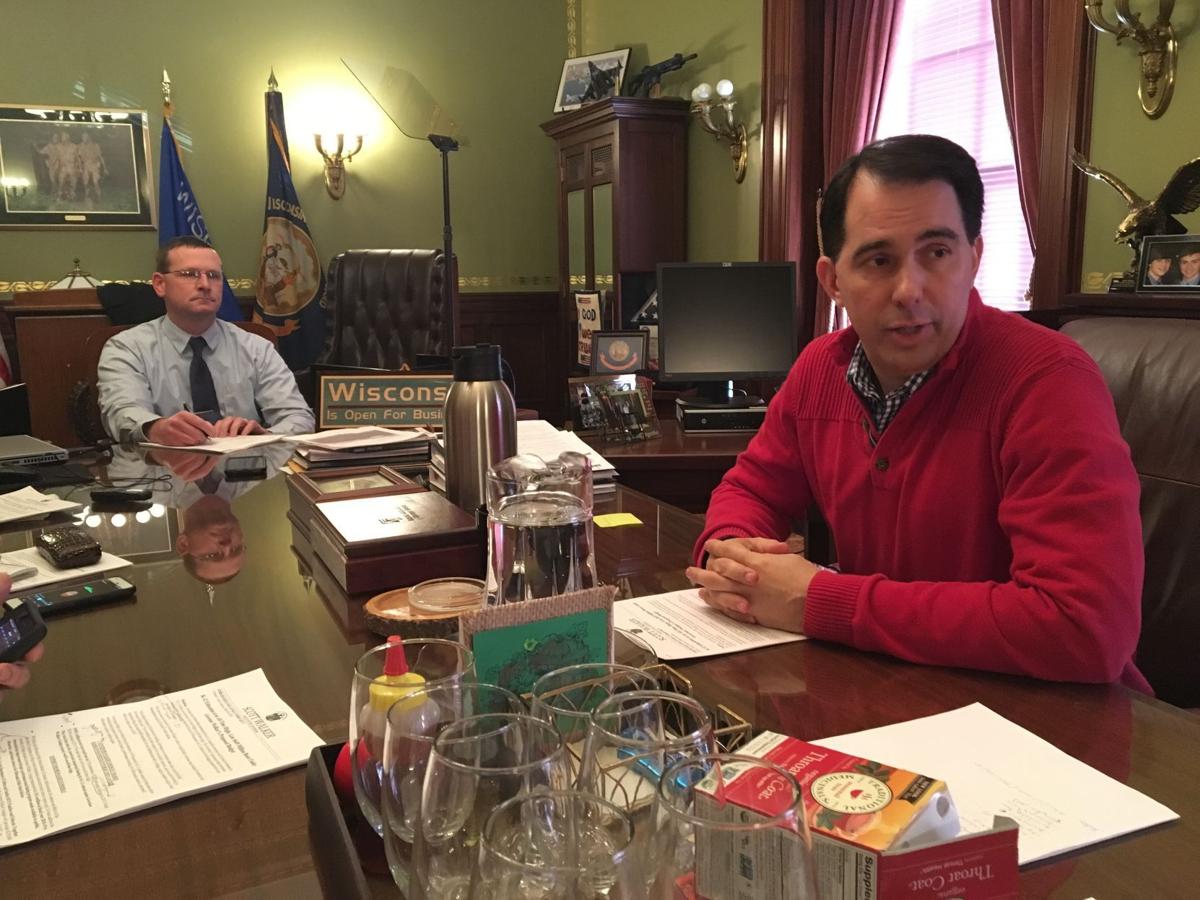 Six years after engineering massive cuts to public schools, Gov. Scott Walker will propose a record level of K-12 education funding in his upcoming budget proposal.
In total, Walker would send $11.5 billion to public, charter and private voucher schools in the two years starting July 1, including $649 million in new spending. The governor will introduce his 2017-19 state budget plan Wednesday.
"We're investing in our priorities and priority No. 1 is education," Walker told reporters Friday.
In the second year of the biennium, the state's share of K-12 funding will rise to 64.6 percent (the rest comes from property taxes and federal aid). That's the highest since 2009 after dropping below 62 percent in 2012, when Walker cut $782 million from public schools — which was largely absorbed by teachers forced to pay higher pension and health insurance premiums.
The amount of state aid is the highest ever in raw dollars, but adjusted for inflation it remains below levels more than a decade ago when the state maintained a commitment to fund two-thirds the cost of public education.
The proposal aims to send millions to districts to help them hire school social workers and provide mental health services for students, improve academic achievement in Milwaukee's lowest-performing schools and provide significantly more funding for rural schools.
Walker's proposal provides about $1.1 billion less in general and categorical aid than state Superintendent of Public Instruction Tony Evers' budget proposal, who proposed $12.6 billion. Including funds earmarked for reducing property taxes, Walker proposed $13.7 billion, $115 million more than Evers' $13.6 billion proposal.
Evers praised Walker's proposal, describing the plan as a "pro-kid budget" and "an important step forward."
"Overall, his definition of 'significant' and mine are really close," said Evers, who added that Walker's proposals hit upon the same priorities his budget request sought.
A significant portion of the new spending would be delivered through a type of aid that provides money according to the number of pupils in a district.
Walker will propose to increase the amount of money schools get per pupil by $200 in the 2017-18 school year and by another $204 in the 2018-19 school year. Its current level is $250 per student, according to the Department of Public Instruction.
In Walker's last state budget proposal the governor sought to cut $127 million by eliminating a per-pupil categorical aid to schools in the budget's first year but Republican lawmakers ultimately retained the revenue stream for schools after significant pushback from school districts and public school advocates.
Some of those same critics raved about the governor's current plan, which would increase per-pupil aid by $509.2 million over two years.
"What the governor is proposing is absolutely tremendous good news for public schools," said Dan Rossmiller, lobbyist for the Wisconsin Association of School Boards. "His funding proposals are right in line with what we have requested, so, in a sense, I feel our prayers have been answered."
Both chairmen of the Legislature's education committees praised the plan, too.
"(Per-pupil aid) goes right to schools and it's the first time that schools have seen that kind of increase in a long time," said Sen. Luther Olsen, R-Ripon. "And you know, they really need it and I think it's going to make a big difference."
After Walker introduces his spending plan, lawmakers will have a chance to make changes before it is enacted into law.
Daniel Olson, superintendent on the Monona Grove School District, said the governor's proposed per-pupil aid increase is the largest increase the district has received in years.
"A $200 per student (increase) would roughly equal a cost of living increase, so it would essentially allow us to maintain existing programs," said Olson, who added that the governor's proposed money to hire school social workers and funding for mental health services and screening are both badly needed.
Considering third term
The plan is the first time since Republicans took control of state government that Evers and the governor have been on a similar page about school funding and comes at a time when Walker is mulling whether to run for a third term as governor.
Public school advocates and the governor have been at odds since Walker took office in 2011 when he and a Republican-controlled Legislature enacted a number of measures that limited school districts' ability to raise property taxes, killed the power of teachers unions and expanded the number of taxpayer-funded voucher schools that were viewed by critics as a drain on public schools' funding.
Evers asked Walker and the Legislature for the fourth time this year to significantly increase funding for schools, by raising state-imposed revenue limits and changing the equalized aid formula to account for districts with high poverty, declining enrollment and rural issues.
Evers specifically asked this year for a $200-per-student increase in districts' revenue limits in 2017-19 and $204-per-student increase in 2018-19.
"I think there were a lot of people in this Capitol who thought there's no way they'd get that and this budget provides exactly that," said Walker. "The main distinction between what they proposed and what we did is we still maintain our property tax relief at the same time provide the additional money for the schools."
While Walker is increasing state aid by the amount Evers requested, he's not doing it through raising districts' taxing authority. Instead so-called "revenue limits" will remain flat, but districts will get more aid not tied to the state's equalized funding formula. The formula seeks to balance out state aid to property rich and poor districts.
Rep. Gordon Hintz, D-Oshkosh, who is a member of the state's powerful budget-writing committee, warned the governor's plan for schools could be based on assumptions on other areas of the budget, including a possible federal infusion of money for infrastructure.
"I think the good news is there's going to be more money for schools and I'm excited about it," said Hintz. "What I'm saying is the governor is putting out something on paper that I think is built on pretty optimistic assumptions."
Senate Majority Leader Scott Fitzgerald, R-Juneau, also urged caution.
"I appreciate that Governor Walker is seeking to provide additional resources to Wisconsin's K-12 schools, but education will be only one of many priorities that the Senate will weigh once the budget is before the legislature," said Fitzgerald in a statement.
Joint Finance Committee co-chairwoman Sen. Alberta Darling, R-River Hills, said she is optimistic about revenue trends and attributed the positive budget forecast to Republican lawmakers' legislative agendas in recent years.
"This budget is a dividend — a reform dividend — that is going to be greatly beneficial to education," she said. "We can't overreact but the trends are going in the right direction."
Hintz said he expects to see the governor propose funding increases for a number of areas that have seen cuts under his administration in the last six years, possibly to aid a potential re-election campaign in 2018.
"Gov. Walker's introducing the document as an act of self-preservation," said Hintz.
Created the problem
Democratic legislative leaders and lawmakers also said the current proposal doesn't make up for years of funding decreases, and that Walker created a crisis in education funding that he's now trying to solve. Olsen pushed back on the criticism.
"Sometimes you just have to say this is good. Do you have to make everything political?" said Olsen. "This is so much better than we've had in a long, long time. I think it's time to get together and sing 'Kumbaya.'"
Walker is proposing giving the Milwaukee School District nearly $9 million in financial incentives to increase academic achievement within its lowest-performing schools and additional money to provide summer school.
Walker also is seeking to provide $500,000 for mental health services provided by the Department of Children and Families, $3 million in categorical funding to allow school districts to hire school social workers, $2.5 million in grant funding for school districts and independent charter schools to provide mental health services and $1 million in funding for schools to provide mental health screening.
The governor's budget also combines two state programs that allow high school students to receive college credit by creating an Early College Credit Program at $2.9 million over the two years, and make $7.6 million available to school districts who help students with disabilities find jobs.
Editor's Note: This story has been corrected to reflect an accurate comparison between the proposed schools budgets from Gov. Scott Walker and state Superintendent Tony Evers.