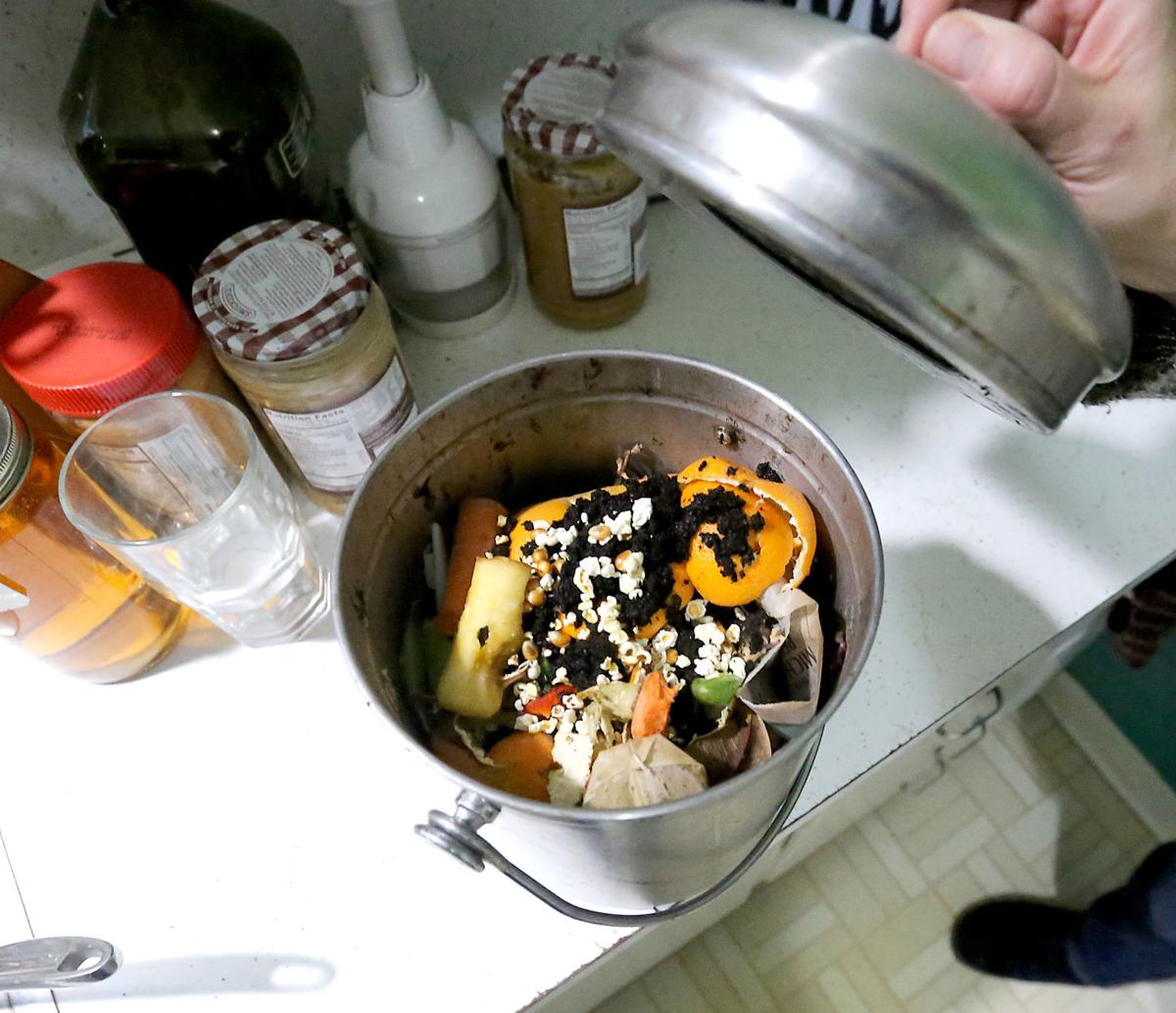 Madison's organics-collection pilot program will end next week, a victim of people putting too many non-compostables into their compostables carts and a city that couldn't afford its own biodigester, the city's recycling coordinator announced Monday.
Bryan Johnson emphasized that collecting food scraps and possibly other compostable materials citywide continues to be a long-term goal, and ending the current seven-year-long program will give officials time to study programs elsewhere that have successfully been able to process waste to create biogas for sale to utilities.
"We are committed to making this work," he said, but "what we've been getting out of the bins really is just incompatible with the processing options."
There are currently about 1,100 households and 40 businesses in the program.
While the load of food scraps, soiled paper and other material delivered to a Middleton digester in March had fewer plastic bags, metals and other noncompostables than the prior load, "the contamination within the material created a very labor-intensive and slow process, which also requires thousands of gallons of water," he said.
That contamination included lumber scraps and two seemingly full bottles of liquor, he said, and the extra water and labor needed to separate debris and process the compostables meant a $200-per-ton fee from the digester's operator, GL Dairy Biogas, which is "far too expensive." By contrast, the county landfill charges a dumping fee of $50 a ton.
Johnson said that when the program began in 2011 with about 500 participants, the plan was for the city to open its own biodigester in 2016, but "this did not happen."
Constructing its own biodigester would allow the city to tailor it to the city's waste, Johnson said.
But at a cost of $30 million to $35 million, it would also be "way beyond the scope of this city," said Mayor Paul Soglin.
Ultimately, Soglin said, he'd like to see the city focus on collecting waste from larger producers — such as cafeterias, grocery stores and large employers — and then find a way to work with the Madison Metropolitan Sewerage District to process it.
MMSD officials said the city reached out in early 2016 looking for ways to bring its curbside collection to the district's South Side Madison site, which doesn't have the facilities to handle such waste now, said process and research engineer Matt Seib.
"In addition to studying the potential for energy conversion, his research team has been looking at opportunities to create valuable industrial products from a waste stream composed of organic material," MMSD communications manager Jennifer Sereno said in an email.
Those products could include fertilizer or organic molecules for industrial applications, Seib said, but there are no specific plans for what MMSD could do with Madison's organics or how soon it could be doing it.
"We remain open to potential future collaboration in this area," Sereno said.
Johnson said sending Madison's organics to MMSD "is not a near-term solution considering the way everything is currently performed." As part of his research, he said he plans to learn more about a private curbside composting service for commercial customers in Milwaukee County.
Jaclyn Lawton, chairwoman of the city's Solid Waste Advisory Committee, which oversaw the pilot program, said focusing on large producers could make sense.
"Large producers are also more able to comply with the materials to be composted," she said. "Households, even those volunteering for the pilot, did not have uncontaminated materials as a group."
Soglin said other factors to consider in large-scale composting are how consistent the compostable material is and how much utilities are willing to pay for the gas it produces.
"The cost of collecting individual household substrate compared to the benefit is astronomical," he said.
The rules on what could be put in the curbside carts changed as the city changed processors in its pilot program. At one point, pet waste and diapers were compostable, and some participants have not changed what they've put into the compost stream as the rules have changed, Johnson said.
Ending the pilot and starting fresh would allow the city to set strict limits in any new program, he said.
Households that participate in the program will get a letter this week announcing its end, and Streets Division crews will collect participants' black refuse carts as soon as they can after final collections next week, Johnson said.
Nothing should be put in the carts between the final scheduled collection and when the carts themselves are collected next week.
Get Government & Politics updates in your inbox!
Stay up-to-date on the latest in local and national government and political topics with our newsletter.