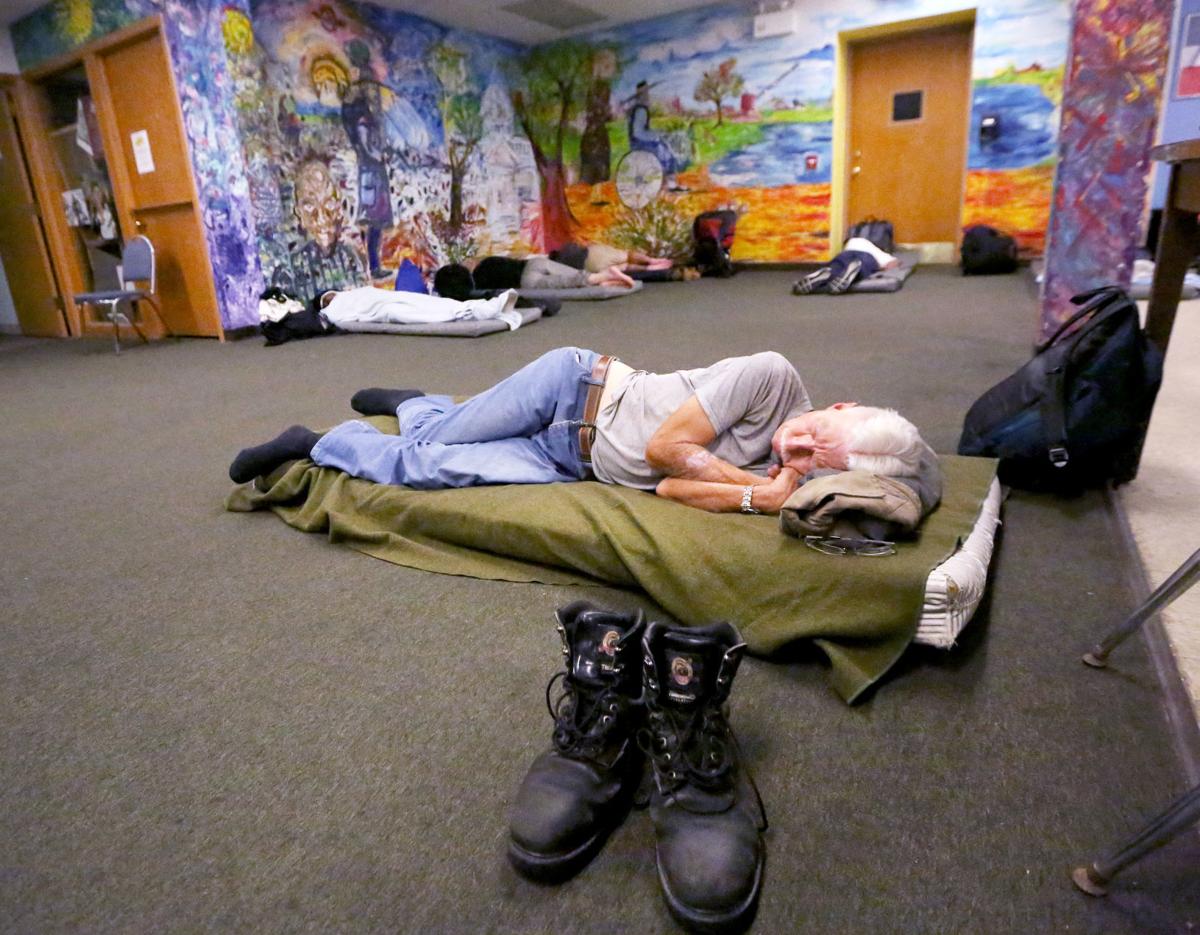 In a move that stunned the state's top homeless advocates, Republicans on the Legislature's budget-writing committee Tuesday voted against a plan to combat homelessness crafted primarily by fellow Republicans and embraced by Democratic Gov. Tony Evers.
In a separate vote, the committee set aside $7.5 million over the next two years for anti-homelessness measures, slightly more than Evers sought. But the manner in which the money was provided could delay its distribution to Wisconsin homeless shelters by several months, potentially past the winter months when they're most needed, according to Joseph Volk, director of the Wisconsin Coalition Against Homelessness.
One of the Legislature's leading advocates of the homelessness prevention measures, Assembly Majority Leader Jim Steineke, said he "sympathizes" with advocates' concerns but said there shouldn't be a delay in distributing the money.
Volk likened Tuesday's vote in the Legislature's Joint Finance Committee to "Giannis going for the slam dunk and missing it," referring to Milwaukee Bucks star Giannis Antetokounmpo.
"This was one of the few opportunities they had to actually have a 14-0 vote, and they screwed it up," Volk said.
Volk said that by setting aside the money without tying it to specific programs, as Evers' budget does, lawmakers will need to pass separate bills to do that.
Steineke, R-Kaukauna, predicted Assembly lawmakers will take up standalone bills on the topic as early as June. But he also said state Senate Republicans may not be fully on board with the plan.
"I still feel confident the funding will be out the door by the fall," Steineke said.
Evers' budget plan adopted the recommendations of a joint homelessness council issued last year, then headed by former Republican Lt. Gov. Rebecca Kleefisch and made up mostly of cabinet secretaries of former GOP Gov. Scott Walker. It calls for providing $6.9 million in the next two years to provide more beds at emergency homeless shelters throughout the state, for services to help people exit shelters and find housing, and for homelessness prevention.
Joint Finance Republicans rejected Evers' plan on a party-line, 11-3 vote Tuesday, with all Republicans opposed and Democrats in favor. Shortly afterward, Republicans passed a motion 11-3, with all Republicans in favor and Democrats opposed, to provide $7.5 million for unspecified "homelessness prevention initiatives."
Steineke acknowledged homeless advocates' concerns about how the funds were approved Tuesday.
"For their purposes, having everything tied up in a bow in the budget process would be simpler," Steineke said.
Steineke said he believes Assembly Republicans are ready to support standalone bills enacting the council's requirements. But he said work remains in the state Senate "to make sure the support is there for all the bills."
Lead pipe funding rejected
Also Tuesday, the panel embraced part of Evers' proposals to improve access to clean drinking water, while declining to revisit another measure aimed at replacing lead water lines.
Democrats on the panel sharply criticized their GOP colleagues during debate Tuesday, accusing them of ignoring a statewide crisis of lead in drinking water.
The proposals adopted unanimously Tuesday by the Joint Finance Committee increase the state's borrowing authority by $17 million for programs that help cities, villages or towns fund wastewater, stormwater, and drinking water infrastructure projects. The two programs involved in the proposal tap federal grants and state dollars to give loans to municipalities.
But Republicans on the committee declined to revisit another Evers proposal to boost borrowing authority by $40 million to help replace an estimated 170,000 lead lateral service lines.
That proposal was one of 131 Evers measures that Republicans on the committee scrapped from the budget in a sweeping vote last week.
Lead laterals are found in aging homes throughout the state, with the largest concentration in Milwaukee. Racine, Kenosha, Manitowoc and Marathon counties also have sizable numbers of lead lines, an EPA study found.
It's a different story in the city of Madison which, starting in 2000, launched an 11-year bid to become the first city in the nation to replace all of its lead water lines.
The two Milwaukee lawmakers on the finance committee, Sen. LaTonya Johnson and Rep. Evan Goyke, both Democrats, spoke about lead poisoning of children in Milwaukee that has been linked in part to lead lateral lines.
Lead from the lines can flake off into the water and cause permanent brain damage in children. A 2017 analysis found the lead poisoning level for children in Wisconsin is nearly as high as in Flint, Michigan, where lead contamination caused a drinking water crisis.
Johnson said when she operated a child-care facility she cared for children who suffered from lead poisoning. She singled out as "inexcusable" comments by the committee's co-chairman, Rep. John Nygren, R-Marinette, that criticized Evers' proposal for directing too much money to Milwaukee. Nygren said replacement of lead water lines should be handled at the local level instead of by state government.
Goyke, in what he acknowledged was "political theater," held up a glass of water from the tap at his home, which he says has lead water lines. He asked GOP lawmakers if they wanted to drink it. No one did.
"We need state investment" to replace the lines, Goyke said. "There isn't a private-sector solution for this."
So far — including at the start of Tuesday's session — committee Republicans largely have followed the path that they announced earlier this month: voting to oppose Evers' spending plan. GOP lawmakers said they would keep spending at "base" levels matching what was spent in the 2018-19 fiscal year that ends June 30.
Republicans on the committee also voted Tuesday to oppose Evers' plan to provide $1 million for state officials to provide outreach to hard-to-count Wisconsin residents as part of the 2020 U.S. Census.
Get Government & Politics updates in your inbox!
Stay up-to-date on the latest in local and national government and political topics with our newsletter.