ADAMS — In the end, Doreen Putzkie did the only thing that made sense to her in this presidential election.
Putzkie, 49, waits tables at Country Skillet, a diner on the main street of this small central Wisconsin town. On TV and in her diner, Putzkie heard nonstop chatter about the election.
She grew weary of the claims and counter-claims, the mudslinging, and perhaps most of all, the confusion about what to believe.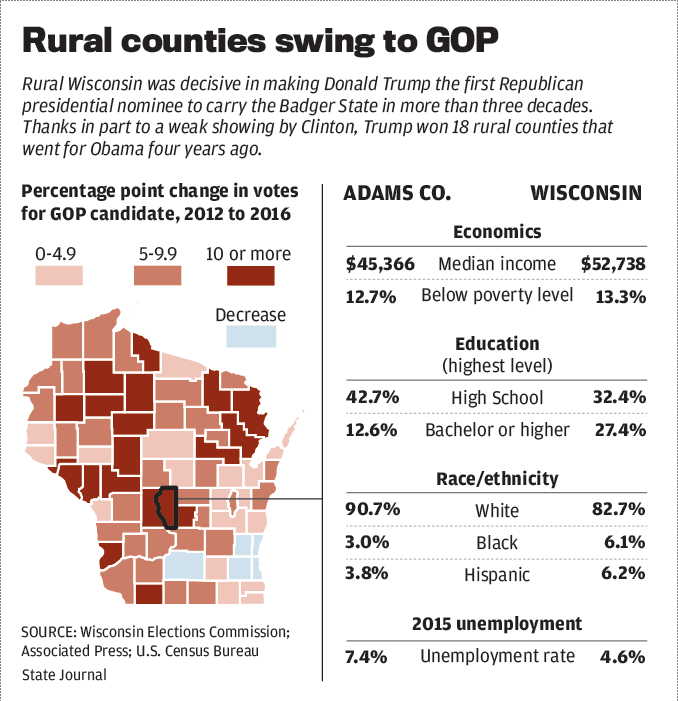 Putzkie, of Adams, said she votes for Democrats in most elections, including for President Barack Obama in 2012.
This time, Putzkie said she knew she would not support Republican nominee Donald Trump.
But Democrat Hillary Clinton never closed the sale. Disgusted by the campaign's tone and nagged by questions about Clinton's emails when she was Secretary of State, Putzkie decided not to vote. Her husband, who she said usually votes at her behest, didn't either.
"The important stuff didn't get brought up in this campaign," Putzkie said. "I said: 'This time, I'm not gonna do it.'"
Putzkie was part of something brewing beneath the surface in Wisconsin's farm fields and small towns. On Nov. 8 it would shock the world, making Wisconsin one of three Great Lakes states, including Michigan and Pennsylvania, to defy polls and their recent voting history by electing Trump president.
Rural Wisconsin was decisive in making Trump the first Republican to carry the Badger State in more than three decades. Thanks in part to a weak showing by Clinton, Trump won 18 rural counties that went for Obama four years ago.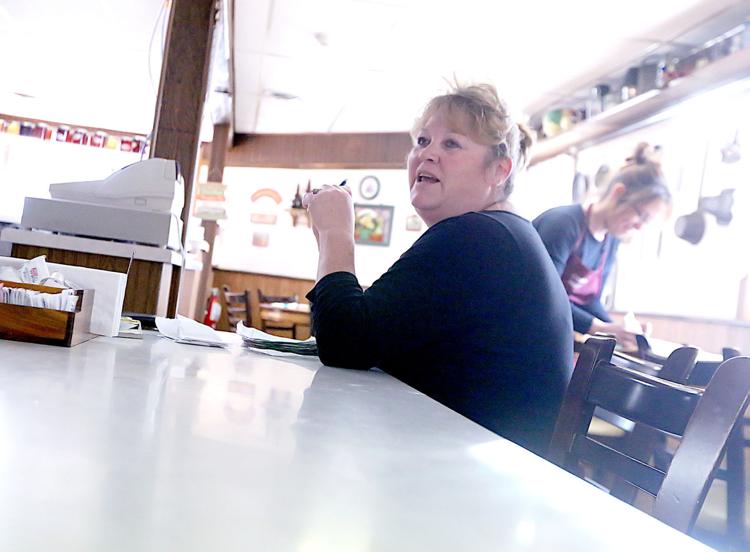 Angry electorate
Adams County stretches north-to-south from Wisconsin Dells nearly up to Wisconsin Rapids, bordered to the west by Castle Rock and Petenwell lakes. Its population center is the twin cities of Adams and Friendship, which together have less than 3,000 residents.
The county has undergone recent demographic change and economic uncertainty. Supporters of both parties in Adams County described a local electorate that was overwhelmingly angry — and ready to break from the status quo, even if the direction of change is unclear.
Now local residents say they're eyeing a Trump presidency with long-odds hope, deep anxiety or both.
Local Democrats, demoralized by a string of crippling election losses, say they're frightened for what the future holds under a President Trump.
Local Republicans hailed Trump's win as a "last-ditch effort" to save their country, while admitting concerns about Trump's style. Some expect Trump to dig in and defend conservative principles as president; others say he must work with opponents.
Jody Quinnell, a local GOP activist, criss-crossed Adams County during this campaign in her vintage red pickup truck, distributing yard signs for Trump and Republican state Senate candidate Patrick Testin. Testin became the only Republican state senator in this election to defeat an incumbent Democrat, Sen. Julie Lassa of Stevens Point.
In the campaign's final weeks, Quinnell saw a contradiction. Polls predicted Wisconsin would vote solidly for Clinton. But what Quinnell saw and heard in her community was totally different.
"The polls were saying 'No, no, no.' But then I saw that enthusiasm building," Quinnell said. "I said, 'I don't know what the whole United States is doing. But I know what Adams County is doing.'"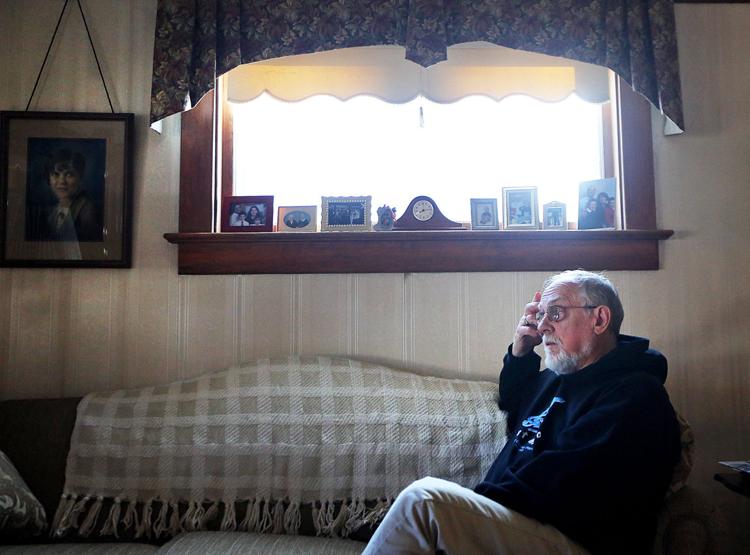 In Adams County, a nearly 30-point swing

Harry Davis had a bottle of champagne ready to uncork at what he expected would be a Clinton victory party on election night.
But when results came in, Davis, chairman of the Adams County Democratic Party, was left wondering what changed so dramatically in his state and in his county in just four years.
Wisconsin Democrats had hoped to build off the last two presidential elections, when Obama carried the Badger State by sizable margins.
Rural Wisconsin, in large part, made that possible. Throughout rural Wisconsin, Obama fought 2012 GOP nominee Mitt Romney to a draw — enabling Obama to run up the vote count in the state's urban centers, Madison and Milwaukee.
This election was different. Rural Wisconsin counties swung dramatically toward the Republican nominee, and Trump crushed Clinton in rural Wisconsin by nearly 19 points. Trump ultimately carried Wisconsin by a little more than 27,000 votes.
Trump won Wisconsin's 46 rural counties, those outside the metropolitan areas defined by the U.S. Census Bureau, by more than 142,000 votes.
Adams County saw one of the biggest swings of any Wisconsin county from 2012 to 2016: a 30-point change in the margin for the Republican candidate. It went for Obama in 2012, 54 percent to 45 percent. This time it went Trump, 59-37.
The local economy, rooted in agriculture, tourism and logging, has failed for decades to yield enough good jobs, residents said.
The county's population is much older and less educated than the state as a whole, U.S. Census data show. Its unemployment rate was among the highest of any Wisconsin county in 2015.
While still overwhelmingly white, the county has become more diverse in recent years. In 2000, black or Hispanic residents made up less than 2 percent of the county's population. By 2015, that had reached 7 percent.
Quinnell said Trump's strong stances against immigrants and refugees coming into the U.S were central to his appeal. She dismisses what she describes as the liberal vision — "one big happy family all over the world" — as wishful thinking, especially while the U.S. fights terrorism.
"When you are at war — and I feel we're at war — you close your borders," Quinnell said. "There's no way to tell the good people from the bad people.
"You can't just dump them into our society and think that we've got to take care of them now."
'Trump talked, felt like them'
The turnabout in Adams County, as in many other rural counties, involved a Trump surge and an even bigger Clinton letdown.
Trump got more than 1,300 more votes in the county than Romney in 2012, while Clinton got more than 1,700 votes less than Obama — out of a total of more than 10,100 votes cast, according to unofficial results.
Some voters, including Mark Beda of rural Adams, backed Obama four years ago and Trump this time.
A self-described moderate, Beda, a 47-year-old IT worker, voted for Obama in 2012. Beda said he was encouraged by Obama's efforts to overhaul the U.S. health care system.
But years later, Beda said Obama's signature law has not made care more affordable and accessible for most people he knows. Part-way through Obama's second term, Beda said he felt it was likely he would vote for the Republican nominee in 2016.
Trump repeatedly pledged during the campaign to repeal Obama's health care law. But Beda said Trump instead should "fix" the law "to make it something that people can use ... something that is affordable."
"I think that would just be detrimental," Beda said of a full repeal. "You're not going to take it away. You just can't do that."
State Rep. Joan Ballweg, a Markesan Republican whose district includes Adams-Friendship, credited the Republican Party of Wisconsin for ramping up its visibility and campaign efforts in the county in recent years.
Ballweg described Adams County as home to many people who "have been hit harder by the stagnant economy."
"A lot of those folks feel like Mr. Trump talked like them and felt like them," Ballweg said.
Ballweg said a perception that Obama's health care law wasn't working may also have aided Trump.
But Ballweg predicted that, while Trump has a devout base of supporters, some of his voters won't follow him blindly.
"He needs to keep his promises and show how he's going to do that," Ballweg said. "People want to see the proof."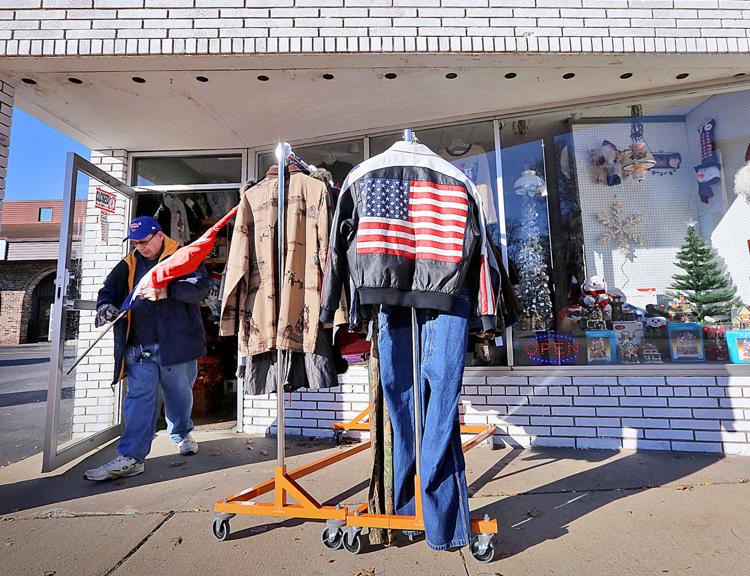 'You take it to the streets'
Steve Pollina, a longtime Democratic activist in Adams County, watched this campaign play out through the discussions between fellow veterans inside the Adams VFW hall.
Many said they were voting Trump — not out of enthusiasm for Trump but because "they thought Hillary was a crook," said Pollina, 72, a U.S. Air Force veteran of the Vietnam War.
Pollina, a retired tool and die maker, is a longtime resident of Adams who grew up in Chicago. He said some local residents' political views are affected by "a lot of resentment" about government programs, based on perceptions of who they believe the programs help.
"They thought that somebody else was getting something they should get," Pollina said.
Asked who "somebody else" refers to, Pollina said: "Minorities, mostly."
Still, Pollina said many local people voted for Obama in past years, hoping he would shake things up.
"They waited for all this change from Obama and it didn't materialize," Pollina said. "The change didn't come to them."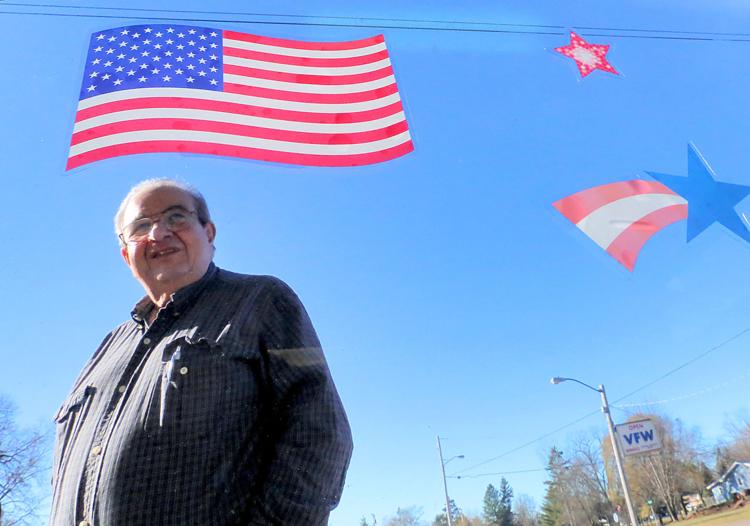 To some degree, Pollina faults Wisconsin Democrats and the Clinton campaign for this year's results. He said Badger State Democrats increasingly have overlooked rural areas in favor of turning out voters in Madison and Milwaukee.
Pollina said he rarely saw Clinton staffers in Adams during this campaign. In 2008 and 2012, he said an Obama campaign staffer was a frequent presence in the community.
Now Pollina admits to a pervasive anxiety about the future of the country for which he fought. Its next president, he believes, is deeply unprepared for the job.
"I've never felt this uneasy about a new president," Pollina said.
Davis was an activist in the peace movement, most recently in opposition to the U.S. wars in Iraq and Afghanistan.
Now Davis wonders if President Trump may usher in a wave of anti-government protests — perhaps even rivaling what he witnessed in the 1960s as a college student at UW-Whitewater.
"When you can't make your voice heard, you take it to the streets," Davis said. "That's what may have to happen here."