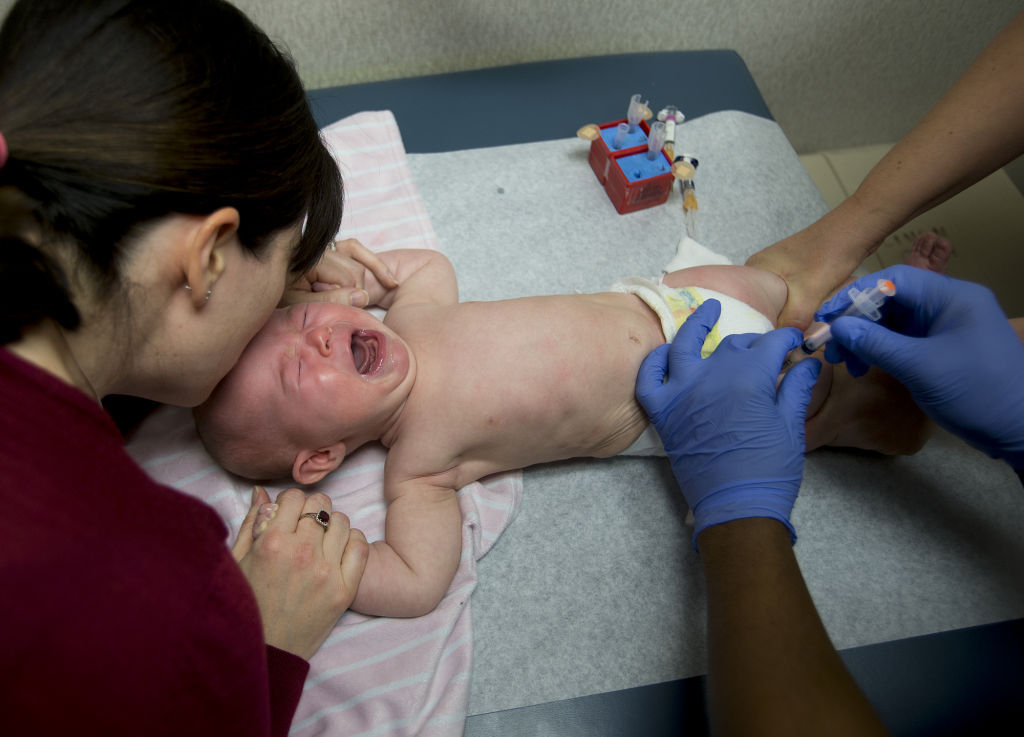 LA CROSSE — Last year, 74,538 Wisconsin students went to school with less than the minimum required vaccinations against diseases including polio, measles, mumps, diphtheria and hepatitis B, according to data from the Wisconsin Department of Health Services. More than half had personal waivers, meaning their parents chose not to have them vaccinated.
Statewide, more than 92 percent of school children were fully vaccinated last year, but the data show unvaccinated kids are not evenly distributed. There were 265 schools where at least one in five students lacked at least some vaccinations.
At some schools, rates are even lower. That represents a potential risk for outbreak, said Dr. Rajiv Naik, a pediatrician and immunization expert with Gundersen Health Systems in La Crosse.
"If the rates of vaccines, whether in a general population or in small pockets, start to dip below 70 percent or so, many of the diseases will start to become prevalent once again, or you will have pockets of epidemics," Naik said. "Once you have pockets of epidemics, then especially these days with travel being pretty easy, we can start to have broader epidemics of these diseases."
More than a quarter of Wisconsin schools are below 90 percent vaccination rate, according to DHS data.
In Dane County, while the vast majority of students have received required vaccinations, high rates of students exempted from vaccination for "personal conviction" reasons at some public and private schools have health officials concerned about the possibility of outbreaks here.
The State Journal reported earlier this month that based on county public health data, Marquette Elementary School on Madison's Near East Side has the highest exemption rate in the Madison School District. Thirty students, or 13.8 percent of the school's 218-member study body, have personal conviction waivers.
On the state level, the data don't show which vaccines were waived, and it is impossible to tell which students' parents actually opposed getting the vaccine or signed the waiver because they couldn't find their immunization records, couldn't get vaccinated in time, or for other reasons.
"We really don't know," La Crosse School District nurse Sara Lieurance said. "We don't have a good way of tracking things."
Regardless of the reason, there are pockets of the Coulee Region where vaccination rates are markedly low, including Vernon County, where a number of schools have vaccination rates below 20 percent.
And with the recent outbreak of measles traced to Disneyland in California, some parents and medical professionals are arguing that vaccinations are more about public health than personal choice.
Health experts say one of the problems is the potential threats they pose to others — such as babies too young to be vaccinated or students who can't be vaccinated for health reasons.
To keep those people healthy, vaccinations require "herd immunity," in which at least 90 to 95 percent of the population are vaccinated. Highly contagious diseases such as measles are making a comeback because of those pockets where the vaccination rates are lower, putting the public at risk.
"We have a lot of respect in this society for both personal autonomy and parental discretion. But those values have always been balanced against compelling public interest, like public health," said Alta Charo, a professor of law and bioethics at UW-Madison. "As soon as that unvaccinated kid gets sick, that kid can now become the vector for passing that illness along to all these other kids who are unvaccinated not by choice but by necessity.
"Vaccination is not just about protecting your own kids," she said. "It's about protecting all kids."
Tricky data
The state's health agency tracks whether school students have records for all of the required immunizations for their grade level. The state tracks those who do not as behind schedule, in process, or whether a religious, health or personal belief waiver is on file.
The state data may be fuzzy, but Lieurance was able to provide more detailed information on the La Crosse district's students. Only about 5.8 percent have waivers on file for the current school year.
"We work hard to educate and get the information out there to parents," she said. "But it is a parent choice. And we have to respect that choice."
You have free articles remaining.
In Vernon County, which had a reported case of the measles as recently as 2008, the vaccination rate is slightly above 85 percent, making it the county with the second-lowest vaccination rate in the state. At two schools in the county, the rate is under 20 percent.
At Pleasant Ridge Waldorf School, 121 out of 156 students in 2013 had a personal waiver. And while it only had a student population of 43, three-fourths, or 31 students, at Youth Initiative High School had personal belief waivers, and only five fully met state vaccination requirements.
The Viroqua Area School District also had a low vaccination rate in 2013, around 85 percent, with 166 of the district's 1,133 students having personal belief waivers on file.
"One thing we try to do is educate and help provide the facts for families to make their decisions," said Viroqua Elementary School principal Ryan Rieber. "Parents are smart and educated here. It is up to them to go back and make the best decisions for their kids."
Marianne Fieber, administrative chairwoman for Pleasant Ridge Waldorf School, said the school does not encourage or discourage vaccinations, allowing families to get the facts and make their own decisions.
But the low vaccination numbers in the county have not gone unnoticed.
"We are aware of that and we're working hard to bring those (rates) up," said Trish Helgerson, a nurse with Vernon County's public health department. "Now people are challenging the system and challenging whether it's the right or wrong thing to do. That's a parent's right."
Public health debate
Mary Christenson, 67, a former Pleasant Ridge parent, raised her daughter in the late 1980s, and started out getting all of the required vaccinations after she was born in 1986.
Christenson cited similar health and safety reasons for why she stopped vaccinating her child, including fear of overloading her daughter's immune system. After seeking advice from a homeopathic health care provider, she did research, which she said pointed to the health issues and poor efficacy of vaccines.
Unlike many parents today, Christenson said she grew up with illnesses like pertussis and understood the risks.
"These weren't seen as things that were so horrible," she said. "These were things we worked through."
On Wednesday, Keo Lor had her 4-year-old son Sky Thao vaccinated, which included an MMR shot, in Onalaska. Lor is studying to be a medical assistant. She said her studies highlighted the importance of getting her children vaccinated.
"It is a healthy choice," she said. "It is for the safety of others and your child."
Mayo Clinic Health System family physician Kristen Dall Winther, whose six children were always up to date with vaccinations, said research has failed to link vaccines to serious harm such as autism.
Charo, the UW-Madison professor, opposes the personal exemption, at least in public schools.
"The parents who don't want to do vaccinations, they somehow — either they don't believe these diseases are dangerous … or they think, well, since so many other kids are vaccinated, why don't I just not vaccinate my kid? My kid gets the benefit of the herd immunity but doesn't take on even the minute risk associated with the vaccine," Charo said.
"They're free riders. They're trying to have their cake and eat it too."
Tribune reporter Chris Hubbuch contributed to this story.