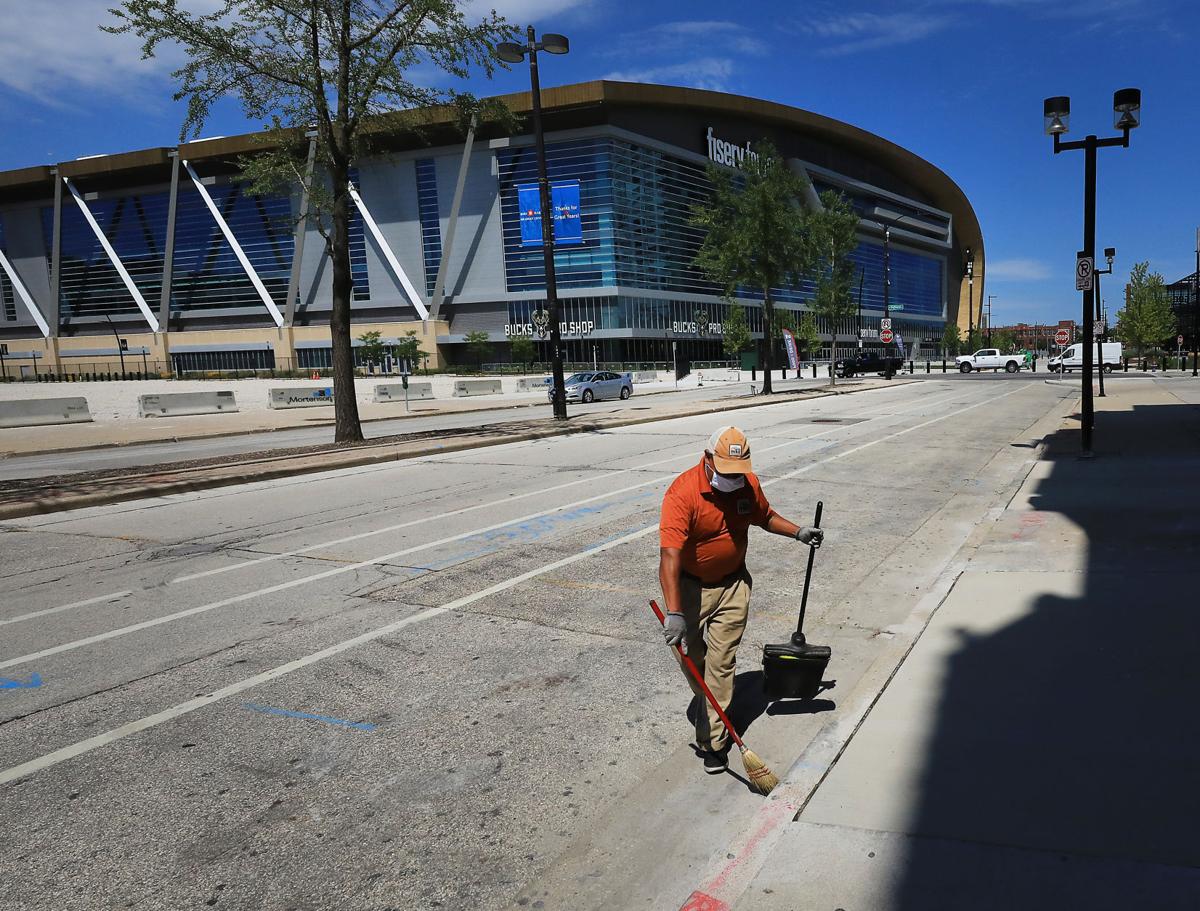 MILWAUKEE — There is a quietness and emptiness in the heart of Wisconsin's largest city amid yet another opportunity scuttled by the pandemic.
Unthinkable a year ago, the dramatic downsizing of the Democratic National Convention scheduled to open here Monday was almost expected and came with a lack of shock and awe.
There will be no throng of delegates, media from around the world or politicos wandering Wisconsin Avenue as the convention has been converted to primarily an online event.
Bars, restaurants and hotels in the city's downtown will see no bump in business. Selfies with the Bronz Fonz will be limited and the boat tour companies that venture out onto the Milwaukee River and Lake Michigan will remain largely docked.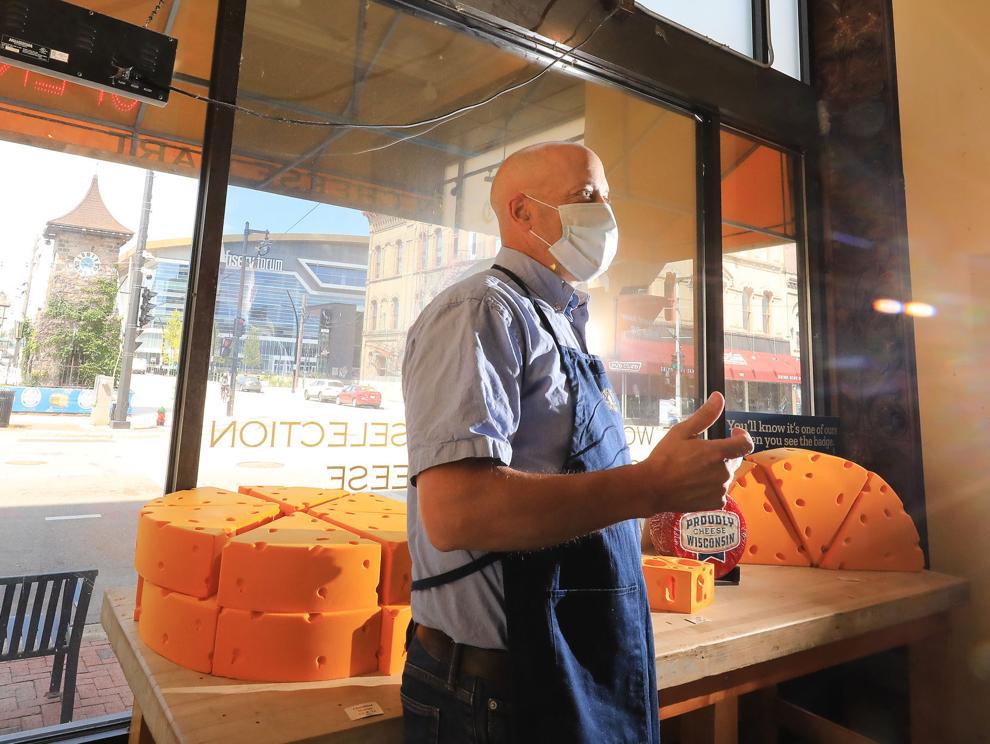 Ken McNulty has a prime view of the Fiserv Forum from his front window at Wisconsin Cheese Mart on Old World Third Street. He was expecting thousands of people to flock into his store during the convention to peruse the 450 types of cheese he stocks from cheesemakers throughout Wisconsin. Instead, this will be just another week amid COVID-19 with in-store sales down to just a fraction of before. An event space McNulty owns adjacent to his shop would have likely been rented out to a politician, national media outlet or some other political organization, but will instead be idle.
The Fiserv Forum will also be void of activity as what's left of the DNC has been moved a few blocks away to the Wisconsin Center. It's unfathomable to believe that the center's 88,695 square feet of exhibit space, 37,506-square-foot ballroom and 39,364 square feet of meeting space will be fully utilized.
"It's going to be dozens of people," McNulty dryly joked. "I'm kind of a stoic. I deal with it as it comes. I can't do anything about it, so I don't worry about it. I just pivot as much as I can."
McNulty, who opened a Madison location in the 100 block of State Street last summer, has swiveled to his online sales. His Madison store remains shuttered and won't reopen until next March, but internet sales of his cheeses this past March and April "were like Christmas" and has helped keep the businesses afloat. He feels for the nearby bars and restaurants like Mader's, Major Goolsby's, Milwaukee Brat House and the Drink Wisconsinbly Pub in the Deer District that would have been swamped with business.
"We're in this for the long haul," McNulty said. "This is a short-term bump in the road, but it would have meant a lot of publicity for us. And it would have been free publicity for Wisconsin."
There has been a gradual buildup to this week, but no one anticipated the crescendo would be inverted to a major bummer drawing only a few hundred instead of 50,000 people, $200 million in spending and international exposure to the city and state. Even the presumptive nominees, Joe Biden and Kamala Harris, along with dozens of other speakers, will be Zooming it in.
Last month, DNC officials announced everyone attending the convention would have to wear a face mask, consent to daily testing for COVID-19, fill out questionnaires and maintain physical distance from other attendees. Those that do attend in person have been required to self-isolate for at least 72 hours before entering the convention and are being asked to stay out of bars.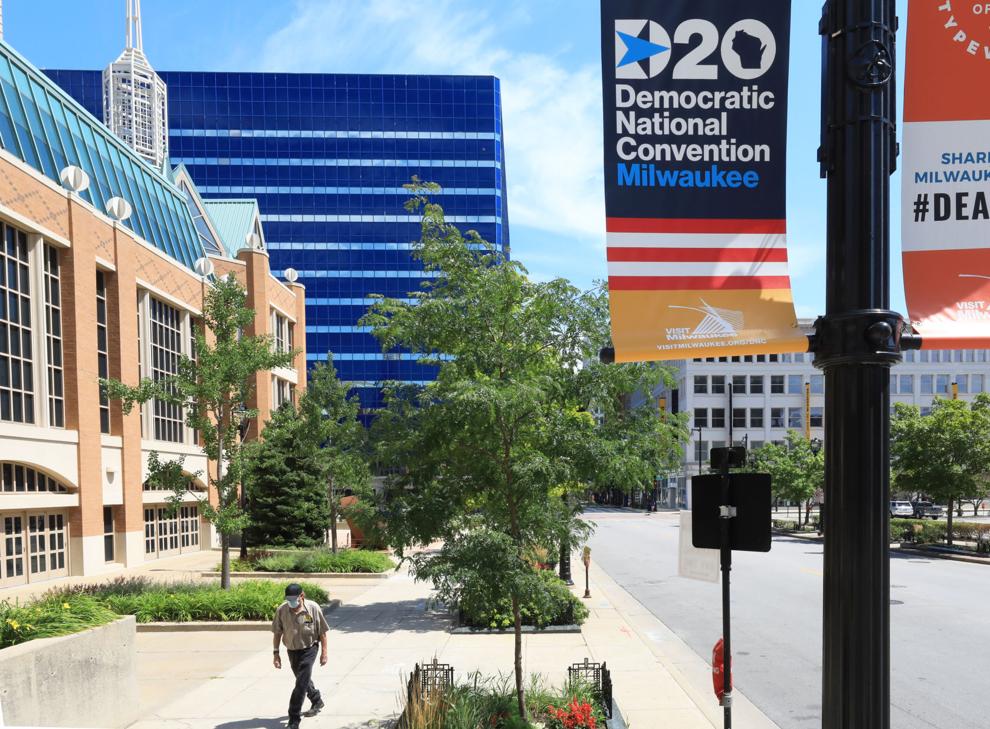 But the alterations to the DNC are just the latest in a long list of pandemic causalities.
The Milwaukee Bucks are vying for the NBA Championship but in a Disney World bubble, not at Fiserv Forum. The Brewers are playing home games at Miller Park but without fans. The Milwaukee Symphony Orchestra canceled its season and Northwestern Mutual, one of the city's largest and oldest employers, converted its 12,000-person annual convention last month into a virtual event, marking the first time since 1877 that the city did not welcome financial reps from around the country.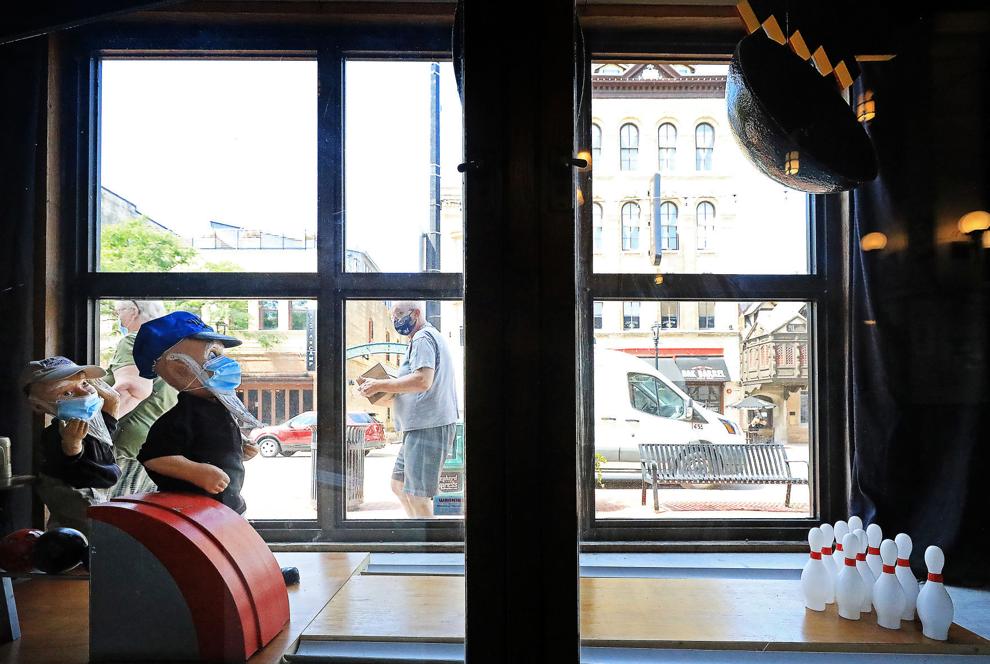 The Milwaukee Public Museum has been closed for months but will reopen this Friday while events like the Milwaukee Film Festival and Jazz in the Park are now virtual gatherings. Summerfest and the Wisconsin State Fair in nearby West Allis, both of which can draw 100,000 people a day, were also wiped off the map.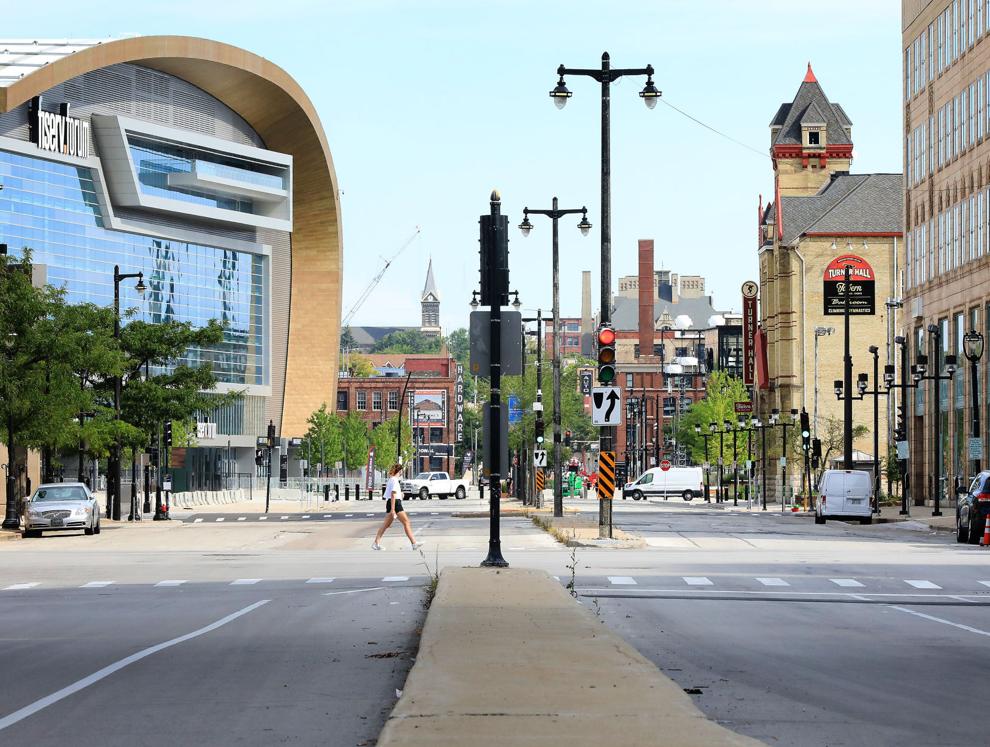 Even the security zone for the DNC has been significantly downsized, leaving many streets that would have been closed in the downtown now open. Protesters and security around the Wisconsin Center are likely to outnumber the official in-person attendees.
"We have not been agonizing over the loss of the convention anymore than we have anything else," said Paul Schwartz, executive director of Business Improvement District 2, which includes the Historic Third Ward. "We are trying to reassess, adapt, improvise in many ways and move forward to the best of our ability and do it responsibly."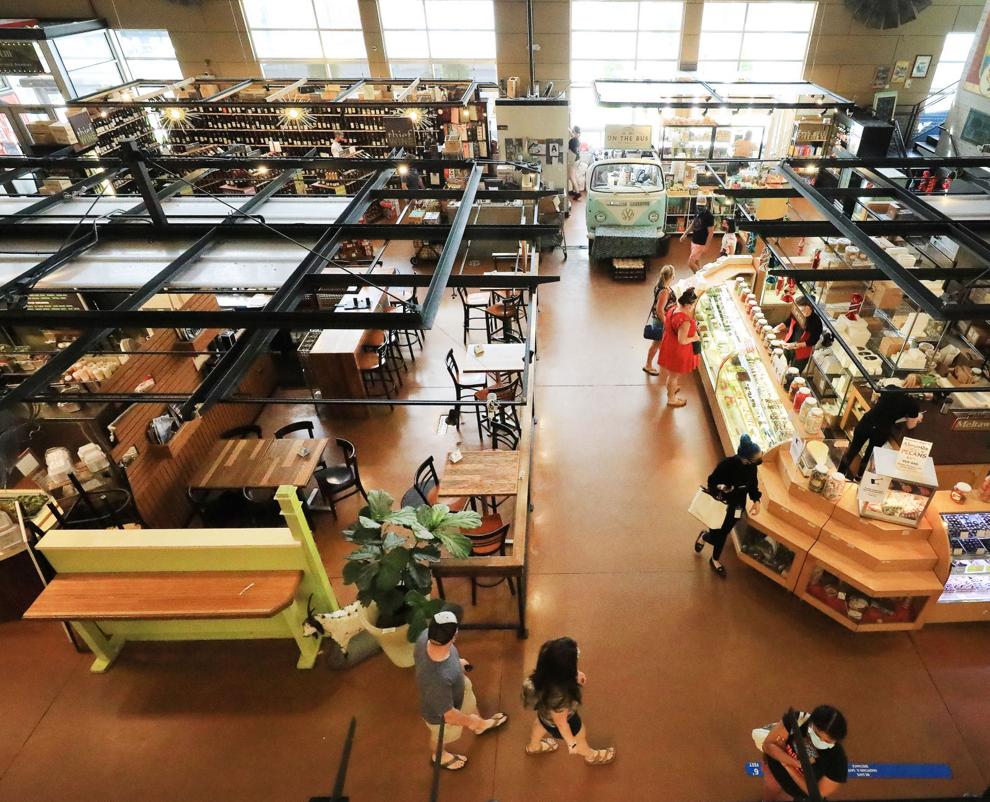 Schwartz also doubles as the executive director of the Milwaukee Public Market. The 24,000-square-foot, $10 million facility on North Water Street opened in 2005 and now has 17 vendors. In 2019, the market drew 2 million visitors. It closed in mid-March due to the pandemic and reopened June 10 with limited dining inside while utilizing its outdoor spaces. The market includes restaurants, a chocolate shop, another that sells spices and one that sells cheese and sausage.
"This has been a tough enough time, especially for restaurants and bars, that I think everybody is just amazingly grateful for any opportunity, regardless of what it is," Schwartz said. "If the DNC is still happening and there's 100 people attending, fine. If 20 of them find their way to the Public Market, that's 20 more than we had."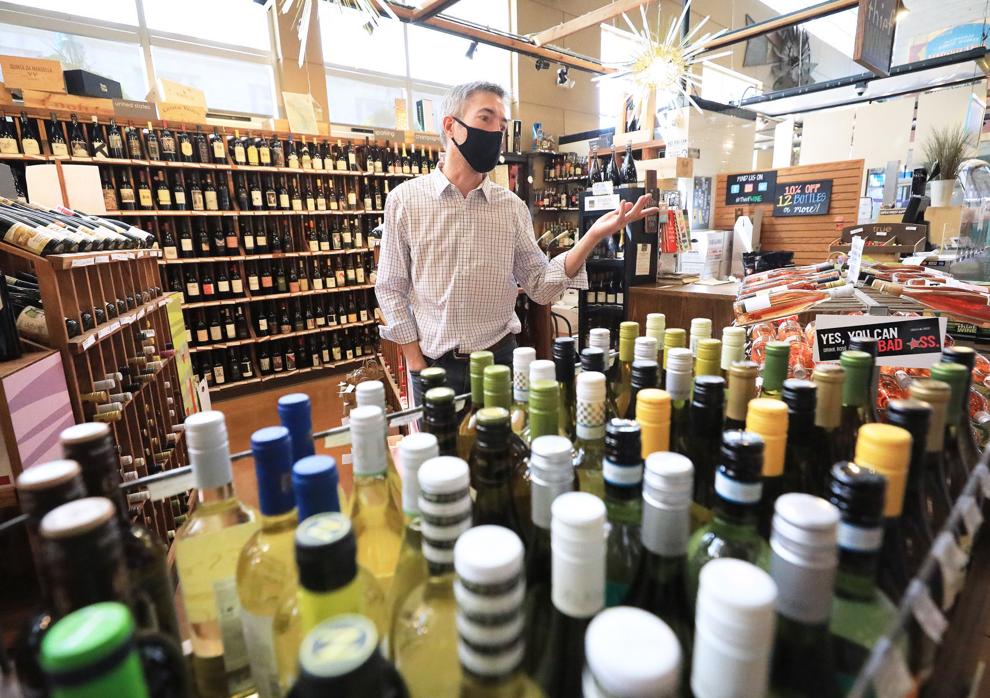 Phil Bilodeau and Aimee Murphy opened Thief Wine Bar and Cafe in the Public Market in 2008 after years in the California wine industry, but just a few months before the Great Recession. Their Milwaukee business includes a retail store with 750 wines from around the world and a wine bar. Wine-tasting events have been moved to an online format and can draw 50 to 100 people at a time. The loss of the DNC, while disappointing, won't determine if Bilodeau and Murphy survive 2020.
"We've really learned how to adapt, which has helped us out really well in these times," Bilodeau said. "One thing that we've realized is that Milwaukee Public Market is more than just an out-of-town, tourist destination. It's a local destination as well, and it's part of the community."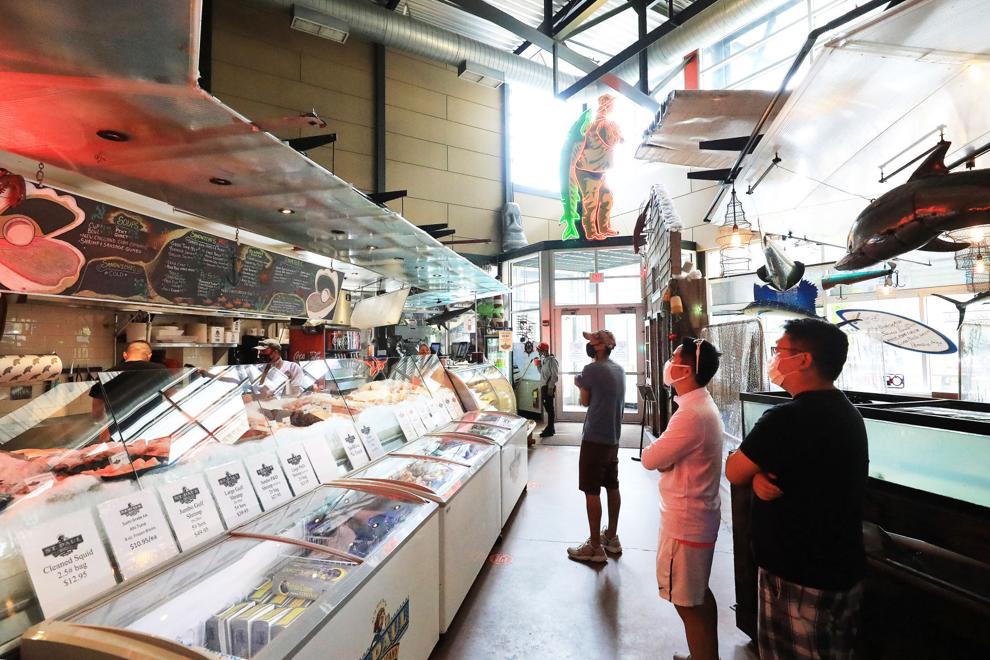 At the east end of the market, St. Paul Fish Company, founded in 2005, offers up fresh seafood, an oyster bar and restaurant. J.P. Toske, a manager at the company, said when the business closed in mid-March, there was little thought of the DNC. Instead, the focus was on reopening and keeping the business, which includes a Mequon location, viable.
"It was so far out there that (the DNC) wasn't even on the bulletin board," Toske said. "Once COVID hit, it was the least of our worries. We really weren't worried about the additional sales (during the DNC) just because we were already maxed out during that time period on a yearly basis. How much more could we do if we're already at that plateau?"
Back on Old World Third Street, Usinger's Famous Sausage's retail space is stocked with hot dogs, bratwurst, bacon, liver sausage, ham and other meat products that have been staples at the family-owned company founded in 1880.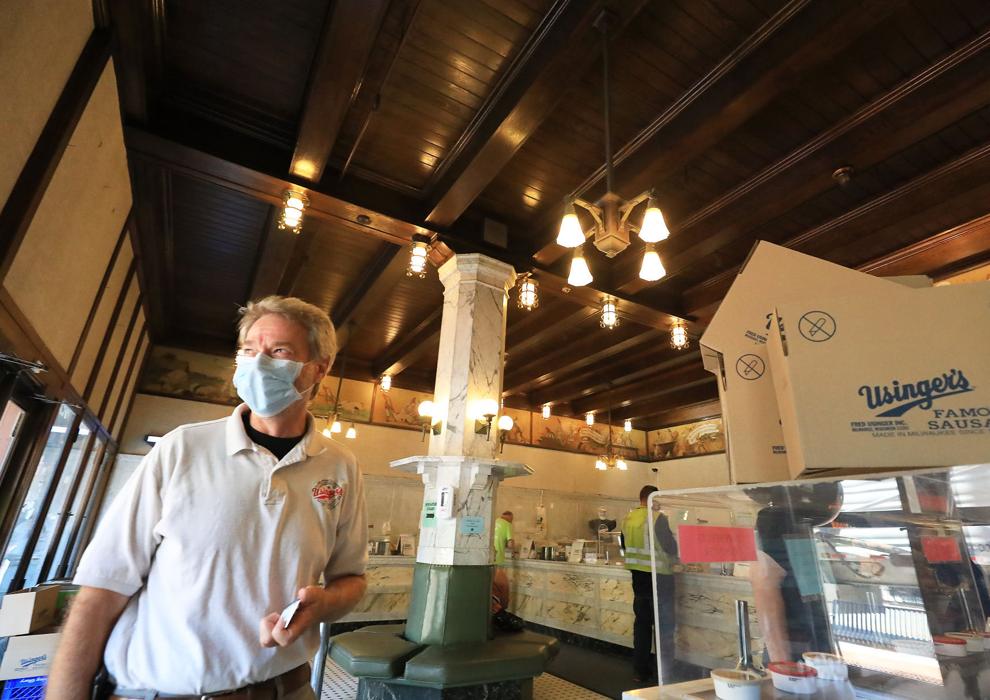 The store has been visited over the years by politicians like George W. Bush, Bill Clinton and Barack Obama. But Fritz Usinger, the company's president and whose great-grandfather founded the company, said while many downtown businesses will miss out on increased sales during the DNC, the real loss for the city is the lack of media searching for stories about Milwaukee that could be shared with the world.
"To really have in-depth features and side stories about Milwaukee's attractions, that's the part that's sad to see slip away," Usinger said. "We really had the potential to be exposed to a lot of out-of-town folks."
Barry Adams covers regional news for the Wisconsin State Journal. Send him ideas for On Wisconsin at 608-252-6148 or by email at badams@madison.com.