Cottage Grove residents pushing for the village's first public library have reason to be optimistic after a survey showed strong support for the project and village leaders appear more amenable to making it a reality than they did 12 years ago.
With a population of about 7,100 people about 12 miles east of Downtown Madison, Cottage Grove is unusual among Dane County communities in lacking its own library. Of the 19 county municipalities with their own libraries, seven have smaller populations than Cottage Grove. Black Earth, Deerfield and Mazomanie combined don't have as many people as Cottage Grove, but do have their own places to check out books.
The village already has a site for a library — about 7 acres just west of Glacial Drumlin School and north of Cottage Grove Road — purchased in 2008 by the old ad hoc Library Board for about $269,000 and sold for a dollar the next year when the board was disbanded to the nonprofit Friends of the Cottage Grove Library, according to Friends president Anne Schoenemann.
And since November 2019, the village's Library Planning Committee, or LPC, has been meeting and studying, and surveying residents. It will present its latest report to the Village Board on Monday.
The process for launching a new public library has multiple steps in Wisconsin. The Department of Public Instruction must issue a nonbinding opinion "on the feasibility and desirability of establishing a new library," and library-seeking communities have to get the go-ahead from their local county board. Then it's up to the community to pass a resolution establishing the library and appoint a library board.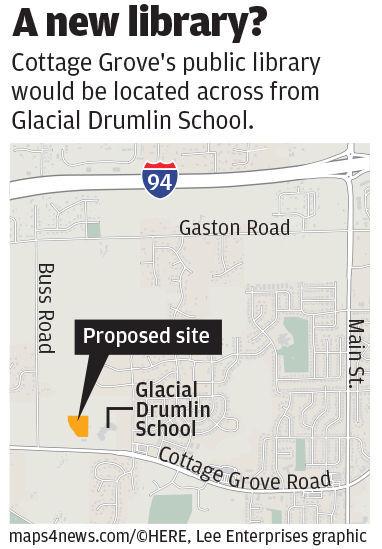 Village Board and LPC member Melissa Ratcliff said she would like to see Cottage Grove's library open "tomorrow," but four years from now might be a more realistic goal.
Costs are similarly fuzzy at this stage, but the LPC has estimated between $5 million and $7 million is needed to build a building, $1.3 million would go to build a road and other infrastructure to serve it, and operations would cost about $500,000 a year.
Ratcliff pointed out that the village currently pays about $273,000 a year to the Dane County Library Service to give its residents access to public libraries elsewhere in the county. If Cottage Grove were to build its own library, those payments would cease and the village could start getting revenue from other library-less areas whose residents are allowed to use Cottage Grove's.
She also sees a library as key to economic development, noting that when Cottage Grove residents go to, say, Madison's Pinney branch library about seven miles away on Cottage Grove Road, they also might choose to shop and eat in the same area.
"A library would really help to keep our families, seniors and businesses in our community," she said.
Past effort
The village's previous effort to build a library dates to 2004, when the Village Board appointed the old Library Board. From then until 2008, it raised more than $500,000, Schoenemann said. The Friends, created in 1998 and incorporated in 2005, currently has about $130,000 in the bank, she said.
But progress stalled amid the Great Recession as residents rejected a 2008 referendum to spend $7 million for an 18,000-square-foot library and elected a Village Board in 2009 that was wary of what a library would cost.
Fast forward 10 years when Ratcliff was running for Village Board in 2018 and residents brought the issue to her.
"People asked me, 'Do you support a library,'" she said. "That got brought up multiple times."
That sentiment was later reflected in a survey the LPC sent to residents after the focus groups and other meetings the committee wanted to host were made impossible by the COVID-19 pandemic.
Twenty-nine percent of the village's approximately 2,300 households responded and out of 816 total responses, about 69% rated having a library in Cottage Grove as "extremely" or "very" important, and about 70% said the same of having access to library services.
Without a library of its own, Cottage Grove has relied on other county libraries and, since 1966, visits from the Dane County Bookmobile, Schoenemann said. More recently, 18 free little libraries have been installed around town, according to the Friends group. Before that, the village's post office served as a library for books shipped in by rail.
Optimism emerges
Given the survey results and village's current political atmosphere, Schoenemann is feeling more confident that the library her group has been working toward for 23 years will happen. She pegs the board at 4-3 in favor of a library.
Village Board President John Williams would not go so far as to say the board supports building a library, but did say in an email that he believed it "supports the efforts of the Library Planning Committee as they continue their hard work researching the necessary details, collecting community feedback, etc."
Williams said a lot of village property is tied up in tax incremental financing districts, which freeze property values in an area and allow new tax revenues from growth to be pumped back into economic development.
That affects how much the village can levy in taxes, and he said that the library's yearly operational costs alone would exceed the village's levy limit, meaning that if the village wants to raise more in taxes to fund a library, it would likely have go to referendum.
"Ultimately, this likely will rest with the voters to decide," he said.
---