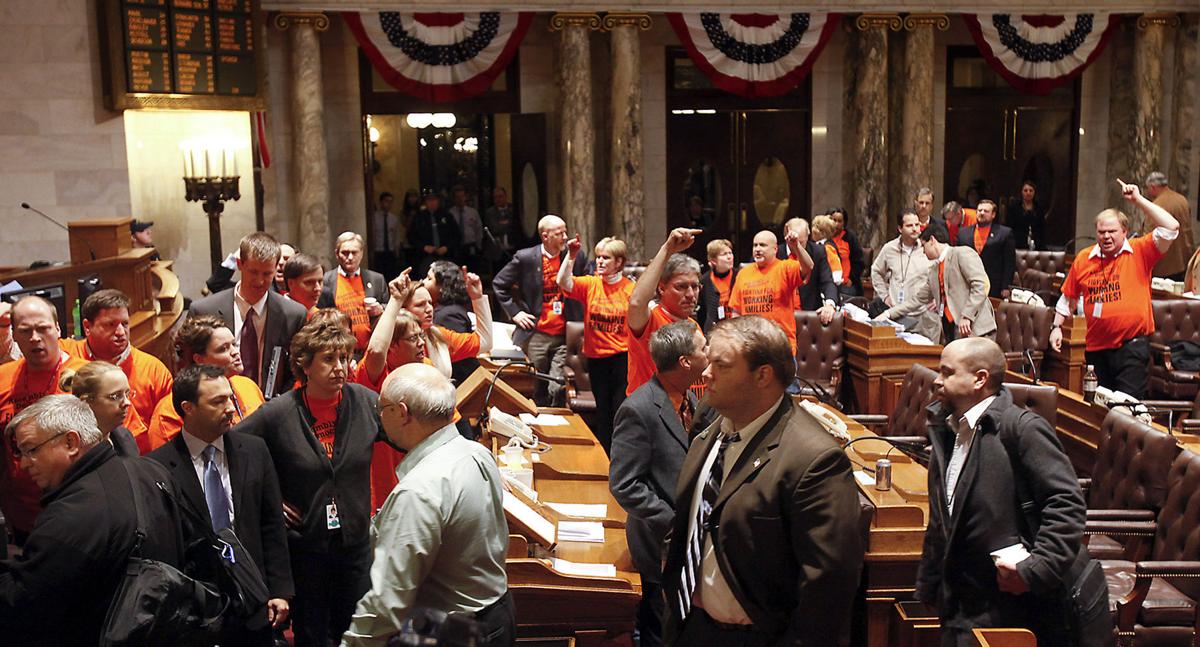 Wisconsin's political fault lines existed long before Act 10, but the law that hobbled public-sector unions and launched Gov. Scott Walker as a national conservative star may be most remembered years from now for bringing those fissures into high relief.
Former Republican state Senate president Mike Ellis said former friends and neighbors still won't talk to him in the supermarket.
"The most significant impact of Act 10 is the long-lasting political division it created," Ellis said. "Lines were drawn deeper in the sand. Instead of maybe a half an inch in the sand they went down 2 feet. As a result of that time frame, that's going to be there for a generation."
Walker's "divide and conquer" strategy — as he described it to a wealthy donor shortly before "dropping the bomb" on Feb. 11, 2011 — was evident in his negotiations with former state Sen. Tim Cullen, one of 14 Democrats who fled to Illinois temporarily delaying the law's passage. Walker refused to eliminate language ending automatic dues collections, Cullen said, which cut to the political nature of the proposal.
Walker touted Act 10 as a tool for balancing state and local budgets, but by curtailing collective bargaining, it also diminished unions' value to employees. Union membership has since declined, undercutting a key funding and volunteer source for Democrats.
The law spurred massive union-led protests, 13 Senate recalls (three of which succeeded) and the 2012 gubernatorial recall. But when the dust settled Republicans retained as much control of state government as before Act 10.
Walker tried to parlay the recall victory and his 2014 re-election into a presidential run, but wound up $1 million in debt and with a job approval level at 38 percent.
Timeline: Scott Walker's 2011 battle over union rights
New Republican Gov. Scott Walker was barely a month into his first term when he unleashed a political firestorm in Wisconsin in February 2011. He said he planned to fix a state budget deficit by forcing higher benefit costs onto public workers and eliminating nearly all of their collective bargaining rights. Soon, an unprecedented fury rained down on the Capitol and lasted for about a month. Here's a look at what that time was like.