Wisconsin's meteoric rise in COVID-19 cases is bleeding into Wisconsin's state-run veterans homes, with the Wisconsin Veterans Home at King reporting 27 new cases of the novel coronavirus among residents since last Friday and one death.
The King Veterans Home has reported a total of 81 positive COVID-19 cases among residents since its first case in August and a total of six deaths, four since the end of September.
The facility's newly reported cases come as Wisconsin logged a record 3,747 new cases and 17 deaths on Thursday as Wisconsin remains a national coronavirus hotspot. A record 1,043 patients were hospitalized, including a record 264 in intensive care.
"No matter the institution — whether it's a correctional institution, whether it's a nursing home — the spread across the state is directly related to the spread we're seeing in our veterans homes," Gov. Tony Evers said in a call with reporters Thursday.
Evers quoted from this week's White House Coronavirus Task Force report for Wisconsin, which called for increased social distancing measures. "Lack of compliance with these measures will lead to preventable deaths," the report said.
The Democratic governor again called for action by Republicans, who control the Legislature and have supported court challenges to his orders requiring masks and limiting indoor gatherings.
"We know what they're against," he said. "We don't know what they support."
With the state's weeks-long surge in cases, hospitalizations and deaths, Department of Health Services Secretary Andrea Palm said it will take time to reverse the trend.
"This is going to get worse before it gets better," Palm said. "We can expect to see an increase in hospitalizations so long as we continue to see an increase in our new daily positive cases."
An alternate care facility opened Wednesday at Wisconsin State Fair Park in West Allis, but no patients were there as of Thursday afternoon, Palm said.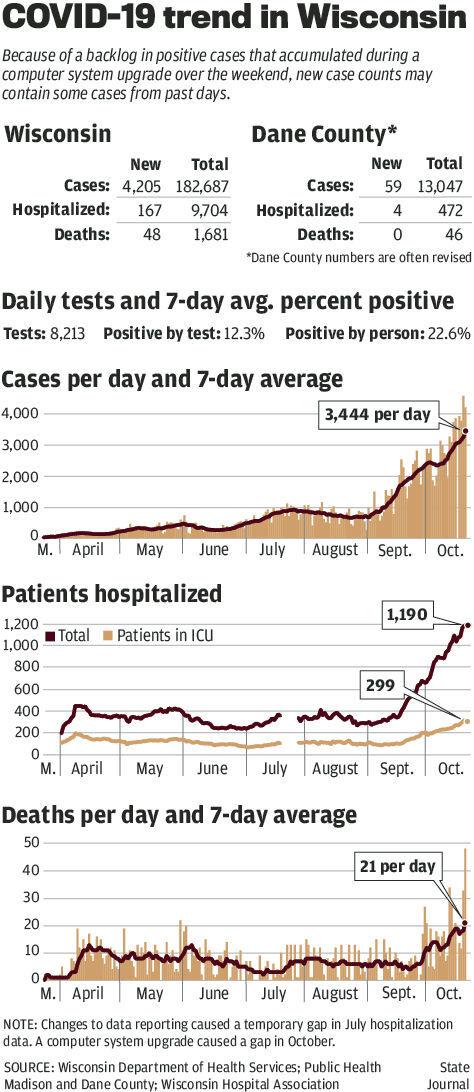 Meanwhile, the Wisconsin Department of Veterans Affairs has also reported that 10 staff members have tested positive for COVID-19 since Friday, and there are 51 residents in quarantine in a separate hall on the King campus.
Since Friday, seven residents and 15 staff members have recovered.
"While we are working very hard to keep COVID-19 out of our Homes, it is a very tough battle, given the growing number of people with the virus who live and work right outside our doors," commandant Tammy Servatius said in the letter.
Veterans home employees are enacting a variety of precautions. Those include moving residents with COVID-19 to a quarantine area, having a limited number of staff work with infected members, training staff in infectious disease control and having staff wear appropriate personal protective equipment, including N95 masks and face shields.
The measures also include testing staff members twice per week for COVID-19 and, if they test positive, requiring them to complete quarantine or test negative twice following their diagnosis.