Ten years ago, in the aftermath of the Great Recession, a newly elected Gov. Scott Walker and the Republicans who held the majority in the Legislature ushered in a new era of politics in Wisconsin with the passage of Act 10 — decimating public sector labor unions, delivering taxpayers a windfall and forever altering the relationship between government workers and their employers.
The legislation hit with explosive effect, especially in Madison, the seat of state government. Almost overnight, most public employees would be required to pay half of their pension costs and at least 12.6% of their health care premiums. Prohibited from bargaining over benefits or working conditions, their unions would be reduced to negotiating only inflationary wage increases.
Fast forward 10 years, and it's clear the law, which Walker presented as a way to address a projected $3.6 billion budget deficit, has had myriad impacts beyond balancing a state budget.
"When people talk about Act 10 … they're often talking about a whole constellation of changes that happened," said Jason Stein, research director at the nonpartisan Wisconsin Policy Forum, who also covered Act 10 for the Milwaukee Journal Sentinel and wrote a book about the month-long, round-the-clock protests at the Capitol the proposal ignited.
Act 10 and the subsequent reduced funding to state and local government represented a new conservative approach of addressing the state budget crisis without raising taxes, Stein said.
A Wisconsin State Journal review of Act 10's impact found the law offered Wisconsinites cheaper government, lower taxes and a way out of the immediate budget crisis. But those benefits came at the cost of public employees and exacerbated inequality in the state.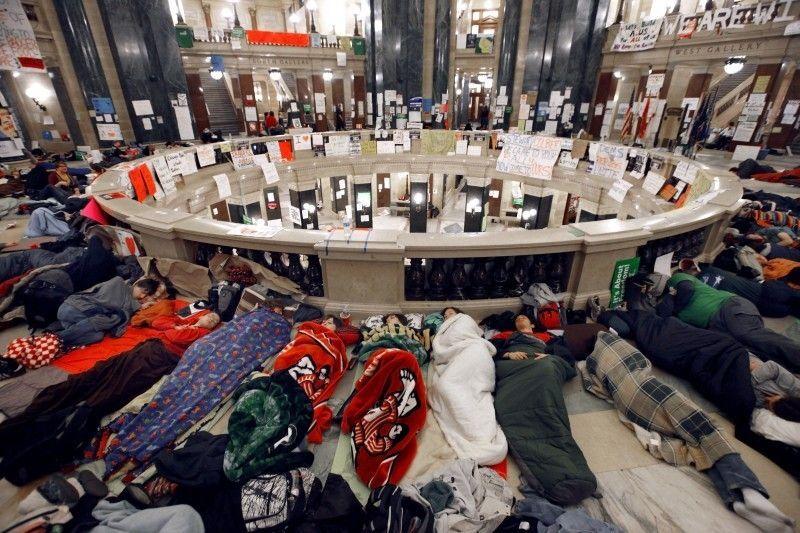 The law helped schools and state and local governments reduce spending — by more than $12 billion according to some estimates. Yet those reductions were largely borne by teachers and other public employees, whose compensation has lagged. The savings were largely returned to taxpayers in the form of income tax cuts and property tax limits.
While Republicans often touted Act 10 and accompanying tax cuts as a boon to the economy, Wisconsin has lagged the nation and many other Midwestern states in economic growth over the past decade.
And while Act 10 has helped local governments weather tight budgets, the protections it offered for police and firefighters has contributed to even more severe local budget constraints that some say could lead to a breaking point for some cities.
Education disparities grow
To address Wisconsin's 2011 budget deficit, Walker and his fellow Republicans cut school aids by 8% and cut state limits on school revenues by 5.5%.
By requiring most public employees to pay more for their pensions and health insurance, local governments were able to absorb the immediate cuts. But the law put Wisconsin on a trajectory of lower state spending on education overall, prompting voters in two-thirds of the state's school districts to override state-imposed spending limits since 2016.
In the years before Act 10, Wisconsin's per-pupil public education spending outpaced the nation, according to the Wisconsin Policy Forum. After the legislation went into effect, the state saw a 6.2% decline in total spending in 2012, bringing the state closer to the national average.
In the years since, per-pupil education spending has fallen behind the rest of the nation, growing 15% in Wisconsin compared with 23% nationwide from 2008 to 2018.
Immediately after the law took effect, public employees making $50,000 saw an 8.5% decrease in take-home pay, while those making $25,000 a year saw an 11.3% decrease, according to research for the book Stein co-wrote with Journal Sentinel reporter Patrick Marley, "More Than They Bargained For."
Public school teachers were the face of the opposition to Gov. Scott Walker's Act 10 -- and they could end up absorbing some of the longest lasting changes resulting from the controversial law.
The changes meant the state went from first in the nation for spending per pupil on school employee benefits in 2002 to 28th in 2018, the Policy Forum found.
Teacher salaries didn't fare much better. Salaries were below the national average before 2008 and ranked 27th in the nation in 2018. Between 2011 and 2018, Wisconsin salaries per pupil increased by 7.2%, while salaries nationwide increased by 13.1%, according to the Policy Forum.
This year, the state is due to spend $75 million less on public school districts than it did in 2011 accounting for inflation, according to the liberal Wisconsin Budget Project.
Act 10 supporters have lauded the legislation for giving school districts more flexibility to recruit and keep teachers since they are no longer bound to uniform compensation programs that rewarded seniority.
The conservative Wisconsin Institute for Law and Liberty noted the Cedarburg School District rewarded teachers through student achievement metrics, allowing them to receive bonuses of between $500 and $2,800 for positive evaluations.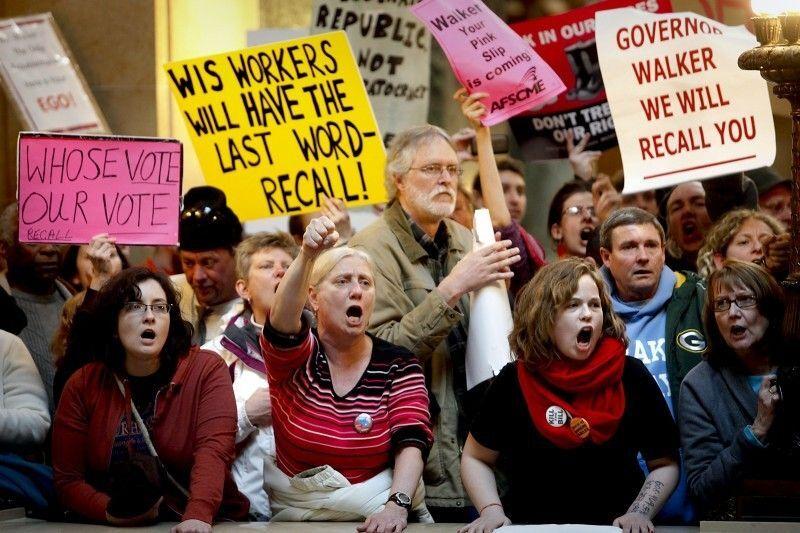 But the additional flexibility can result in greater inequality, allowing school districts with more resources to offer more in starting salaries than those with fewer resources, typically in more rural, northern areas of the state, Wisconsin Budget Project analyst Tamarine Cornelius said.
For many districts, hiring new teachers has proved difficult. According to a 2015-16 school year survey conducted by the state Department of Public Instruction, 56% of school districts in northern Wisconsin faced "extreme shortages" in hiring in instances analyzed, while 46% of districts in southern Wisconsin faced such a challenge.
Teacher turnover has been another concern. Immediately after Act 10, the Department of Public Instruction recorded higher rates of teachers leaving the profession, although those rates have stabilized in recent years. Still, the Policy Forum reports the number of young teachers leaving the profession has increased.
Any effect of the spending cuts on student achievement are difficult to measure. UW-Madison professor emeritus of public affairs and applied economics Andrew Reschovsky said data show a growing gap in student achievement between white and Black students in Wisconsin, which already ranks among the worst states in the nation on the racial achievement gap.
"If you reduce compensation for teachers and you reduce the power of teacher unions, it's not as if you can say, 'Ah, that's a tool. Everybody can cut spending,' as if there's no consequences to that," Reschovsky said.
As schools face ongoing revenue shortages, voters in many communities are increasingly taking matters into their own hands.
A Policy Forum analysis found that since 2016 nearly two-thirds of Wisconsin's school districts have seen their voters approve referendums to authorize local property tax increases of more than $7 billion.
Early on, the "tools" provided in Act 10 — namely limits on collective bargaining and increased employee contributions toward health care and pensions — did allow school districts to weather the initial hit they took to their sources of revenue.
An analysis by the Wisconsin Taxpayers Alliance (now the Wisconsin Policy Forum) showed that in 2012, the first full year after Act 10, Wisconsin school districts collected $451 million less than they did in 2011, but that the increased contributions from workers allowed districts to absorb the entire amount.
State economy has lagged
While Republicans have long maintained lower tax rates boost economic growth, Reschovsky said tax rates have played a minor role in determining growth and that businesses look for things beyond taxes, such as services, a well-functioning government and good education system.
Walker fell short of his own campaign pledge to create 250,000 new private-sector jobs by the end of his first term in office. Employers had managed to create 233,101 private-sector jobs by the end of his second term, in 2019, still short of the goal.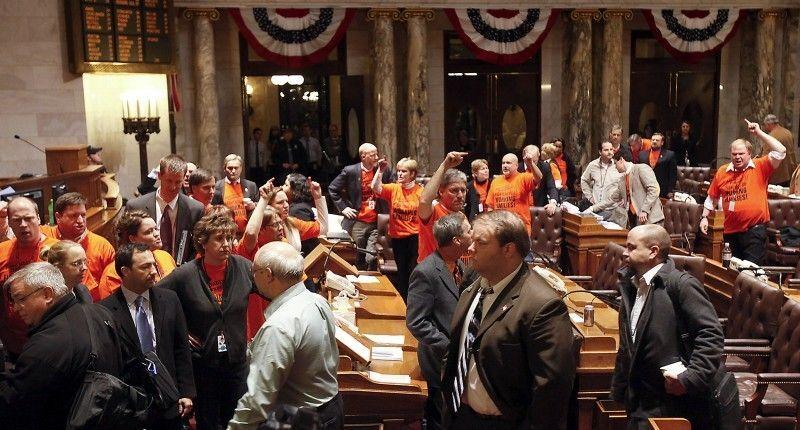 Since Act 10 was passed, Wisconsin's economic growth has generally lagged behind both the nation and other Great Lakes states.
Between 2009 and 2019, Wisconsin's GDP grew 42.3%, lagging behind U.S. GDP growth over that period of 48.3% and 42.6% for the Great Lakes region. Neighboring Minnesota's economy grew by 47.3% during that same period.
Personal income in Wisconsin also lagged behind the nation and Great Lakes region. Between 2009 and 2019, personal incomes in Wisconsin grew by 43.5%, behind the U.S. rate of 53.9% and Great Lakes region's 44.1%.
"We were not hit nearly as hard by the Great Recession as other states, but we have really lagged in our recovery from the Great Recession," said Steven Deller, a UW-Madison professor of agricultural and applied economics.
Deller pointed to studies that have compared the economic health of Wisconsin and Minnesota, which did not implement Act 10-style reforms. One such study, from the liberal Economic Policy Institute in 2018, found that Minnesota outpaced Wisconsin in the post-Great Recession economic recovery by nearly every available measure.
Another 2017 study from Oklahoma State University that compared Wisconsin and Kansas — states that implemented economic austerity measures after the Great Recession — to similar states that didn't take such an approach, Minnesota and Nebraska, respectively, found that Wisconsin's approach likely contributed to negative economic consequences in the short term.
Still, conservatives, such as Badger Institute spokesman David Fladeboe, said Act 10 and the ensuing tax cuts prepared Wisconsin well for the COVID-19 crisis.
"I think that we would be in a lot worse position if the state government wasn't as responsible as it was, and if those tax cuts hadn't been in place," Fladeboe said.
Government reduced
One of the largest overall impacts of Act 10 was on state and local government budgets, including school districts. From a bird's-eye view, the increased contributions from public employees over the years provided Republican lawmakers the foundation that made their low-tax, small government strategy possible.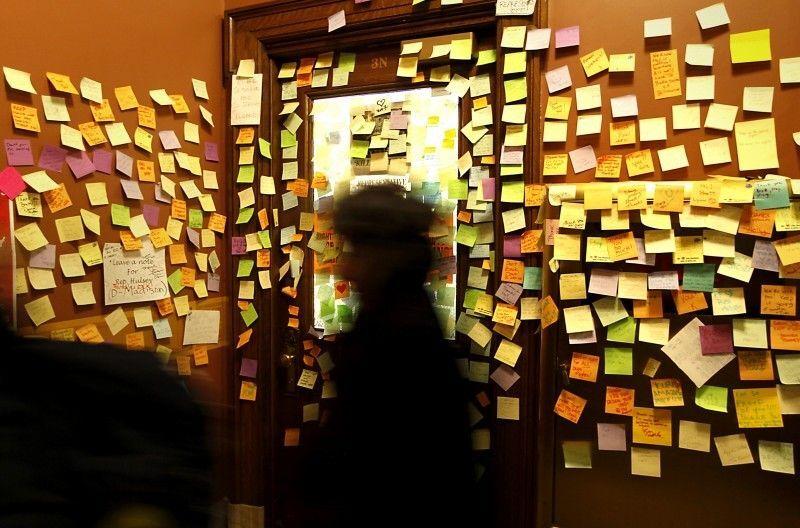 For the ninth straight year, the Policy Forum reports Wisconsin's tax burden as a percentage of income declined, driven by a decline in the growth of state taxes. As recently as 2011, Wisconsin ranked in the top 10 states nationally for state and local taxes as a share of income.
After Act 10, the state's ranking dropped to 23rd highest in the country in 2018. At 10.2% that year, the state's tax burden fell below the national average of 10.4%.
According to the conservative MacIver Institute, which has supported Act 10, the law has generated about $12.4 billion in savings between 2011 and 2020.
A separate report from the nonpartisan Wisconsin Policy Forum estimates that the portion of the legislation requiring public employees to contribute a greater share of their pension contributions reduced state and local government costs by $5.2 billion between 2011 and 2017.
Much of the savings Act 10 generated was put toward tax cuts, even as aid to school districts lagged, the Wisconsin Budget Project found. The group's analysis found that between 2012 and 2021, school districts experienced a cumulative $3.9 billion in cuts in 2020 dollars, while over that period lawmakers cut taxes by a cumulative $13.6 billion.
For local governments that have experienced lagging revenue from the state combined with restricted property tax growth, Act 10 offered a lifeline. According to the Wisconsin Budget Project, shared revenue from the state to local governments — a major source of funding for counties and municipalities — declined by 47%, when accounting for inflation, from almost $1.6 billion in 1996 to $830 million in 2020.
"It saved us from having to make draconian cutbacks," said Jerry Deschane, executive director of the Wisconsin League of Municipalities.
Cuts after Act 10 were negligible, he said. The law reduced compensation for public workers, but the overall impact for municipalities has been a positive, Deschane said, giving them greater ability to adapt to changing conditions. He said he doesn't think services or workforce quality have been significantly harmed over the long term.
For local units of government, the savings have been significant.
A 2019 report from the Wisconsin Policy Forum shows some of Wisconsin's largest counties and school districts reduced their projected liabilities by almost $800 million combined in the five years prior to pay for retirees' health benefits.
But despite the budget flexibilities provided by Act 10, local governments still face hurdles keeping their staff and funding services.
"A number of our local governments are heading for a tipping point," Deschane said, meaning municipalities strapped for cash will either need to cut staff and services or go to referendum, something most local governments have so far avoided.
Much of Act 10 didn't cover police and fire employees, and since such employees make up a substantial share of municipal budgets, that has hamstrung the ability of local governments to effectively handle rising costs.
A Wisconsin Policy Forum report shows police costs continue to rise. Data show municipalities in Wisconsin spent $219 per capita on law enforcement in 2018, which, when accounting for inflation, amounts to a nearly 30% increase since 1986 and more than 6% increase since 2000.
---
Act 10: Full Coverage 
---
Relive the story of the historic Act 10 protests in 20 photos
Relive the story of the historic Act 10 protests in 20 photos
Solidarity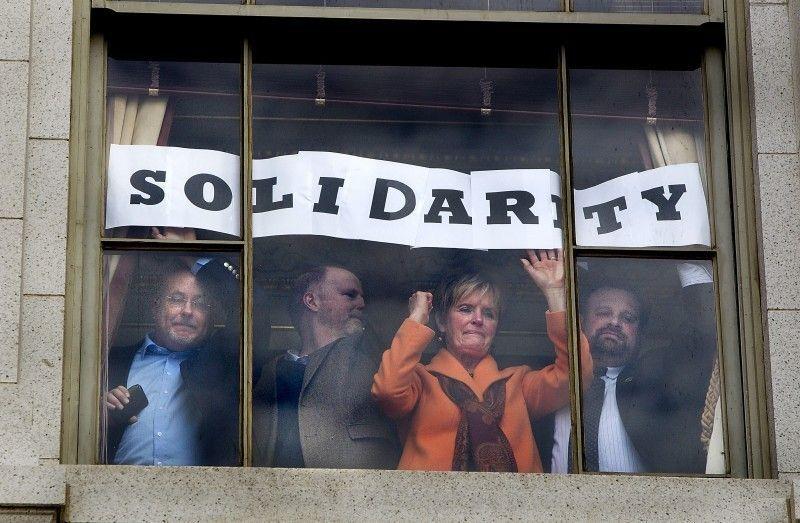 Pouring into Capitol
From the dome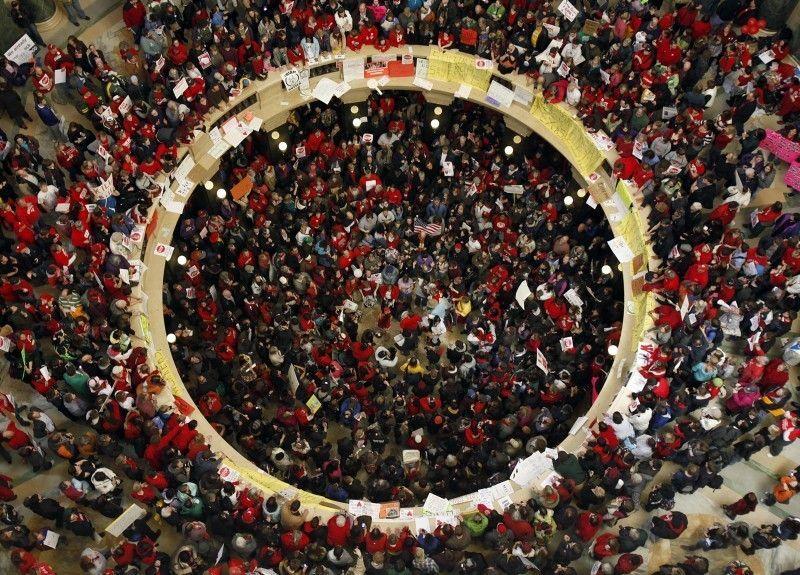 Aerial view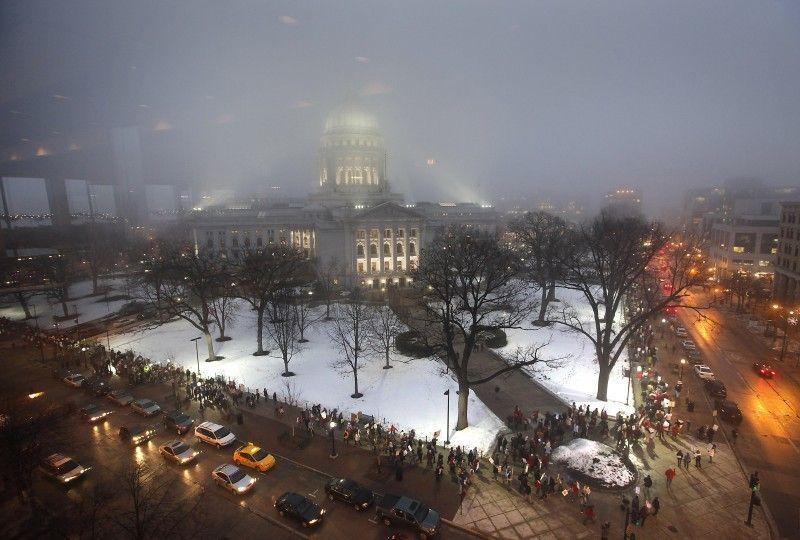 Great debate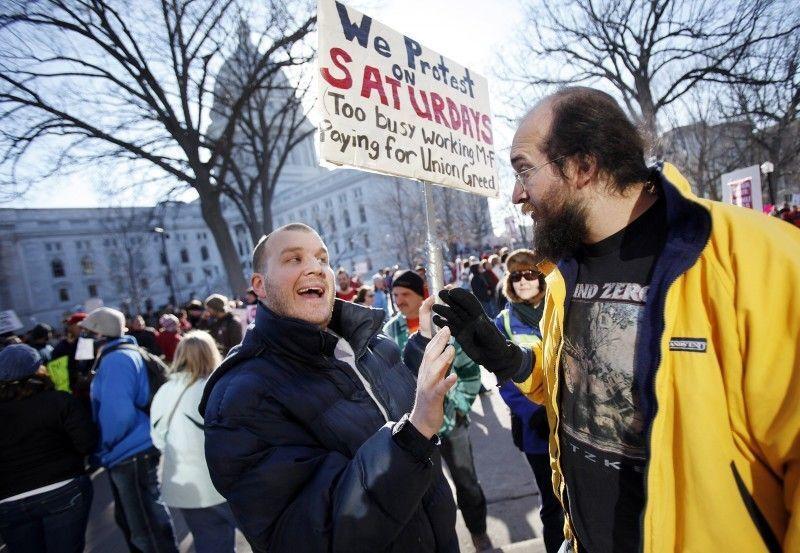 Capitol sleepover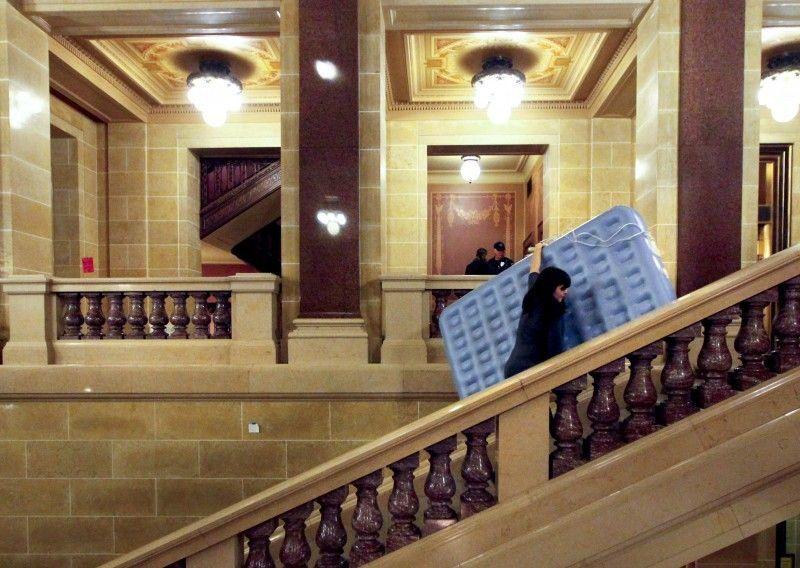 Pull up a sleeping bag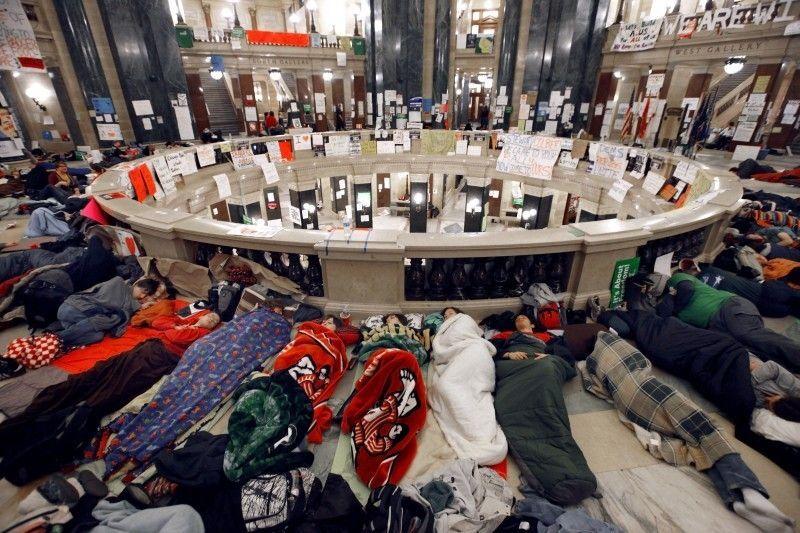 Kept at bay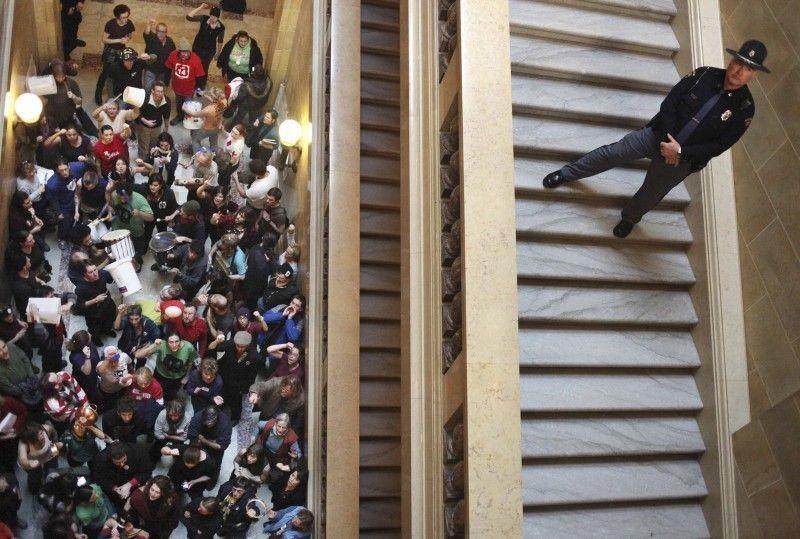 Shouts of shame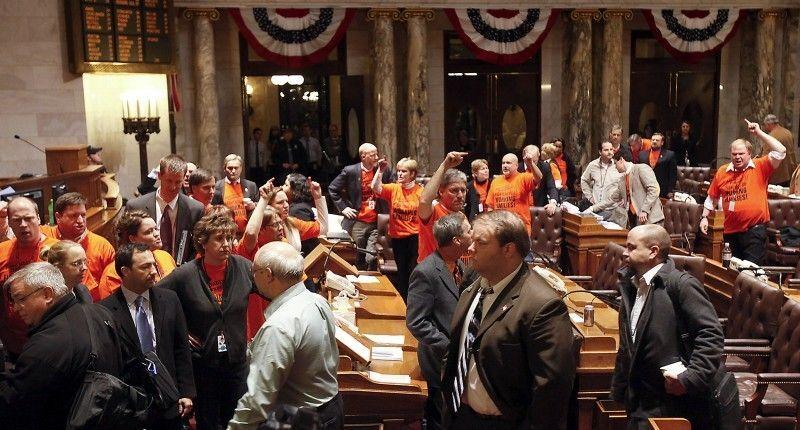 Notes of support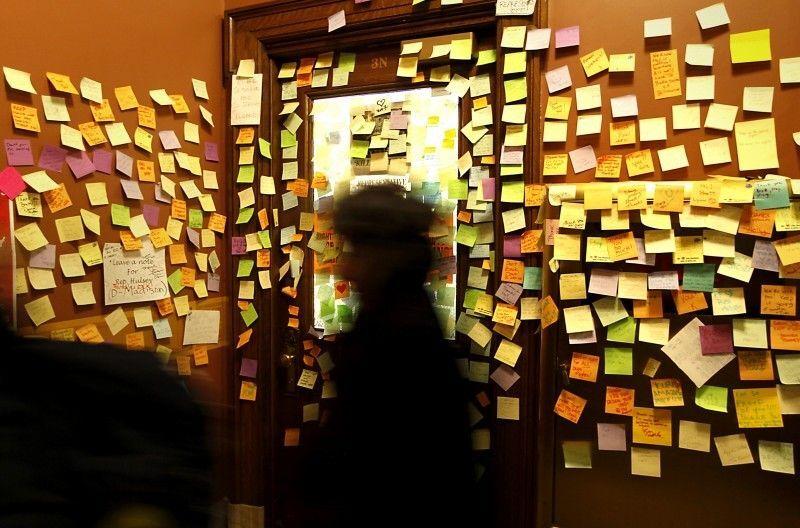 Stay or go?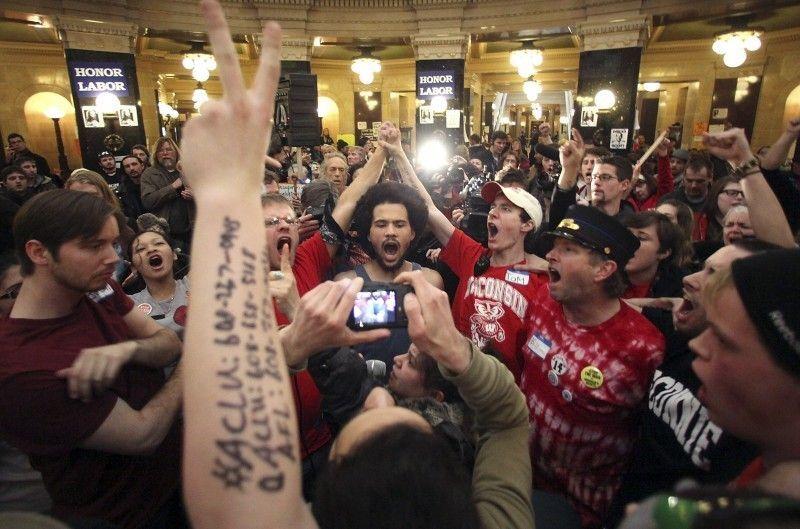 Outdoor office hours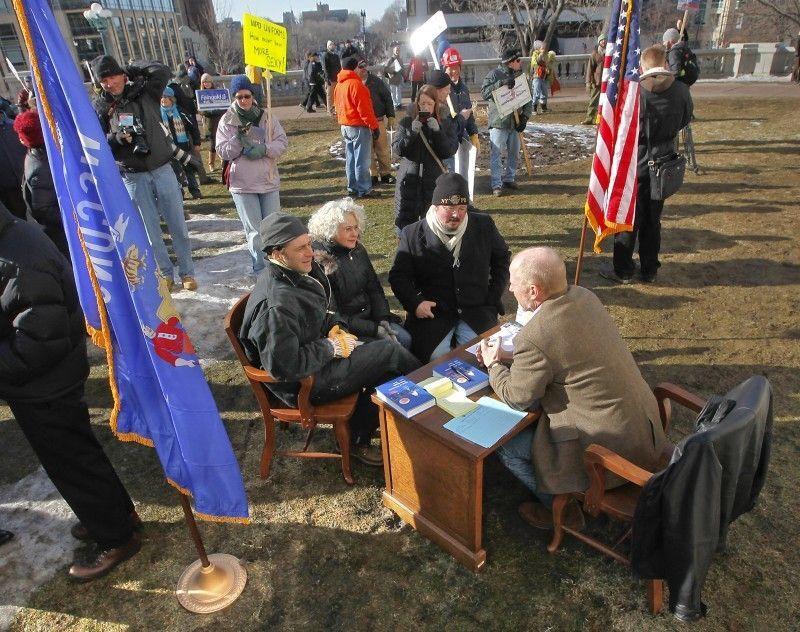 No more sleeping over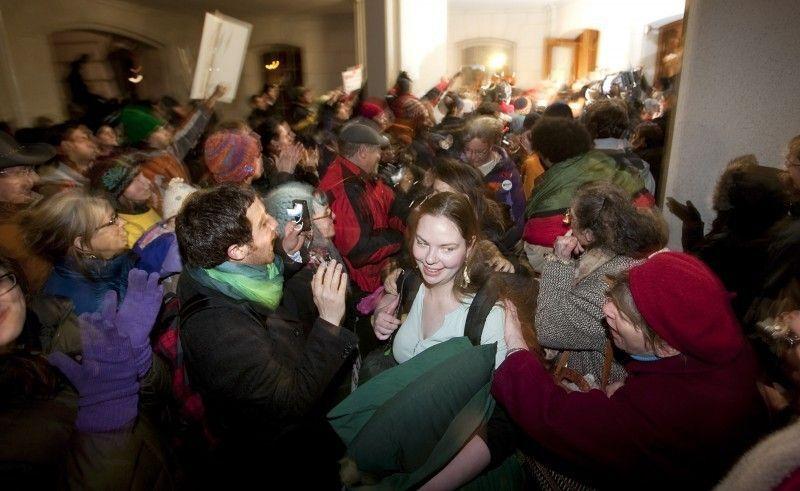 Capitol shocker
Plea for peace
Chief: Please leave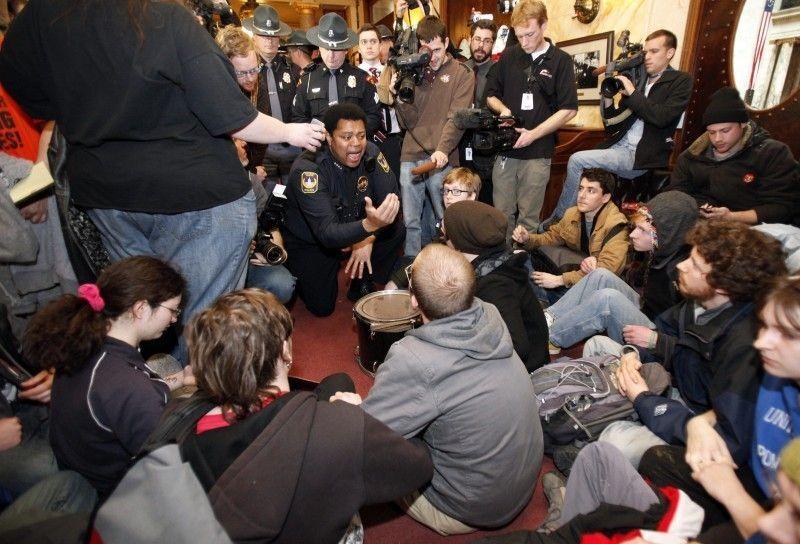 Protesters hauled out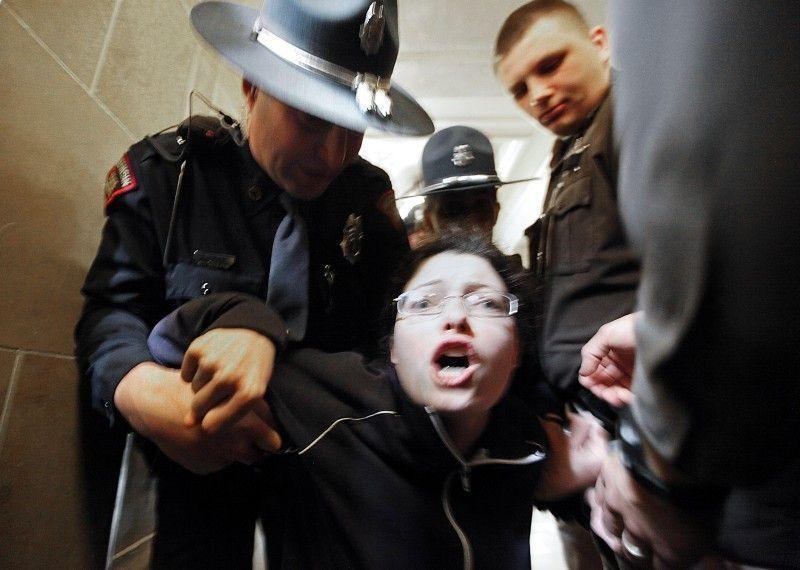 Mr. Speaker!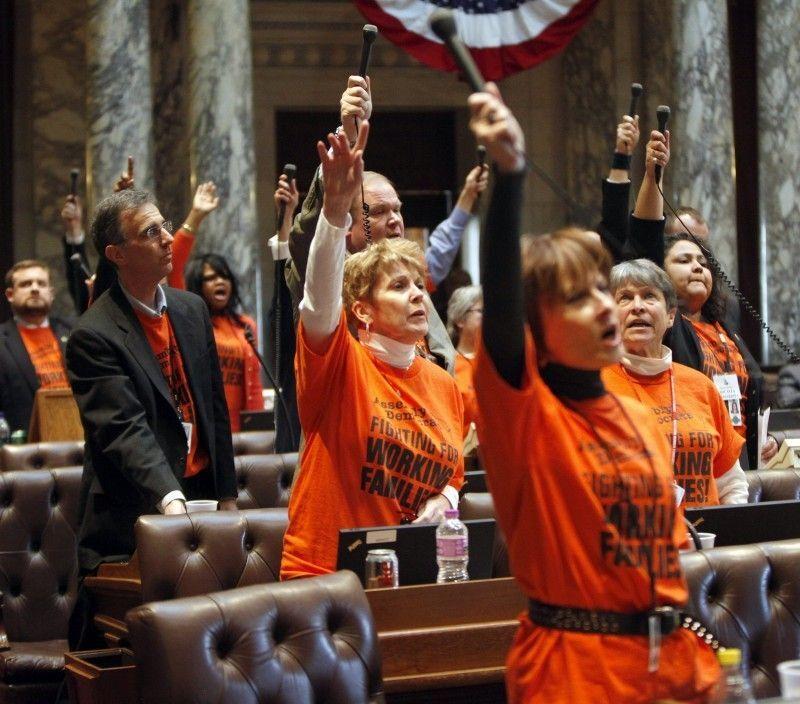 Boiling point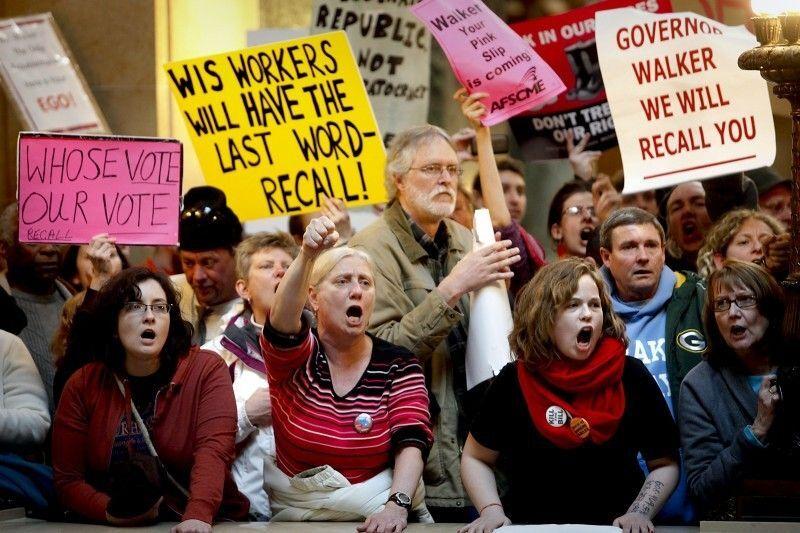 Massive turnout