Officials in Madison and Monona continue to warn residents of more flooding in coming days as rainstorms threaten the area Sunday, endangering properties on the Isthmus and along the Lake Monona shoreline.
Anticipated overnight rainfall Friday into Saturday didn't materialize, allowing flooding to level off on the Isthmus, Madison Emergency Operations Center spokeswoman Cynthia Schuster said, but more rain is in the forecast for Sunday evening.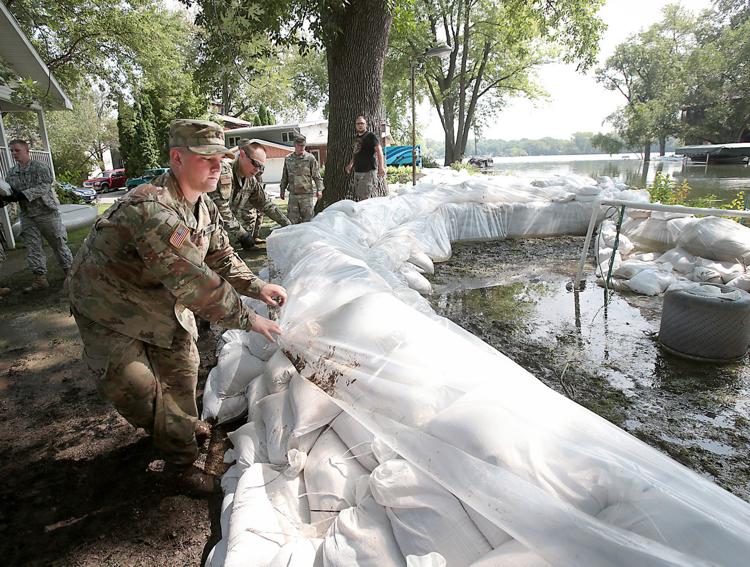 Concerns are now shifting toward properties along Lake Monona as that lake continues to rise to record levels after large volumes of water were released through the Tenney Park dam from Lake Mendota. Residents in the Brittingham and Monona Bay neighborhoods in Madison are at a higher risk for flooding and should be prepared, Schuster said.
National Weather Service meteorologist Mark Gehring said a line of thunderstorms is heading for Madison for Sunday evening, but it's likely that less than an inch will fall on the city, although that doesn't rule out more potential flooding.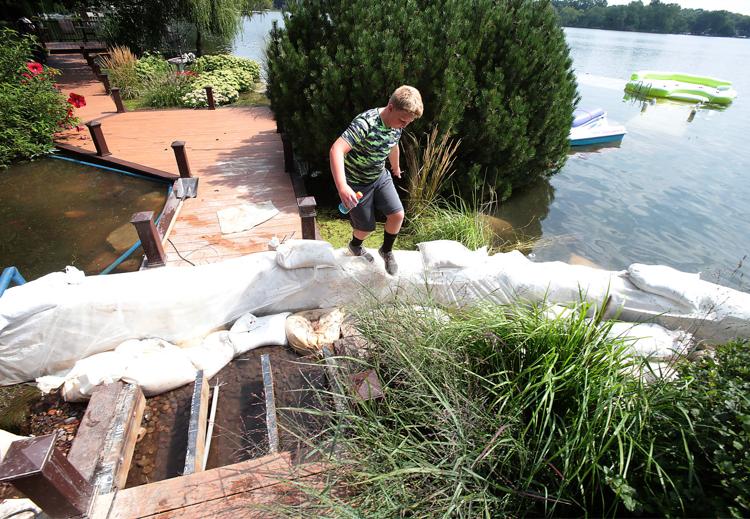 "A quick three-quarters of an inch (of rain) on the isthmus could lead to flash flooding," Gehring said.
The flooding is the residual effect of Monday's record rainfall in western Dane County, where 11 to nearly 15 inches of rain fell in some areas. Even though not much rain fell directly on the lakes, much of the water is draining through the Yahara Watershed, which feeds lakes Mendota, Monona, Waubesa and Kegonsa.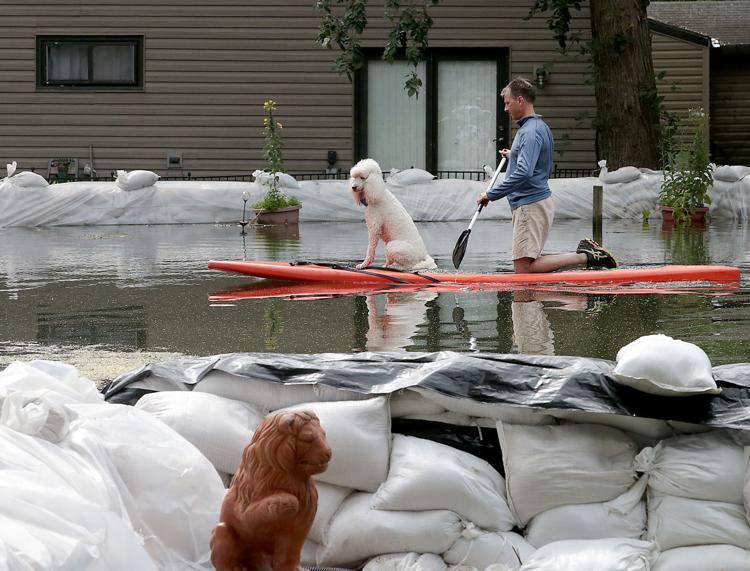 As the lake levels have risen, storm drains that normally direct water away from city streets are flowing the opposite direction, and now parts of the Isthmus are at the same elevation of the Yahara River or Lake Monona, Emergency Operations spokeswoman Amy Barrileaux said. That has resulted in flooding of some low-lying streets on the Near East Side, including East Johnson, East Main, Livingston and East Mifflin streets as well as some lanes on East Washington Avenue.
To keep traffic moving, parking is not allowed on Williamson Street, which is being used as an alternate route with all four lanes open to traffic. Parking is also not allowed on East Washington Avenue from Blair Street to Baldwin Street.
Beginning Saturday and continuing through Sunday, Metro Transit is offering free rides on all fixed and paratransit routes. The free rides may continue into the coming week depending on weather conditions, the city said.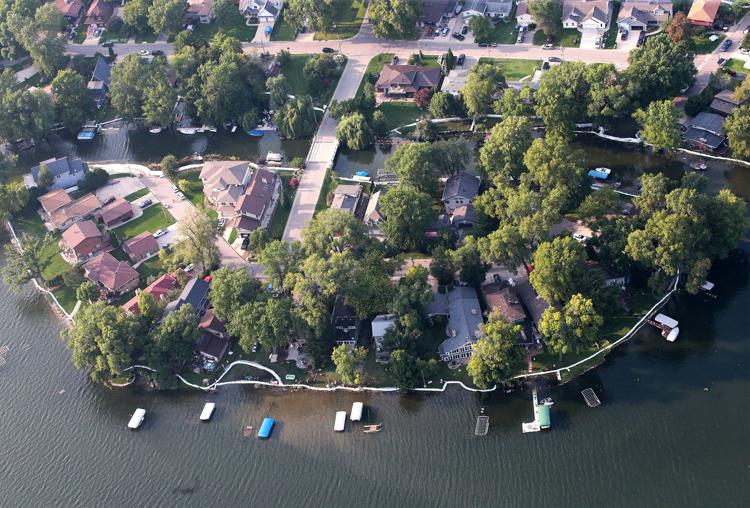 More than a dozen locations in Madison and Monona are seeking volunteers to help fill, tie, stack and transport sandbags. More than 150,000 bags have been distributed to be filled, Barrileaux said, and hundreds of volunteers as well as 70 members of the Wisconsin National Guard have helped in the effort to prevent flood damage.
Gov. Scott Walker and Democratic gubernatorial candidate Tony Evers visited flooded areas Saturday to offer encouragement. Walker last week declared a state of emergency in Dane County, which directs state agencies to help in any way they can.
In Monona's Belle Isle neighborhood, Wisconsin National Guard troops helped 86-year-old Mary Webster build a second wall of sandbags behind her property when it looked like the first wall might breech Saturday.
"When I saw them come, it was such a relief," said Suzi Mulholland, Webster's daughter. "We've never had two rows before. In previous flooding, everybody just kind of did their own thing."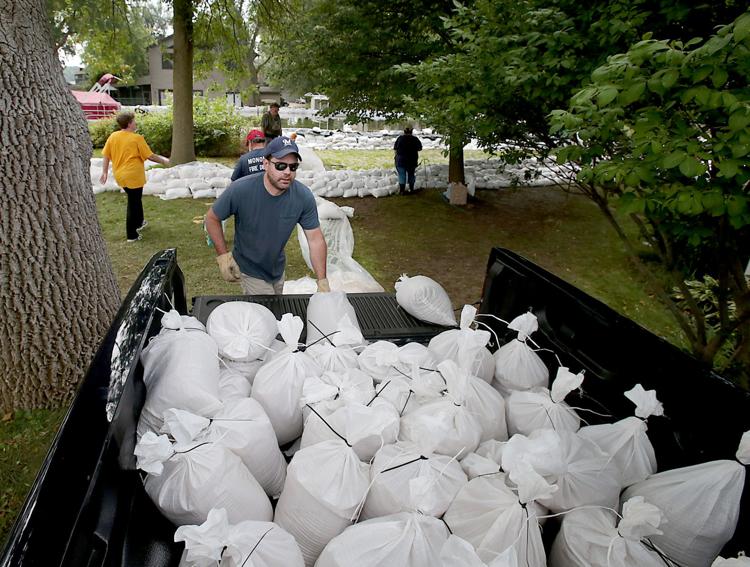 Residents of the shore-side neighborhood piled up sandbags and ran water pumps to protect their properties in the "Little Venice" of canals between Lake Monona and Squaw Bay.
Megan and Tim Nicholson, who live next door to Webster, raised their house and yard several feet six years ago, with help from a federal grant. Still, they stacked up sandbags Saturday and were preparing to pump out rain that might fall between their their house and the row of sandbags in coming days.
"It's not just about bagging out the water," Megan Nicholson said. "It's about pumping out the water that you bag in."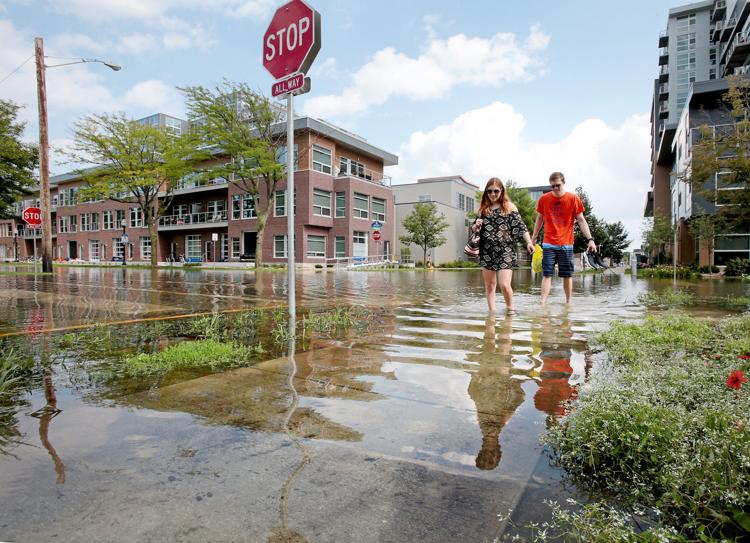 Scott Blood had five pumps going in his backyard on Nishishin Trail Northeast, plus two in his crawl space. "It's dry so far," he said.
'Duty to serve'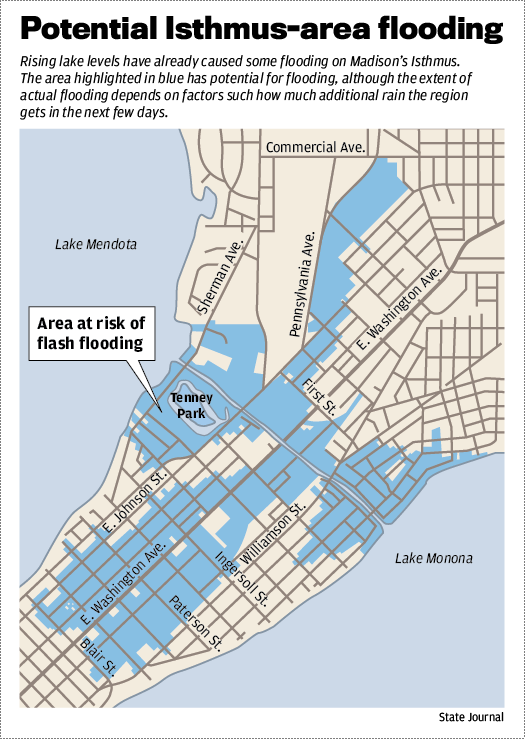 At the Brittingham Park Beach parking lot, volunteers used shovels and oars to pack sand into bags for nearby residents to take and stack in front of windows, doorways or other areas where water may potentially seep into their homes.
"I was in the Army, so I still feel a sense of duty to serve," volunteer Rusty Lear said.
Meanwhile, with some people in Cross Plains and other places affected by this week's flooding in need of home health care, nurses have been making sure patients get medication, oxygen and other supplies.
Some home health visits were delayed by flooded roads, but that hasn't resulted in medical emergencies, said Carey Agate, a senior clinical manager at SSM Health at Home.