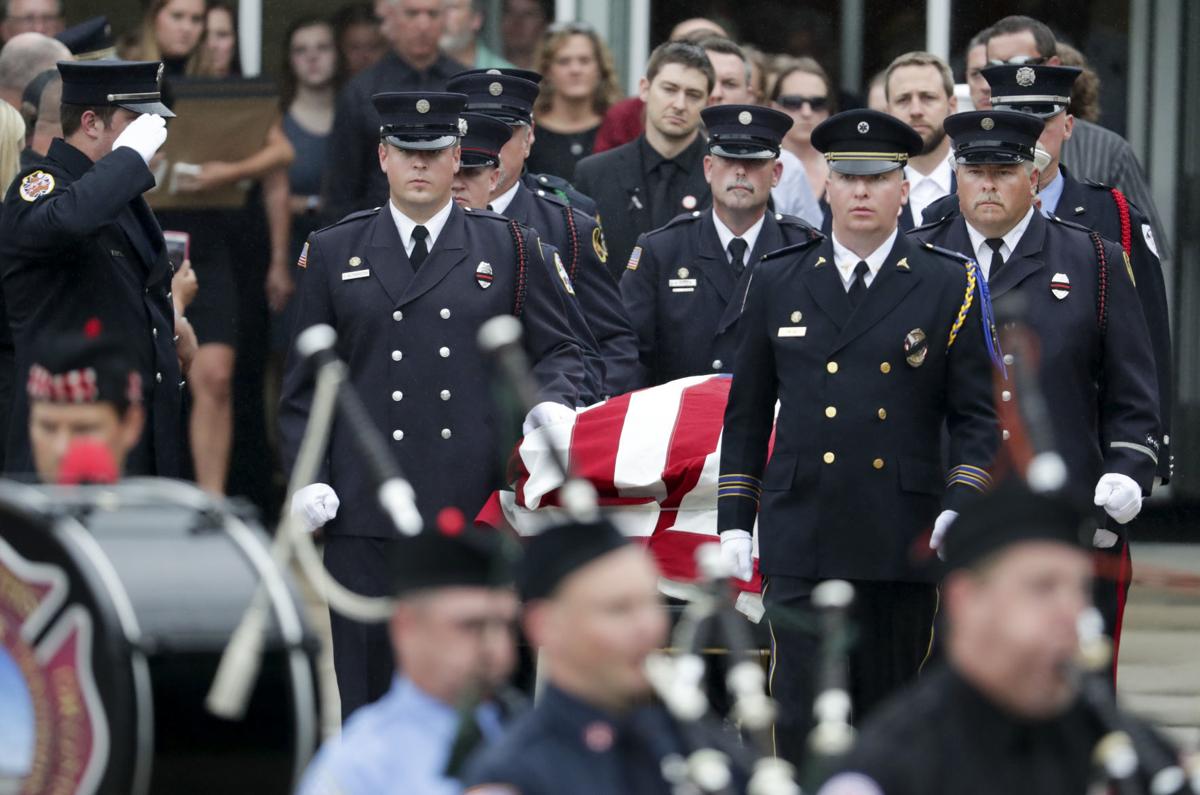 SUN PRAIRIE — Even if Sun Prairie Volunteer Fire Department Capt. Cory Barr had known he would lose his life in Tuesday's gas leak explosion that destroyed part of the city's downtown, he still would have run in to assist because he was able to help save the lives of as many as 100 people who were in the area just prior to the blast, Fire Chief Christopher Garrison said at Barr's funeral Saturday.
About 2,500 first responders from Wisconsin and beyond joined community members in the Sun Prairie High School gymnasium, where pastors from Barr's church, fire department officials and family spoke about Barr's life and the final sacrifice of a hero.
The loss of Barr, 34, has compounded the stunned feeling many of Sun Prairie residents, and fire department personnel in particular, have in the wake of the explosion, Garrison said.
"We've been dragged through hell," Garrison said.
Barr was not on duty when the gas leak was reported, but he felt he needed to help evacuate the area, which included the Barr House bar he owned with his wife, Abby, his brother, Chad Barr said.
Workers for VC Tech Inc., a subcontractor for Bear Communications and Verizon Wireless, had been at the site building a fiber network when WE Energies said the four-inch gas main was punctured.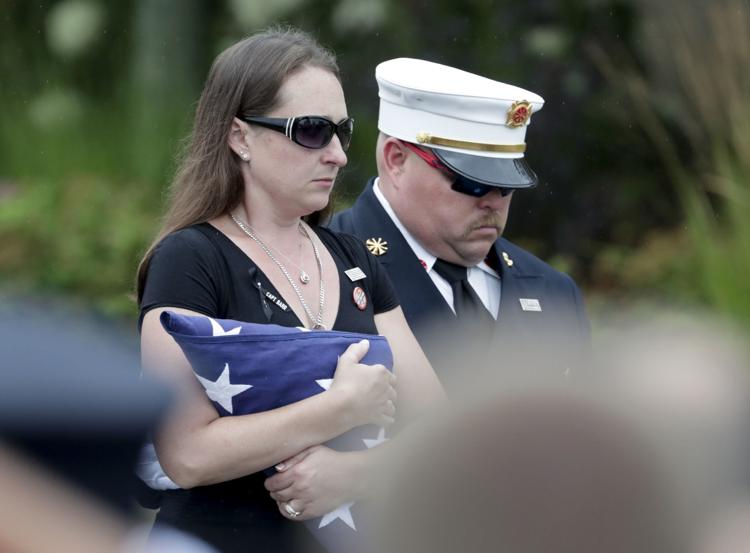 Barr and firefighter Ryan Welch had just left the Barr House as firefighters worked in pairs, going into buildings to shut off gas valves, according to a GoFundMe page to assist Welch. Barr and Welch were outside the building when the explosion occurred. Barr was killed. Welch, who was critically injured, was released from the hospital Thursday. Several others also suffered injuries.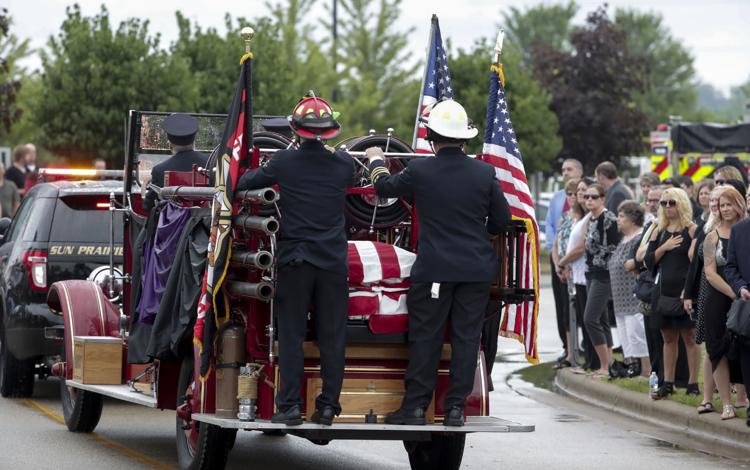 Three buildings were demolished in the blast and others on the 100 blocks of East and West Main Street were heavily damaged. Families from about two dozen residences have been displaced.
On Saturday, a procession of Sun Prairie emergency vehicles accompanied Barr's casket — carried in an antique fire truck he helped restore — from the funeral home to the high school. Firefighters from companies around Wisconsin and across state lines lined up to observe Barr's casket before the service began.
Abby Barr and the couple's 3-year-old twin daughters, Aubrey and Hailey, sat at the front of the gym near where Barr's casket was draped with an American flag. At the end of the service, the flag was folded into a triangle and presented to Barr's wife along with a firefighter's helmet.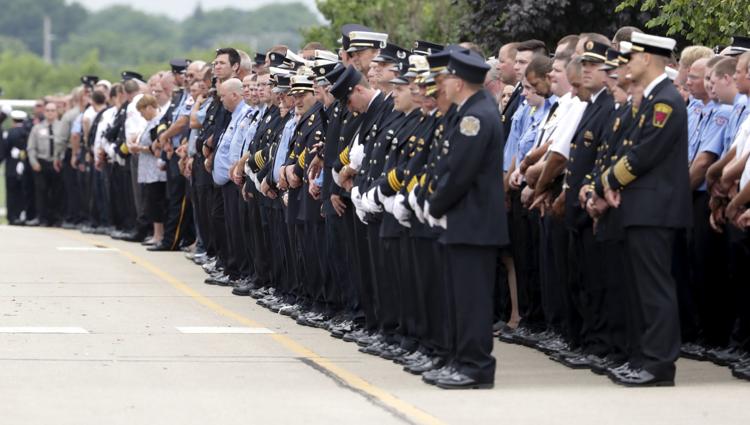 Kim Barr, Barr's sister, described her brother as the glue that held the family together and as a role model, even though he was much younger.
"My brother Chad ... and I, we always looked up to Cory," she said. "He was very wise, he was very sincere, he was very genuine."
Barr had been a staple in the community and was known throughout Sun Prairie for his friendly character and compassion, Chad Barr told the Wisconsin State Journal.
Through the Barr House, Barr and wife Abby worked to create a friendly atmosphere where anyone could come in and feel at home, his brother said.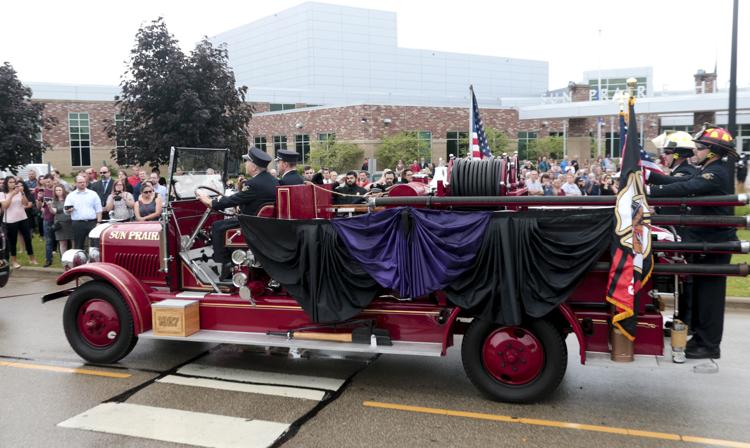 While he had always wanted to be a firefighter, Barr was a family man above all else. His siblings and co-workers recounted his love for his wife and daughters and how often he would brag about them.
"Fatherhood just came so naturally to him," Chad Barr said.
Kim Barr also thanked the Sun Prairie and first responder communities for their outpouring of support for the family. She relayed the story of her father, who is deaf, and in the aftermath of the blast went searching for Barr downtown.
She said first responders shared information by writing it down until her father was connected with a police officer who drove him to the hospital where the rest of the family was waiting.
Along with the extensive physical damage to be repaired downtown, Garrison said, the community and fire department also have to rebuild themselves after the explosion and devastation that accompanied it, including the loss of Barr.
That work won't happen in a day, he said, but it is just as important as repairing the physical damage left downtown.
"We mourn. We cry. And we'll do that the rest of today," Garrison said. "But tomorrow, we start picking up the pieces, and we start rebuilding ... because that's what Cory wants."
"We mourn. We cry. And we'll do that the rest of today...
But tomorrow, we start picking up the pieces, and we start rebuilding ... because that's what Cory wants."(tncms-asset)fcc595cc-87a5-11e8-a823-00163ec2aa77[4](/tncms-asset) Christopher Garrison, Sun Prairie Fire Chief
Be the first to know
Get local news delivered to your inbox!