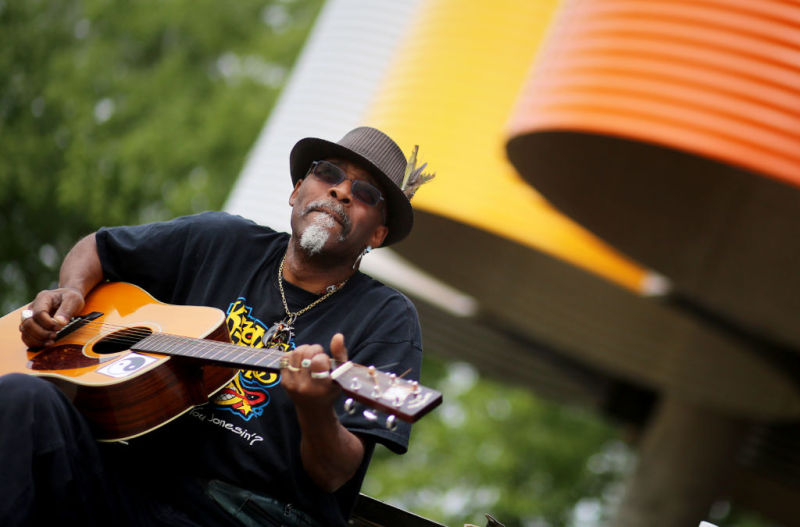 The official name of the free, all-day celebration of music to be held across the city Saturday is "Make Music Madison."
But in some cases, it might as well be "Mustering Musical Moxie."
Many of the 258 amateur and professional musicians performing for free during Madison's second annual make-music event have lent it their own share of determination and spunk. By joining in, they've become part of an annual summer solstice ritual that started in Paris in 1982 and has since spread to more than 700 cities around the world.
"It does have this do-it-yourself quality to it," said Beth Mastin, Make Music Madison managing director.
"People see this opportunity — especially some of the younger performers and the people who don't perform in public that often — to really get the pieces in place the way they want to do it."
After he was left to perform in his front yard on June 21 last year because he was unable to register with Make Music Madison, Guy Fields — who performs blues, funk and reggae under the stage name "Old Black Joe" — has programmed an entire day of music at Warner Park this year.
After a band that grew out of a lunchtime ukulele jam couldn't find enough performance venues, it decided to create its own exclusive stage — in a band mom's driveway.
And after hearing about the capital's all-day music fest, two middle-school students known as TNT (Two Nifty Trombones) decided to travel from their homes in Wisconsin Dells to share their talents outside the Madison Public Library's Monroe Street branch and on Capitol Square.
"My dad saw it in the paper," said Tess Jisa, who will be an eighth-grader at Spring Hill Middle School in Wisconsin Dells, in explaining how she first heard of Make Music Madison. Along with fellow trombonist and school bandmate Adi Gust, she'll play movie themes, orchestral pieces and some jazz during TNT's two gigs.
Tess and Adi's performances will be among more than 316 scheduled in outdoor spaces throughout the day. That's about 100 more shows than took place during Make Music Madison in 2013, the event's inaugural year, Mastin said.
Funded in part by a $25,000 grant from the city, Make Music Madison this year is urging musicians to promote their own appearances, using a downloadable event poster created for that purpose. Audience members can plot out their musical journey around the city by using the makemusicmadison.org website, or can download a free Google or Apple app to locate performances in real time.
With the solstice falling on a Saturday this year, Make Music Madison can benefit from crowds at the Dane County Farmers' Market. But the date also ruled out music at some popular parks throughout the city, because those properties had long been reserved for weddings or other events, Mastin said.
"June is busy," she said. "Madison on a Saturday is busy."
As it did last year, when June 21 fell on a rainy Friday, Make Music Madison used "matchmaking" software to help volunteer venues and performers find each other and set up their own bookings. Although that formal registration process closed in May, musicians can still sign up at the last minute — either via makemusicmadison.org or by showing up between 3 p.m. and 8 p.m. Friday at the Brittingham Boathouse on Monona Bay at 701 W. Brittingham Place.
"We'll register them and get them a busking bucket and banner, and they'll be set to go," Mastin said.
Bass player Nathan Webber and his band Ukulele Wednesday (whose name came from his sister's habit of taking her ukulele to Memorial High School to jam with other students at lunchtime) had no trouble finding a spot to play: His mother agreed to showcase the band in her driveway. The spot is called "Ringo's Hangout," named after the family cat.
Fields decided to line up nearly a dozen bands for Make Music Madison at the Warner Park Shelter on Saturday as a way to give exposure to worthy local artists, he said.
Fields will perform with his own group, Old Black Joe and Kronic Jones Band and Friends, from noon to 1 p.m. Last year on June 21, he hauled out a sound system and laid plywood on his rain-soaked front yard to create his own bandstand — because a "glitch" in the Make Music Madison website prevented him from officially registering, he said.
Even so, about 100 people came to that show, listening from their cars or showing up with lawn chairs, he said.
Fields taught ethnic studies and world history at Memorial High School for 25 years before he retired in 2011 and turned to his "true love — making music," he said. He'll dedicate Saturday's performance to longtime friend and band member Michael "Chicago Mike" Copeland, who died of leukemia earlier this month.
As for the musicians Fields lined up to entertain on the North Side for Make Music Madison, "I just told them to practice hard," he said, "and come here with their best foot forward."