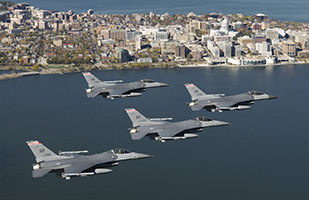 Dodge County was buzzing with the sound of F-16 fighters overhead on Tuesday when a small plane apparently violated the air space set up for President Donald Trump's visit to Wisconsin.
The small Cessna aircraft was escorted to the Dodge County Airport by the two F-16 fighter planes after being intercepted by the military aircraft, the Dodge County Sheriff's Office said.
The F-16s did not land at the small airport, located just north of the city of Juneau along Highway 26, said Chief Deputy Scott Smith.
"The Federal Aviation Administration told us the plane violated restricted air space," Smith told the Wisconsin State Journal on Wednesday. "It was most likely because of the president's visit."
Trump was in Wisconsin on Tuesday, touring Waukesha County Technical College in Pewaukee. Dodge County Airport is about 30 miles from Pewaukee.
Sheriff Dale Schmidt went to the airport after hearing the jets overhead to see what the fuss was about.
"The sheriff interviewed the pilot, who is from Burlington," Smith said. "He was unaware of the air space restriction."
Schmidt said on Facebook that there was no threat to the public, "although the jets certainly created some noise and conversation in the Juneau area," he said.
The sheriff did not know where the F-16s came from, but there are F-16s based at Truax Field at the Dane County Regional Airport in Madison, in the 115th Fighter Wing of the Wisconsin Air National Guard.
Schmidt said pilots need to check and double-check flight plans to make sure they are not flying into restricted air space.
"No one wants an F-16 on their tail," Schmidt said.