Ron Konkol was greeted with bad news when he brought a bucket of food scraps to Madison's West Badger Road drop-off site earlier this month: The city was ending its food waste recycling program.
A victim of market forces, the voluntary collection program was the latest in a decade-long effort to divert organic waste from the landfill, where it takes up valuable space and contributes to global warming.
That's because when organic material rots in an oxygen-starved (or anaerobic) environment like a sealed landfill, it produces methane, a far more potent greenhouse gas than carbon dioxide.
An avid gardener, Konkol has composted most of his life, but he said he doesn't really have the space in his Near West Side yard or the time to do it well.
"We have a compost bin, but it wasn't very productive," Konkol said. "It was very helpful to have a place to haul that stuff. I'm very concerned now. Where do I put this stuff?"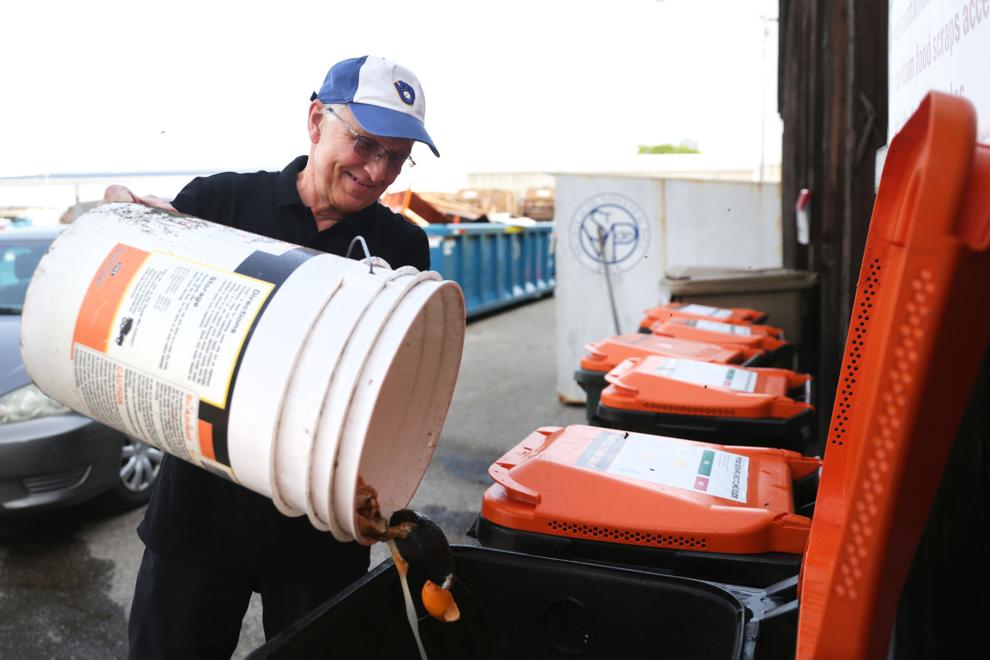 While the cancellation of the program has left residents like Konkol searching for alternatives, the city is preparing to launch a new holistic campaign aimed at reducing food waste as a means of reducing greenhouse gas emissions, waste management costs and hunger.
A new study by the Department of Natural Resources found Wisconsin residents tossed more than 632,000 tons of food into the trash last year — nearly 220 pounds per person. Buried in landfills, that food waste produces as much heat-trapping gas as nearly 558,000 cars on the road.
"We shouldn't just be throwing it in a pile to create methane when we can be using it as a resource," said Stacie Reece, sustainability coordinator for the city of Madison.
When combined with inedible food scraps, lawn clippings, diapers and pet waste, it adds up to more than 1.3 million tons, or nearly a third of everything that went into landfills last year.
And organic matter isn't the only thing taking up valuable space, according to the DNR, which determined there are statewide programs in place to recycle 35% of the material being dumped, and nearly two-thirds theoretically could be diverted.
That's a problem for facilities like the Dane County landfill, which at the current rate will be full in another five to six years, said John Welch, director of the county's solid waste and renewables department.
With regulatory approval, the landfill could be expanded upward to extend its life by another three years. After that, Welch said the county will need a new site, which would involve significant expense on top of the roughly $1 million per acre it costs to build a modern landfill.
Based on U.S. Environmental Protection Agency calculations, diverting all the recyclable material from landfills could also save the equivalent energy used by 219,000 typical households.
"People don't necessarily think of recycling as an energy saver," said Casey Lamensky, a program coordinator in the DNR's recycling and solid waste section. "You don't have to do the mining or logging ... It takes less energy to heat recycled materials to a reusable (state) versus virgin material."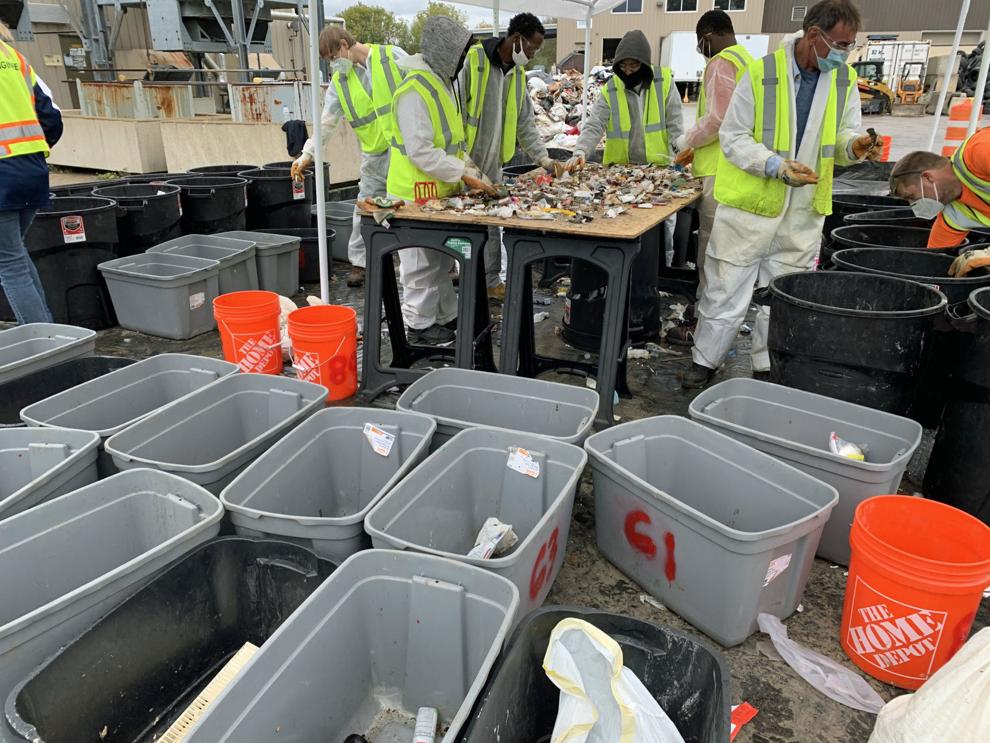 Waste alternatives
There are other ways of handling some of that organic waste, though all present challenges.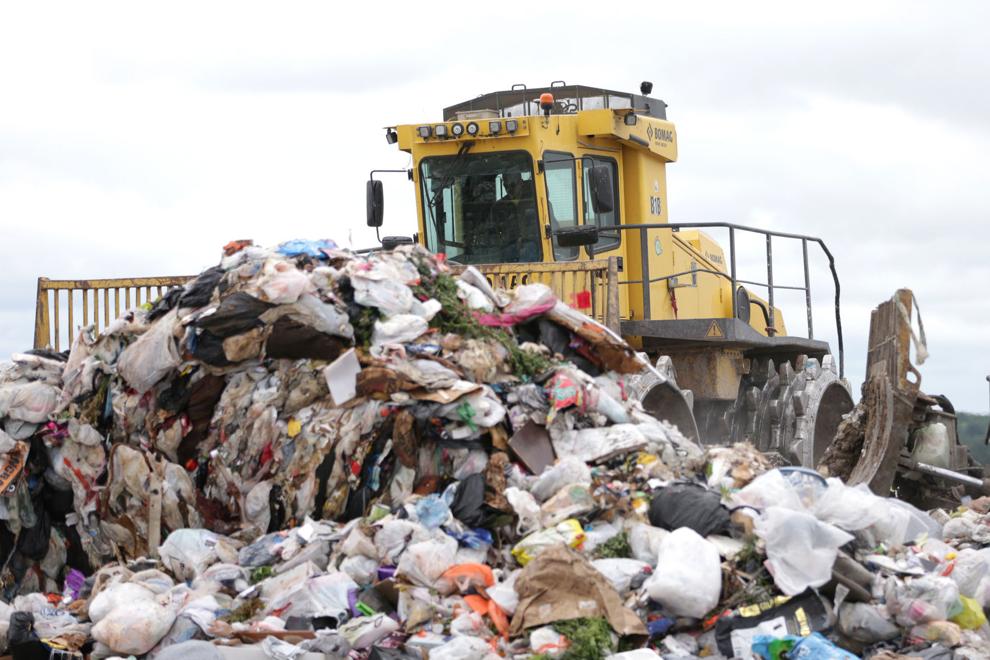 One of the simplest is composting, the natural process of decomposition that occurs when organisms that require oxygen break down organic matter into fertile soil.
Anaerobic digesters do a better job than landfills when it comes to capturing the gas released when that organic matter ferments without access to oxygen. They also yield compost.
Historically those digesters burned the methane to generate electricity, but over the past decade the cost of wind and solar has fallen to the point that biodigesters are no longer competitive.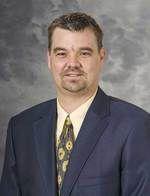 "Biogas is losing on the electricity market," said James Tinjum, an associate professor of environmental engineering at UW-Madison who studies waste and energy. "Unless you have incentives, you're going to lose money on it."
A study completed last year for the city of Madison estimated that with an anaerobic digester the city could turn some 30,000 tons of organic waste into the equivalent of more than 412,000 gallons of diesel per year.
It estimated a $17 million digester could generate about $1.2 million a year in profits if the city could sell the gas and get credits for sale to fossil fuel producers in California who have to offset the carbon emissions of their products.
But Madison alone doesn't produce enough food waste to support such a facility, and officials say a regional approach could take years to develop and would depend on the market for renewable fuel credits.
"You really need economies of scale," Welch said. "It's got to be a regional approach."
There are also logistical challenges to composting at the municipal level, where residents often fail to follow guidelines, resulting in contamination from packaging and other inorganic materials.
While it may be feasible for large institutions or grocery stores to recycle food waste, Tinjum said it's not really practical at the residential level.
"The economics are not there," he said.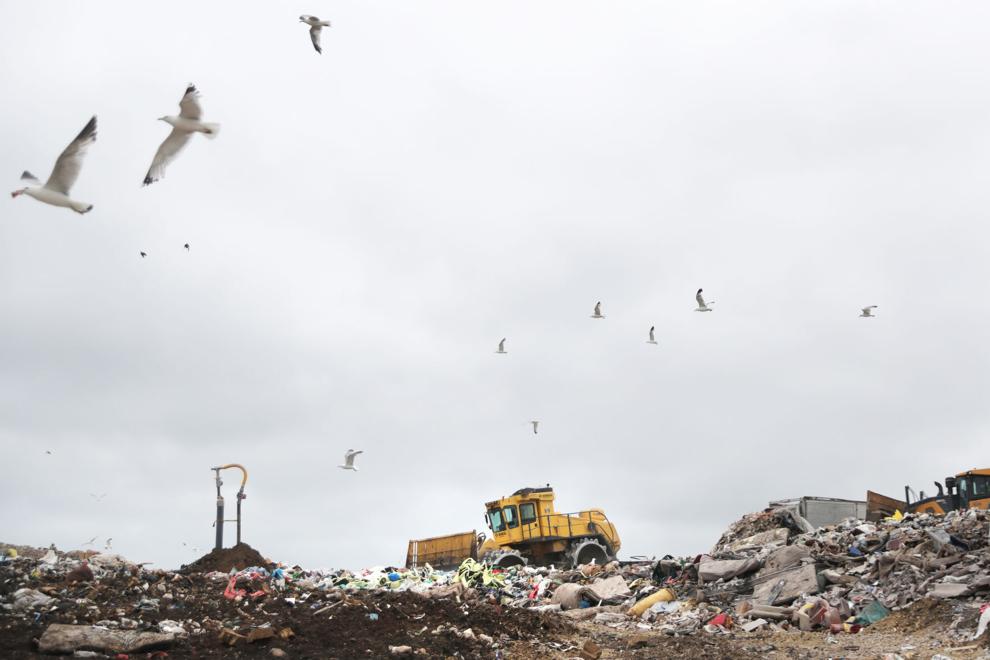 Modern landfills are required to collect and dispose of methane — which is often accomplished by simply burning it — though typically up to a quarter of the gas still escapes.
The first system of its kind in the nation, the process captures enough useable methane each day to heat about 6,500 typical Wisconsin homes and generates about $2.5 million a year in revenue for the county.
"There's no easy answer," Tinjum said. "I do believe that Dane County is leading the curve in how they're approaching it."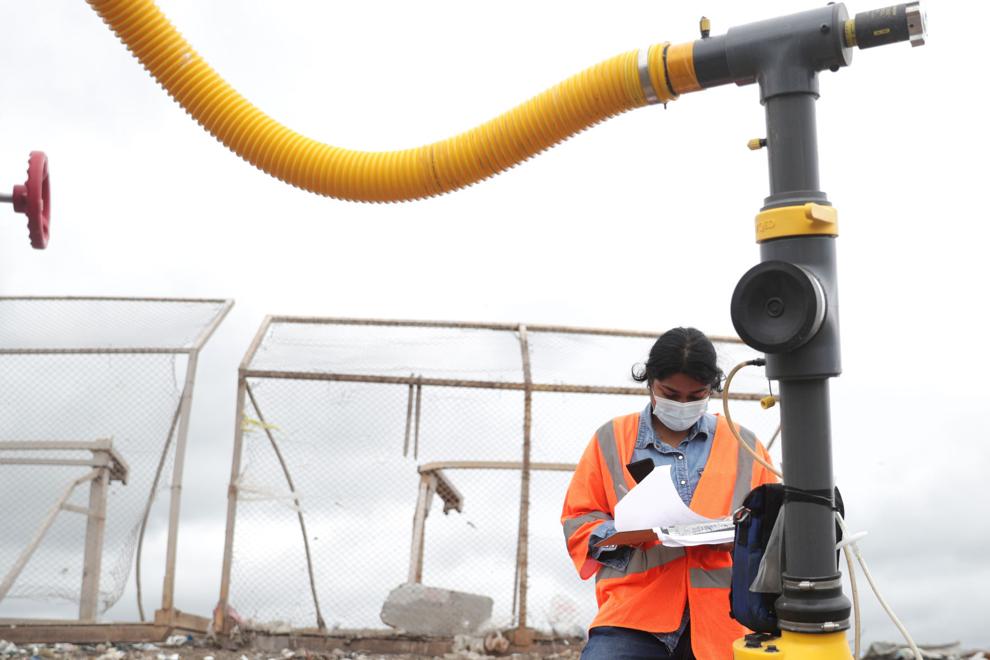 Bigger savings
That's like walking out of the grocery store with five bags of food and dropping two in the parking lot, said Madeline Keating, a strategist with the Natural Resources Defense Council, which is working with cities including Madison to reduce food waste.
Growing all that food uses up resources, like land, energy and labor. And all that produces about 8% of all greenhouse gas emissions, according to Project Drawdown, a nonprofit organization that evaluates solutions to climate change.
"We grow food, pick it, process it, transport it to stores, purchase it, transport it home, store it, cook it and then toss it out?" said Kathy Kuntz, director of Dane County's Office of Energy and Climate Change. "That's just crazy."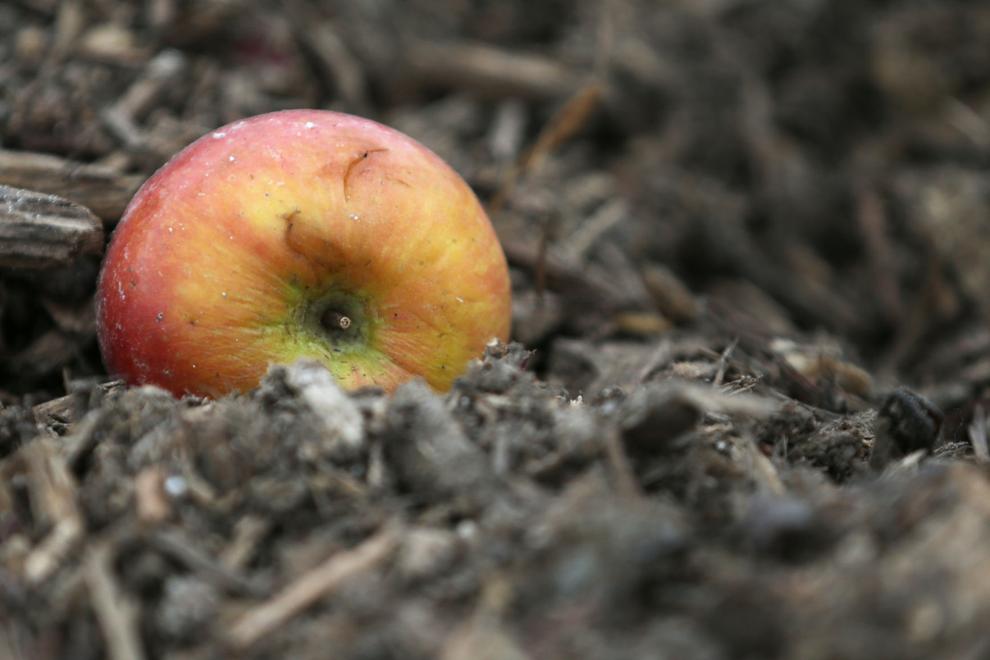 Rather than just looking at ways to handle the waste, Keating said the better solution is simply not to grow more food than we need and to do a better job of getting it to people who are hungry, as the UW-Madison Food Recovery Network has been doing since 2016, redistributing more than 23,000 pounds of surplus food from campus dining halls.
According to Project Drawdown, reducing food waste is one of the three most effective strategies for limiting global warming to 1.5 degrees Celsius by the end of this century, a target scientists say will avoid the most catastrophic impacts.
The organization estimates food waste reduction could save as much as 95 billion tons of carbon dioxide equivalence, second only to wind turbines and utility-scale solar in potential impact.
But most of those savings come on the front end — keeping land in native forests, not growing, processing and transporting food that won't be eaten. Composting alone would save only 2 billion to 3 billion tons.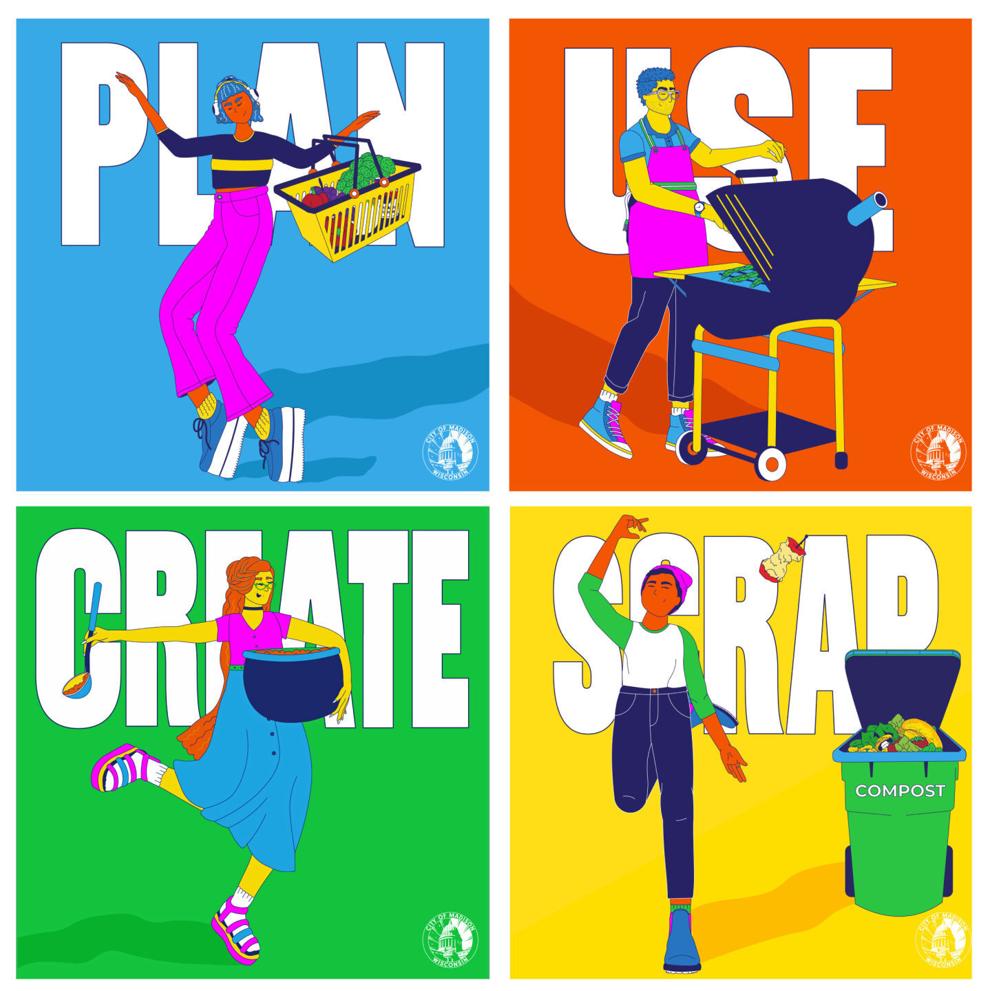 Buy smarter
Earlier this year Madison was accepted into a Natural Resources Defense Council's food waste initiative.
The city is preparing to launch a public awareness campaign aimed at helping residents reduce waste by shopping smarter and finding creative ways to use food before it goes bad.
That can mean better meal planning and shopping lists, cooking smaller portions, freezing leftovers and learning to understand product dating — those "sell by" and "use by" dates are suggestions for peak quality but are unrelated to food safety. There are also creative ways to use leftovers or fresh food that's going bad.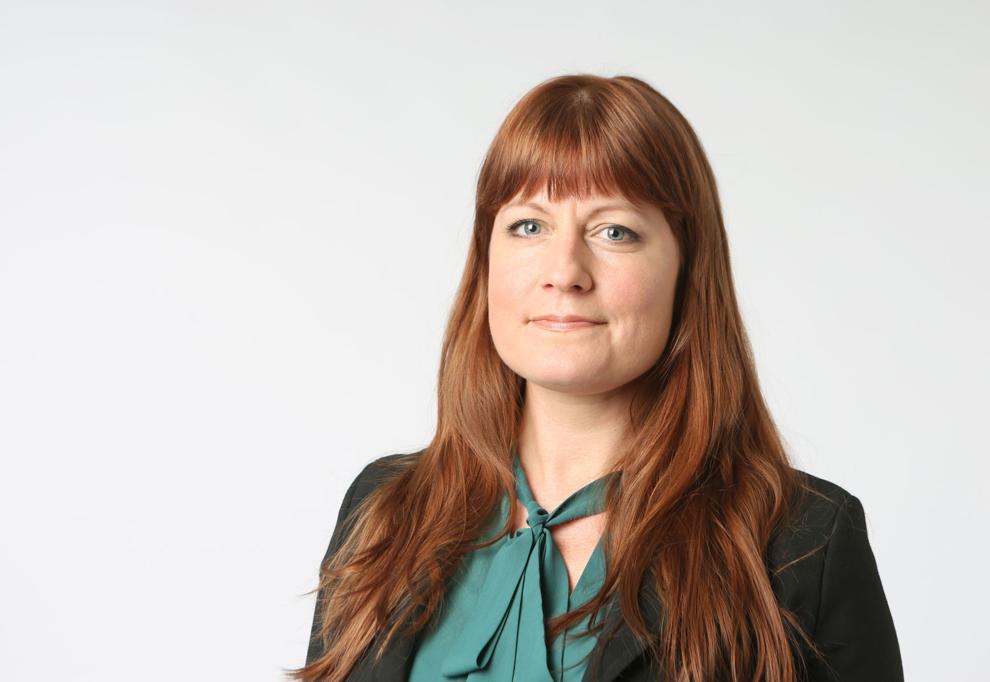 "That brown speckled banana can turn into banana bread or smoothies," Reece said.
Reece said the city has "a huge opportunity" to help residents think differently about food as a resource that can be better managed, protecting the environment and saving people money.
"The average family of four wastes $1,500 of food each year," Reece said. "That's money in your pocket."
NRDC has also recommended strategies to rescue surplus food from grocery stores, restaurants and institutions that might otherwise throw it out.
"Systemic rethinking of food waste is really key," Keating said. "You have to come at it from every level."