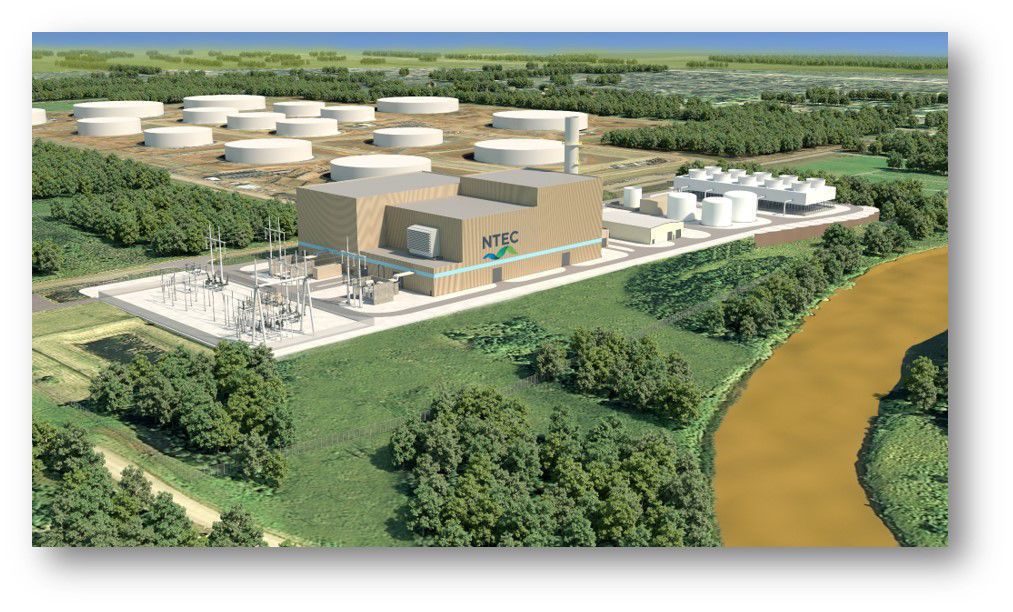 Wisconsin regulators will not consider questions of climate change and carbon emissions in the review of a proposed $700 million natural gas plant.
Despite appeals from environmental groups, the Public Service Commission says it doesn't have the authority to consider the environmental impact of a project that isn't funded by ratepayers and meets the state's air quality standards.
The Sierra Club and Clean Wisconsin argue that the plant's potential impact on climate should be considered as part of the application process because it is not fully addressed by any other regulatory agency.
La Crosse-based Dairyland Power Cooperative and a subsidiary of Minnesota Power are seeking to build a 650-megawatt natural gas generation plant in Superior.
In order to build the plant, known as the Nemadji Trail Energy Center, the utilities need what's known as a Certificate of Public Convenience and Necessity — or CPCN.
Because the project is proposed as a "merchant plant" — meaning it's owned by a regulated utility and won't sell power directly to retail customers — state law says the commission cannot consider factors such as need, cost or ratepayer impact.
The law also says the commission must consider whether a project will have "an undue" negative impact on the environment — but not if it meets the requirements of the state air quality standards.
That question will be answered by the Department of Natural Resources, which is reviewing Dairyland's air permit application.
"It just feels premature to be limiting the scope of the proceedings at this stage," said Greg Wannier, staff attorney for the Sierra Club, which is reviewing a recent PSC decision to exclude evidence of carbon emissions from the record.
Dairyland contends the plant will facilitate the cooperative's move away from coal-fired generation and augment new wind and solar power investments.
"Dairyland considers carbon an important issue as we develop our sustainable generation plan," said spokeswoman Deb Mirasola. "However, we did not feel it should be part of this regulatory process."
The project has drawn fierce opposition from environmental groups, who have appealed the Minnesota Public Utilities Commission's 3-2 vote to approve the plant despite a judge's finding that it was not needed.
Natural gas plants produce only about half as much carbon dioxide as traditional coal-fired generators. However, far more potent heat-trapping gases are frequently released during the mining and transporting.
You have free articles remaining.
"They're just as bad for the environment as coal when you look at the upstream impacts," said Elizabeth Katt Reinders of the Sierra Club's Beyond Coal campaign. "Fracked gas is risky from an economic perspective, from a climate perspective, and from a public health perspective."
According to an air pollution permit application, Nemadji Trail is expected to pump out more than 2.7 million tons of heat-trapping gasses each year.
Wisconsin law requires the use of "best available control technology" to limit those emissions, but because carbon sequestration is not considered economically viable, that essentially means making the plant as efficient as possible.
"We just don't think the DNR has done much to comprehensively regulate the impacts of greenhouse gas emissions," Wannier said.
Public interest?
Clean Wisconsin, which will receive about $75,000 in public funding to study the potential impact on wetlands and waterways, argues the DNR's permitting process is focused on air quality — not on gases like carbon dioxide that are safe to breathe but trap heat inside the atmosphere.
"Climate change impacts go far beyond air pollution," said Katie Nekola, general counsel for Clean Wisconsin. "It goes to whether the project is in the public interest, and our position is it's not."
Administrative Law Judge Michael Newmark ruled that the issue of climate change could be included in the record because carbon emissions are not among the air pollutants regulated by the Department of Natural Resources.
The utilities appealed, arguing that the commission can't make a determination based on air pollution and therefore related evidence is irrelevant to the preceding.
DNR given say
Commissioners last week voted unanimously to overturn the judge's determination and limit the scope of the record, with Chairwoman Rebecca Valqc, appointed by Gov. Tony Evers, saying the statute governing the PSC's analysis is "clear and unambiguous."
"To me, the Legislature was clear in granting broad jurisdiction to the DNR over air quality," Valcq said. "We should stay within those boundaries."
Commissioners Ellen Nowak and Mike Huebsch, both appointed by former Gov. Scott Walker, agreed.
Huebsch noted that the Legislature visited the air quality issue three times between the 1970s and 2003 without ever mentioning climate change.
"What we saw here was an attempt to have the commission engage in a public policy issue that just isn't in our purview," Huebsch said. "The public policy should be discussed, but not by three un-elected commissioners and not by people hired by the DNR."