With sights set on eliminating carbon emissions, Madison is preparing to use some of the fines Volkswagen paid for cheating on emissions tests to buy diesel buses that will likely be on the road years after VW has stopped making gas and diesel engines.
Madison is in line to receive about $4.8 million in grants and loans from a $32 million pot of money administered by the state Department of Administration that will allow 10 cities to buy 58 new buses.
All but six of those buses will be powered by diesel engines, which generate about twice the climate-warming emissions of electric-powered buses in Wisconsin.
The money is part of a $2.9 billion settlement Volkswagen agreed to pay after admitting to violating the federal Clean Air Act by selling diesel engines with software designed to report inaccurate nitrogen oxide emissions.
Wisconsin is scheduled to receive $67.1 million over 10 years to offset the excess pollution. State law requires $42 million of that to be spent in 2017-2019 for replacement of state vehicles and the transit assistance program.
But not all of the money will end up with transit authorities. Madison and Milwaukee County will have to pay back 75 percent of the money through reduced state aid. Smaller cities will return 20 percent. In Madison's case, that works out to about $360,000 over 10 years.
Department of Administration spokesman John Dipko said it will be up to the Legislature what to do with that $12 million.
Madison sought funds to replace 15 of its 223 buses, some of which have been in service for 16 years, are rusted out and often break down. All have at least 415,000 miles on the odometer.
The new buses will run 21 hours a day on the highest-demand routes, where Metro Transit marketing manager Mick Rusch says crowding is a threat to ridership, especially for those with other transportation options.
"The choice riders might get back in their car," he said.
According to the city's application, the new buses will burn low-sulfur diesel and feature fuel-efficient engines and exhaust filters to reduce particle pollution. The city estimates they will reduce nitrogen oxide emissions by at least 90 percent.
But with an average fuel economy below 5 mpg, the new buses will burn more than 50 gallons of diesel each day in their first few years and will likely be on the road well beyond 2030.
VW, which shifted its focus to electric vehicles after the scandal, recently announced it would stop making internal combustion engines in 2026.
Only one Wisconsin city, Racine, intends to use the money to buy electric buses. Racine received nearly $6.2 million for charging equipment and six buses that it hopes will provide commuters to the new Foxconn campus with a "quiet, high-tech experience."
While the electric buses are more expensive, they cost only about a third as much to operate.
Racine communications director Shannon Powell said Mayor Cory Mason "has made it a priority to be as environmentally friendly and sustainable as possible."
'Missed opportunity'
Environmental advocates say state leaders should have used the money to encourage the adoption of zero-emission electric vehicles — as was done in states such as Nebraska and Colorado — rather than re-investing in old technology.
"The VW settlement is a unique opportunity that should be used to cover the premium of zero-emission vehicles, not to subsidize a city's regular procurement budget for status-quo technologies," said John-Michael Cross of the Environmental and Energy Study Institute. "Transit agencies should be working to leap ahead and electrify their fleets as quickly as possible."
Transportation accounts for about 28 percent of the nation's greenhouse gas emissions, about the same as electricity generation, according to the Environmental Protection Agency.
As utilities pivot from coal to renewable and less carbon-intense fuel sources, replacing internal-combustion engines with electric motors could reduce overall emissions by as much as 67 percent by 2050, according to a study by the Electric Power Research Institute.
Wisconsin could have installed charging stations along the interstate system instead of dangling loans in front of cash-strapped transit authorities trying to keep aging buses running, said Ashwat Narayanan, director of transportation policy for 1000 Friends of Wisconsin.
"I don't place too much blame on the transit agencies because they're just doing what's rational," Narayanan said. "Having newer buses is a good thing, but we have a big missed opportunity here."
Electric buses require expensive charging equipment and, in Madison's case, some updates to the 40-year-old bus barn on East Washington Avenue.
Madison is scheduled to get its first three electric buses in 2020 thanks to a $1.3 million grant from the Federal Transit Administration and matching funds from Madison Gas & Electric, the city's electricity provider, which has pledged to reduce its carbon emissions 40 percent by 2030.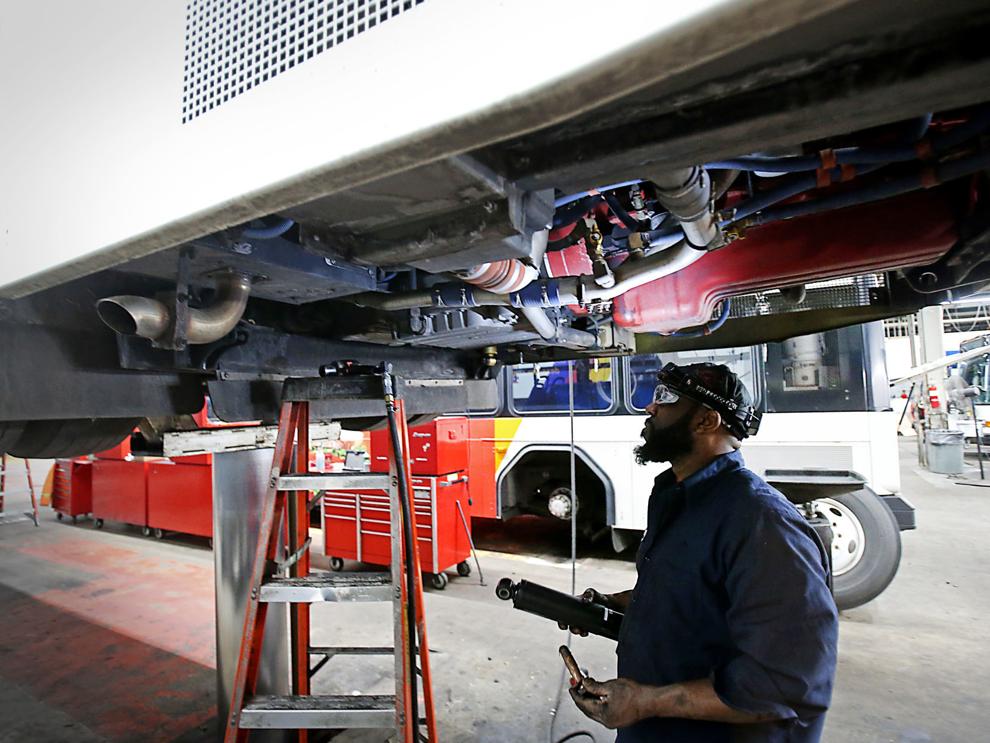 As part of a five-year, $57 million overhaul of the bus barn, the city is planning to install chargers and expand garage doors next year to accommodate the taller buses.
But in the meantime, diesel buses can help by reducing the number of cars on the road each day.
"Single-occupancy vehicles are by far the biggest emitters of air pollution and climate change emissions in the transportation sector," said Jeanne Hoffman, facilities and sustainability manager for the city of Madison.
Hoffman also notes that in the time since the city first looked at electric buses, electric vehicle prices have gone down.
Wisconsin VW settlement transit funds
| Applicant | buses | type | grant | loan | total |
| --- | --- | --- | --- | --- | --- |
| City of Appleton | 15 | diesel | $6,151,080.00 | $1,537,770.00 | $7,688,850.00 |
| City of Eau Claire | 3 | diesel | $1,576,560.00 | $394,140.00 | $1,970,700.00 |
| City of Green Bay | 4 | diesel | $1,476,800.00 | $369,200.00 | $1,846,000.00 |
| City of Janesville | 3 | diesel | $1,203,600.00 | $300,900.00 | $1,504,500.00 |
| City of La Crosse | 1 | diesel | $337,200.00 | $84,300.00 | $421,500.00 |
| City of Madison | 10 | diesel | $1,199,700.00 | $3,599,100.00 | $4,798,800.00 |
| Milwaukee County | 11 | diesel | $1,365,375.00 | $4,096,125.00 | $5,461,500.00 |
| City of Racine | 6 | electric | $4,952,724.80 | $1,238,181.20 | $6,190,906.00 |
| City of Sheboygan | 2 | diesel | $722,400.00 | $180,600.00 | $903,000.00 |
| City of Wausau | 3 | diesel | $971,395.20 | $242,848.80 | $1,214,244.00 |
"The point is that it's just like any other new technology: as it starts to penetrate the market it gets better and cheaper," she said."It isn't cost-effective or smart for the city to go all-in right away."