Wisconsin regulators have approved a $250 million solar farm in Grant County, rejecting concerns from some neighbors while acknowledging the land use challenges as the state moves away from fossil fuels.
The Public Service Commission voted unanimously Thursday to authorize NextEra Energy to build the 200-megawatt plant on about 1,400 acres near Potosi.
The plant, which would produce enough electricity to supply about 80,000 typical Wisconsin homes, is one of six solar farms that will be owned and operated by Alliant Energy as part of the utility's plan to replace its coal-fired generators.
A group of neighbors opposed the project on the grounds that it would alter the landscape, remove farmland from production and reduce nearby property values while benefiting mostly absentee landowners.
Many said they fear a tornado would hurl panels at nearby homes or passing drivers, and suggested that it makes more sense to put solar panels on buildings, parking lots, brownfields and other developed land.
The committee includes representatives from each of the five largest investor-owned utilities, renewable energy groups, the state's consumer advocate, and electric manufacturers and contractors.
Opponents also contended that the PSC did not require a thorough review of the project's environmental impact.
Commissioner Ellen Nowak noted the six solar farms in Alliant's plans will require more than twice the land occupied by two coal plants slated to retire while providing only about half the generation capacity.
"There's no fuel cost. There are no carbon emissions once it's built, but there are other costs," Nowak said. "We have to be mindful of these."
Commissioner Tyler Huebner said the impact is enormous to those living near a project, but relatively small in the big picture.
Since 1987, Wisconsin has lost almost 14% of its cropland — about 2.3 million acres, while production of corn and soybeans has increased significantly, according to the U.S. Department of Agriculture.
The PSC has approved seven large-scale solar projects with a combined capacity of about 1,250 megawatts and a footprint of about 10,000 acres. To replace all of Wisconsin's current generation capacity with solar panels would require less than 1% of the existing cropland.
"There is a big shift in Wisconsin related to farmland. Solar is now entering that conversation, but it's not starting the conversation," Huebner said. "Mining coal is a very intense land activity. We just don't see it in Wisconsin."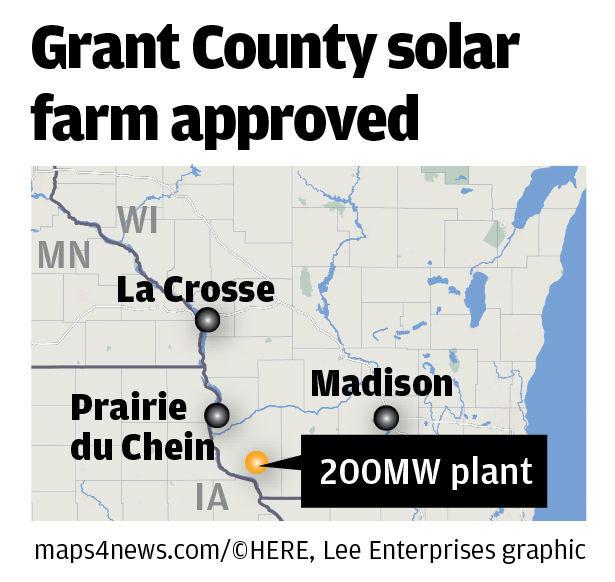 The commission agreed to require the developers to study noise, stray voltage and impacts to wildlife, but rejected calls to study whether the panels create a "heat island."
In response to labor union concerns, Huebner and PSC Chair Rebecca Valcq also voted to require NextEra to report on efforts to recruit Wisconsin workers to fill about 350 construction jobs associated with the project.
"I'm not at a point that I think we should be mandating certain numbers or mandating how they hire their workforce," Valcq said. "I would like to hear back from the applicant what their efforts have been and where they stand on the commitment that they made."
Two-step permitting process questioned
The PSC last week authorized Alliant to spend $925 million to acquire the Grant County solar farm and five other smaller solar plants across the state.
The six plants — under development in Grant, Jefferson, Richland, Rock, Sheboygan and Wood counties — are the first phase in Alliant's plans to add nearly 1,100 megawatts of solar capacity by 2024. Alliant last month filed a separate application to acquire an additional six solar farms for about $515 million.
The permit to construct the Grant County plant was considered through a separate application.
Opponents also objected to the two-step application process used so far in nine of the 12 utility-scale solar projects considered by the PSC: a developer applies for a permit to build the farm as a "merchant plant" that makes money selling power into the market; regulated utilities then file a separate application to purchase the plants and pass the cost of the investment on to ratepayers.
Because merchant plant owners are not required to provide costs or prove need, opponents contend this process allows utilities to avoid the scrutiny they would face if they applied for the construction permit.
Commissioners countered that questions of cost and need are addressed through the acquisition permit.
"That doesn't decrease the level of scrutiny that this project or any other received," Valcq said.
Nowak said it would be up to the Legislature to change that process.
"There's nothing wrong with the site-and-acquire model," she said. "It doesn't prohibit us from doing a full and fair review. We just have to do it differently."
---