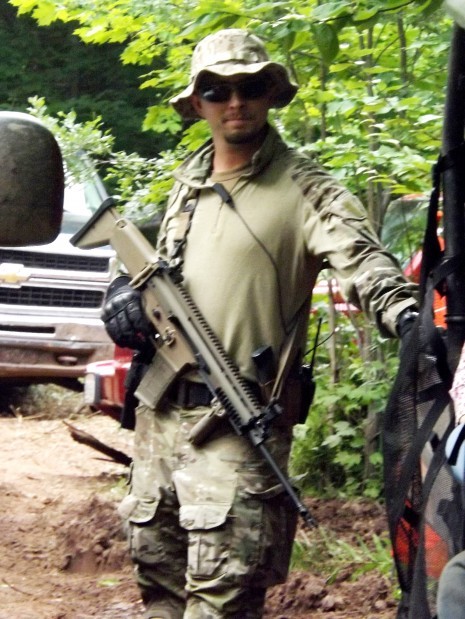 Iron County Sheriff Tony Furyk gave thanks late last week when he heard the Gogebic Taconite mine company had moved its equipment and workers to an eighth and final test drilling site in the Penokee Hills forest.
After testing is done in a week or so, there will be a lull in construction on the proposed site of a controversial 4 1/2-mile-long iron mine that has drawn hundreds of peaceful protesters and a few violent ones, stretching Furyk and his
10 deputies thin at times.
"We're dealing with things on a day-to-day basis here," Furyk said. "Everything is new. We're going to be able to handle it. I don't know exactly how, but we'll be able to deal with it as it comes."
Furyk's job grew more complicated on June 11, the first day of test drilling, when a handful of masked protesters verbally abused a work crew, damaged equipment and took a camera. Last week saw a flurry of controversy after a video showing the abusive activists was circulated, and as an unlicensed, military-style security detail was temporarily withdrawn from the site.
It was a whirlwind, whiplash kind of week for peaceful protesters based at a camp on public land near the mine site after they discovered the mining company had hired security guards who wore masks and wielded AR-15 assault rifles.
Frank Koehn, president of Penokee Hills Education Project, thought the guards were provocative and dangerous, and was on the way to a press conference to say so with other mine opponents on Wednesday when they passed the guards in their trucks leaving the area.
Koehn said he turned on the radio and found out the mining company removed the guards temporarily while they seek proper state licensing after a state legislator and news organizations raised the issue.
"We couldn't help but chuckle," Koehn said.
He said the mining company was so accustomed to having its way as the Legislature passed a permissive new mining bill this year that they weren't prepared for tough scrutiny of their actions.
"If we give these guys enough rope, they'll continue to hang themselves," Koehn said.
He said photos of the guards have pushed some who were neutral about the mine into the opposition camp, but Sharon Ofstad, owner of Sharon's Coffee Co. on Main Street in Hurley, a few miles from the mine site, said people she knows were more influenced by the video of out-of-town protesters cursing at workers.
"I could walk up and down Main Street all day long," Ofstad said. "There is probably not one resident that doesn't want the mine. We want the mine and want it done right."
She wasn't happy with criticism of the security detail, deployed by Bulletproof Securities of Scottsdale, Ariz., which the mining company hired.
You have free articles remaining.
"The people from the mining company, these are wonderful people. To talk about a company like they don't care about another human life, that's wrong," Ofstad said.
Bill Stutz, a manager at a Hurley beer distributor who is head the Chamber of Commerce, said the controversy hasn't helped the area's reputation.
"We've got a long road ahead of us," Stutz said. "(Protesters) are obviously not thinking about backing down. And the Cline Group (which owns the mining company) is not going to back down just because someone is mad at them."
Iron County Clerk Michael Saari said the area needs industry to supply jobs, and he expects that the mine will be run safely.
The June 11 incident "was kind of ugly," Saari said. "I don't think that was what anybody intended to happen. A few people went overboard, and I truly don't think anything like that will happen again."
Saari said he didn't object to the security force.
"If you don't go up there and you don't cause trouble, you don't have to worry about it," Saari said.
Mike Wiggins, chairman of the Bad River Band of Lake Superior Chippewa, issued a statement Friday condemning violence in opposing the mine.
He said people should protest peacefully.
Gov. Scott Walker, meanwhile, condemned the protesters caught on tape and said he offered assistance to Furyk.
Tony Stella, a former Iron County district attorney who is urging the state to ban the Bulletproof Securities guard company from operating in Wisconsin, said Hurley residents appear to support the mine, while there are more opponents in other parts of Iron County and Ashland County, where some of the digging would take place.
Stella said bringing the guards in without proper licensing was a sloppy move by the mining company, and it doesn't portend well for the future.
"Gogebic Taconite touts its professionalism, but it is new at iron mining," Stella said. "Are we going to be dealing with these kinds of mistakes for 25 or 30 years?"
[Editor's note: This story has been updated to reflect a correction. The total number of test drilling sites was fixed.]