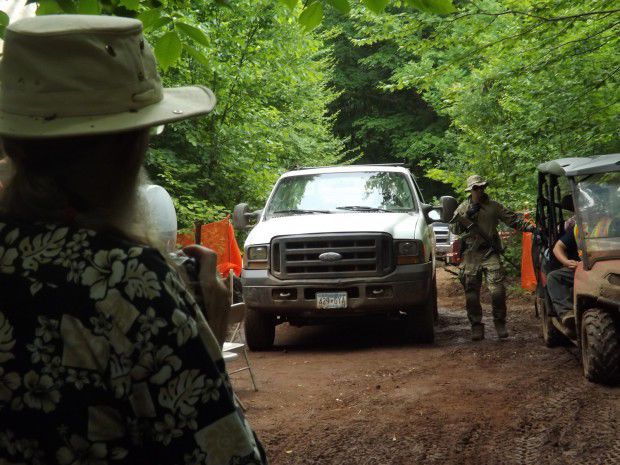 The heavily armed, camouflaged security detail guarding Gogebic Taconite drill sites in Iron County was pulled out Wednesday because the contractor failed to obtain proper licensing from the state.
Gogebic Taconite spokesman Bob Seitz said the change is temporary and not in response to objections raised by two state legislators and mine opponents who said the guards' presence was heavy handed, needlessly intimidating and potentially dangerous.
"They did a great job out there," Seitz said of the guards from Bulletproof Securities of Scottsdale, Ariz. "We have a safe work site."
As soon as the state issues permits, the team will be back, Seitz said.
But if Bulletproof is convicted of operating without a license, under state law it would be barred from working in Wisconsin for one year.
Iron County District Attorney Marty Lipske said Gogebic took the right action by removing the guards, but he will investigate the possibility of penalties.
Under state law, an individual or company convicted of providing private security services without a license may be fined up to $500 or jailed for up to six months.
Department of Safety and Professional Services spokeswoman Brittany Lewin said license applications usually take a few days to process. She didn't respond to phone calls or emails asking what, if any, enforcement options the department would pursue.
"DSPS does not comment on the specific details of pending applications," Lewin said in a statement. "We will give you an update if any new licenses are issued."
The state requires background checks, photographs and proof of insurance from security contractors before it issues private security licenses and licenses to carry firearms while performing security duties.
Sen. Bob Jauch, D-Poplar, said the masked, camouflaged guards were there to intimidate mine opponents, and the high-powered, semi-automatic rifles they carried weren't needed to guard construction equipment.
Bulletproof president Tom Parrella said Wednesday there was no intent to scare anyone, only to use weapons adequate to handle worst-case scenarios while protecting mine workers in light of online threats from a few extremist protesters, and "bizarre and alarming" behavior of people sneaking through the woods.
Bulletproof personnel wear masks to prevent threats to their families that could occur if their photographs were circulated, Parrella said.
You have free articles remaining.
"The guys aren't out there to create some kind of fashion statement," Parrella said. "These guys are professionals. They are not mercenaries, they are not hired guns."
Parrella said it was an oversight that state of Wisconsin licensing wasn't obtained.
"There was about a three-hour notice to pack our trucks and send them up to Wisconsin," Parrella said.
Jauch is one of two legislators who asked the mining company to get rid of Bulletproof, which bills itself as a "no compromise security force" that trains employees in the use of a variety of weapons, including machine guns.
Jauch said he found out Tuesday that Bulletproof was not licensed in Wisconsin after state regulators sent him a list of 660 companies licensed for private security or detective work. Bulletproof was not on the list, Jauch said.
Gogebic and Bulletproof should be fined, Jauch said.
"They've been illegally providing services for weeks," Jauch said. "I blame Gogebic. They had a responsibility to hire a company that complies with Wisconsin law. I think they were in a hurry to hire this strong-armed militia group when they could have hired a Wisconsin firm."
Gogebic is conducting test drillings for an eventual 4½-mile-long open-pit iron ore mine.
Environmentalists say it will ruin a pristine wilderness and pollute water. The Republican-controlled state Legislature this year approved a controversial mining law designed to help Gogebic and create jobs.
The Penokee Hills forest near Lake Superior draws scores of hikers and vacationers in addition to mine protesters.
Gogebic said the guards were necessary because of a June 11 vandalism incident in which a woman was charged with taking a camera from a mine worker during an incident in which tires were slashed and fences pulled down.
A Stevens Point woman faces a charge of robbery by force and three misdemeanors. She is alleged to have wrestled a camera from a mine worker who was videotaping her during a protest at a test drilling site.
Iron County Sheriff Tony Furyk said there have been no other incidents of vandalism or violence reported.
The company had two or three other options for security guards and will rely on those until Bulletproof is licensed, Seitz said.