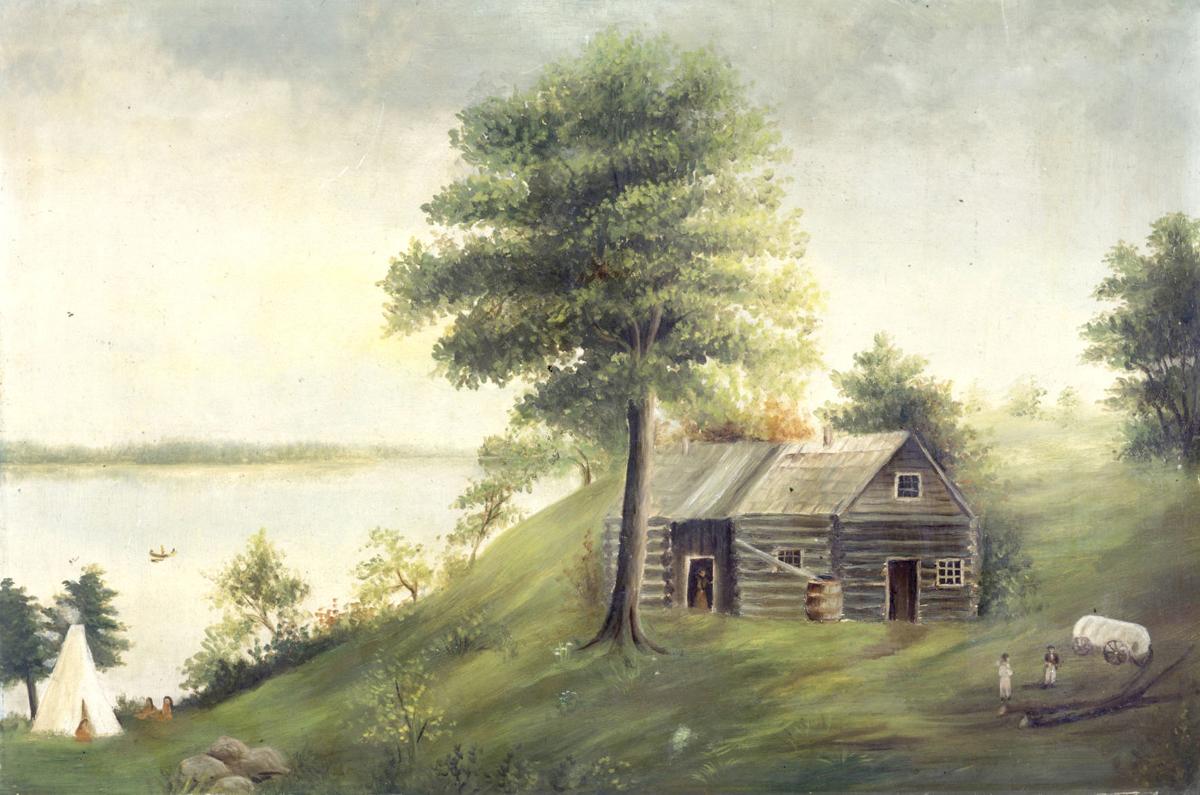 Madison's early promoters sold the place by publicizing the crystal clear water of its scenic lakes.
"If you ask people what were the most important formative factors for Madison, they'll say the Capitol, the university and the lakes," Mollenhoff said. "But you can make a pretty good argument that the lakes were the most compelling factor."
The appeal of lakes was a major factor in two decisions that were foundations of the city's long-term growth and prosperity — the placing of the university and the Capitol here.
But by the 1890s, the city's relationship with the water created one of the community's worst and most persistent crises
Mollenhoff says it is difficult to overstate the importance civic leaders placed in the scenic beauty and clear waters of the lakes.
"They were widely viewed as the soul of the city, a reminder that Madison was special and had a high destiny," Mollenhoff said.
That idyllic beauty fit well with a vision that was dominant among local leaders for many decades — that Madison was a center of culture, knowledge and commerce — but not big, polluting factories with unwashed industrial workers.
The city grew rapidly for about 10 years starting in the late 1840s. But in 1857 the nation tumbled into a major economic depression. It was felt in Madison, where about 40 percent of the population moved away to seek better times elsewhere.
Civic leaders bet on tourism, pushing for waterfront resorts, boat excursions and other lake-related activities as a way to revive the local economy without stooping to manufacturing.
Some successes were achieved, although there were nagging concerns that Madison wasn't drawing as many tourists as its rivals.
The city wasn't shy about adapting the lake to its purposes.
A dam that powered a mill at Tenney Park raised the level of Lake Mendota. The Yahara River's meander through marshlands was straightened out, wetlands were filled and shorelines were extended.
Frozen water was a commodity for decades. Hundreds of boxcars of ice could be shipped out in a single day to supply buyers in Chicago.
Opening to the water
While people admired the lakes, many did so from a distance.
Swimming was illegal until 1879, when it was legalized — if the swimmer was clothed from neck to the knees. In time, changing houses were established.
People complained about the insects around marshy shorelines.
For many years Madison had no waterfront parks. City officials didn't want to build any parks.
It took a law professor named John Olin to raise private funds to begin to change things. Olin's efforts over about 20 years starting in the 1890s led to a green corridor along the Yahara River, five parks and routes for carriage drives — pleasure drives, they were called — around Lake Mendota.
It took time, but Olin's example influenced city officials.
Olin hired city planner John Nolen to design ways to reclaim shorelines whose beauty had been degraded by rail lines and crowded, haphazard housing. City leaders eventually began see the desirability of lakefront views.
Water problems
Swimming and boating were popular, but problems developed.
A system of dumping chamberpots of human waste in the streets or into backyard cesspools, evolved into a disposal system that piped the sewage into Lake Monona.
Mollenhoff said leaders reasoned that if a great city like Paris could dump its waste into the River Seine, surely Madison's expansive lakes could accommodate the small city's sewage.
But the Seine carried sewage downstream, while Lake Monona moved it very slowly if at all.
By the 1890s, the smell had become overpowering. Boaters needed to wash black slime off the bottoms of their vessels after use. The clear water and sandy lake bottom was gone.
Madison realized its mistake, but the science of sewage treatment was in its infancy. It took decades, but university scientists helped develop ways of removing bacteria and other unpleasant material so that a clear liquid was discharged into the lake.
But major problems remained. The clean-looking liquid was still rich in nutrients. And the nutrients continued to spur foul-smelling growths of algal scum and thick mats of aquatic weeds.
The city began cutting lake weeds in 1905 and a few years later started spraying the herbicide copper sulfate from barges.
In a blunt 1920 "Report Upon The Cause of Offensive Odors From Lake Monona, Madison, Wisconsin," a Chicago consulting firm confirmed that difficulties were lingering.
The consulting firm said: "Blue-green algae were abundant at many points; masses of decaying algae stranded on the shores, if stirred with a stick, looked like human excrement, and smelled exactly like odors from a foul and neglected pig sty."
There were some advances in sewage treatment technology. But Lake Monona's reprieve didn't come until after years of court battles and political wrangling. Starting in the 1950s the sewage was pumped downstream into Lake Waubesa. Later it was piped to Badfish Creek, which empties into the Yahara River downstream of Lake Kegonsa.
And in the 1970s, the federal Clean Water Act forced municipalities and industry to reduce pollutants — including the nutrient phosphorus — they were dumping into public waters.
In time, agricultural runoff became the major cause of nutrient pollution in the lakes.