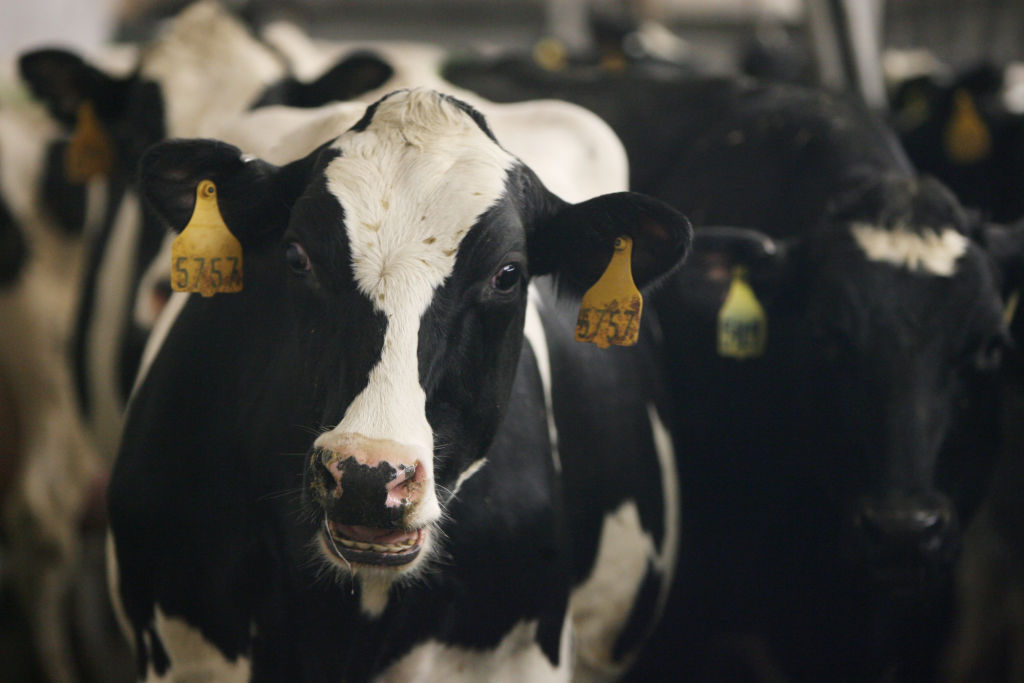 Dane County is setting aside about $1.3 million for new technology officials say could turn lake-fouling dairy cow manure into crystal clear water.
The process would be installed at a county-sponsored biodigester just outside of Middleton that this year began collecting natural gas from manure and other waste, and extracting about half of the phosphorus before the manure-waste mixture is spread on farm fields as fertilizer.
County officials are evaluating filtration and chemical treatments that could reduce the volume of waste sent back to the farms for spreading. The treatments can strain virtually all of the phosphorus and solids out of a large portion of the material, producing clear water and a concentrated fertilizer that could be sold — instead of liquefied manure.
"We're hoping a large portion of that volume that goes back to the farm would be clean water that could be diverted to a variety of uses," said county lakes and watersheds director Kevin Connors.
"This is really potentially a game-changer in our efforts to clean up our lakes," county executive Joe Parisi said of the pilot program.
Several manufacturers use reverse osmosis filtering that produces water clean enough for animal consumption, crop watering or for discharging into surface water, according to a 2013 study prepared by U.S. Biogas LLC, the developer of the GL Dairy Biogas project on Schneider Road in the town of Springfield.
Next month, pigs on a farm in Illinois were expected to become the first animals in the U.S. to be given the water to drink, said U.S. Biogas CEO Duane Toenges. The Wisconsin Department of Natural Resources has granted permission for the water to be discharged into wetlands in at least one case, Toenges said.
He said he is talking to agency officials about rule changes to allow discharge of clear water from a manure treatment process from the GL Dairy Biogas facility into Pheasant Branch Creek.
Fourteen manufacturers provided information for the study, which said technology has advanced with development of chemical pretreatment and new filtering membranes that reduce clogging.
The study found equipment prices ranged from $1.1 million to $2.3 million with estimated annual operating costs between $249,000 and $329,000. Four companies submitted proposals by a Dec. 12 deadline.
Growing farms
The GL Dairy Biogas digester serves three nearby dairy farms: Blue Star, Hensen Brothers and Ziegler.
The state Department of Natural Resources' 2013 environmental analysis of the digester project also fulfilled the environmental analysis requirement for Ziegler's application for its Concentrated Animal Feeding Operation permit, which allowed it to expand to more than 2,000 animals.
Manure from the farms is piped or trucked to the digester, which mixes it with other waste — from sources such as restaurants, cheese manufacturers and ethanol plants — and heats it to speed the production of natural gas. The gas is burned in generators to make electricity for sale to a utility company.
The waste mixture is pressed and spun in a centrifuge to separate nutrient-rich solids that can be used as animal bedding or composted.
However, even after the nutrient concentration is reduced, the volume of the waste is so great that it can be too much to store during months when the ground is frozen or weather conditions are likely to allow it to run off into streams and lakes.
Costly manure handling
It's too early to know which nutrient concentration system the county will choose, Connors said.
But among the possibilities could be one that allows farmers to mix a solid fertilizer product with water so that the amount of nutrient applied to a field matches the needs of crops, he said.
Dairy farms have spread manure on fields for decades and as farming has become more concentrated, fields closest to animal feeding operations have been overloaded with nutrients.
Farmers face higher costs to transport huge loads of manure to fields farther away that may be in greater need of nutrients, Connors said.
A 2,000-cow dairy hauls more than 23 million gallons of manure per year at a cost of $345,000, the U.S. Biogas report estimated.
Dane County's 400 dairy farms and 50,000 dairy cows produce more than 2 billion pounds of manure with a $3.5 million cost to haul and spread it.
Trucking manure adds wear and tear to roads and can create conflicts with other traffic.
Still, the manure is considered valuable. About one-quarter of the waste used to generate natural gas is sent back to the farms without any reduction in phosphorus.
The GL Dairy Biogas facility was designed to receive about 68,000 gallons of manure and 41,000 gallons of food waste a day. The new process could pull out enough solids so that just 70,000 gallons of liquid a day is sent back to the farms, according to the report.
County's second digester
The $12 million GL Dairy Biogas is the second community digester the county has helped get up and running.
The county borrowed $3.3 million to pay for land and nutrient reduction equipment.
The Clear Horizons facility at 6321 Cuba Valley Road in the town of Vienna near Waunakee began serving three farms in 2010.
It has been plagued by mechanical problems that have kept it from meeting permit requirements for phosphorus removal. The state is threatening court action over that permit violation and others involving manure spills.
The state Department of Natural Resources last month alleged 90 additional air pollution violations, mostly related to emissions from generators that burn manure gas.
The GL Dairy Biogas facility employs a different phosphorus-reduction process and is designed with spill-control capability not present at the Clear Horizons digester, county officials said.
Be the first to know
Get local news delivered to your inbox!