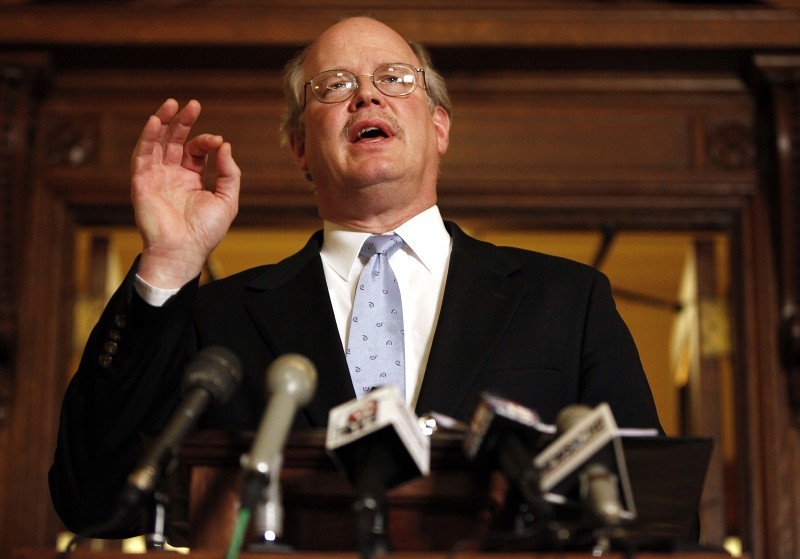 State Sen. Dale Schultz, R-Richland Center, said Wednesday he won't accept a new compromise mine permitting bill offered by his fellow Republicans.
"I know there are those who will be beyond disappointed with me," Schultz said at a Capitol press conference outside his office. "But my first priority in coming to the legislature was not to be a good partisan. It was to be the best possible representative I could be to all those I have and have had the honor to serve."
Schultz holds the key vote on mine permitting legislation in the Senate, where Republicans hold a razor-thin 17-16 majority. With Gogebic Taconite proposing a $1.5 billion iron mine that would create 700 jobs, Republicans have made passing a bill to streamline Wisconsin's mine permitting rules a priority.
But so far, Schultz has staunchly refused to support a GOP bill passed on a party-line vote by the Assembly — legislation that opponents say sets an unrealistic 360-day deadline for action on permit applications, takes mining tax dollars away from local communities, removes opportunity for public legal challenges, and relaxes environmental protections.
State Rep. Robin Vos, R-Rochester, and state Sen. Alberta Darling, R-River Hills, offered Schultz a compromise Wednesday that would among other things allow one 60-day extension to a 420-day mining permit application review period and require mines to meet the minimum federal floodplain requirements so the state can remain in the National Flood Insurance Program.
"Wisconsin has a great tradition of mining and stewardship," Vos and Darling said in a joint statement. "We are confident the compromise proposal offered to Senator Schultz achieves both of those goals. Mining equipment made in Southern Wisconsin will be used in Northern Wisconsin, benefiting everyone in between. It is our hope that we will be able to pass a meaningful update of our mining laws so that jobs can be created throughout Wisconsin as soon as possible."
But Schultz said during his press conference that he cannot support the latest GOP compromise because it eliminates the opportunity for the public to legally challenge a permit before an administrative law judge. Also, he added, in meetings with residents who live near the mine site in recent days he heard repeatedly about the importance of strong environmental protections. Too many of those protections are weakened in the Vos-Darling plan, Schultz said.
"I'm in favor of mining," Schultz said. "But if you want to allow and permit mining in the long term here, I can't think of anything worse that would hurt mining more quickly than an environmental disaster."
Though he was firm in his opposition to the latest offer from Republican leaders, Schultz left room for further talks. "A good solution is a good compromise and this complex issue demands a real solution which creates jobs and protects the environment," Schultz said. "And my door remains open to those who want to have that conversation."
As an alternative to the Assembly bill, Schultz and state Sen. Robert Jauch, D-Poplar, have proposed their own compromise with a less stringent timeline that retained protections for wetlands and other waters as well as more tax dollars for local communities and provisions for public legal challenges.
Jauch praised Schultz for his support of a compromise "that's fair to the applicant but truly represents the public will." He added that he is also against any compromise offer that eliminates public legal challenges and weakens environmental protections.
The announcement Wednesday by Schultz is the latest development in a bitter political struggle over legislation proposed to clear the way for a $1.5-billion open pit iron mine in northern Wisconsin's Penokee Range, south of Ashland. The mine is proposed by Gogebic Taconite, the subsidiary of a Florida-based coal mining company. Gogebic says the mine will provide 700 jobs when it is in operation.
Citing those jobs, Republicans have made the effort to pass a bill to streamline mine permitting the centerpiece of their legislative agenda this session. But with the session scheduled to end March 15 and the permitting bill stalled, time is running out.
So important is the mine bill to the Republicans that Gov. Scott Walker took to the highway Tuesday to drum up support for passing the legislation. He spoke to crowds gathered at mining equipment manufacturing plants in Milwaukee, Rhinelander and Green Bay.
In a statement released after Schultz' press conference, Walker spokesman Cullen Werwie seemed to emphasize the importance of continuing compromise talks.
"It's important to continue conversations about legislation that can bring thousands of jobs to Wisconsin while maintaining environmental protections," Werwie said. "We appreciate Senator Schultz's willingness to talk throughout the process."
— State Journal reporter Clay Barbour contributed to this report.
Be the first to know
Get local news delivered to your inbox!